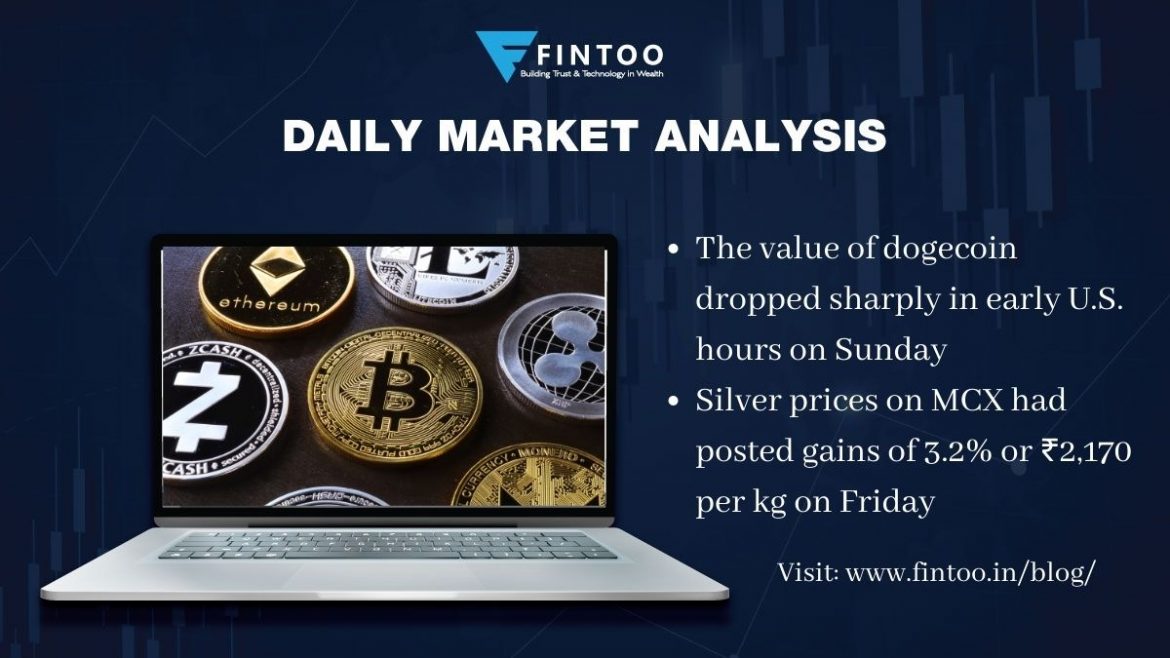 1. Dogecoin, Cryptocurrency
The cryptocurrency "meme coin" Dogecoin was created in 2013 as a joke poking fun at the surge in other digital coins. The latest surge has pushed Dogecoin's market capitalization to $62 billion, which means it's valued more highly than Ford and Twitter. In 2021, it has surged from less than half a penny to a record of nearly 75 cents.
The Dogecoin is the one being promoted by founder of Tesla and SpaceX Elon Musk.
The value of dogecoin dropped sharply in early U.S. hours on Sunday, after Tesla chief and cryptocurrency supporter Elon Musk called it a 'hustle' during his guest-host spot on the Saturday Night Live comedy sketch TV show.
Dogecoin was quoted as low as $0.47 on crypto exchange Binance, down 28% from levels around $0.65 before the show.
Should we Invest in Dogecoin?
Cryptocurrency has a "good chance" of becoming what he called "the future currency" of the Earth. But again at present, it is one of the riskiest assets to hold on to.
To boost the confidence in investors the company added that DOGE has proven to be a fast, reliable, and cryptographically secure digital currency that operates when traditional banks cannot and is sophisticated enough to finance a commercial Moon mission in full. It has been chosen as the unit of account for all lunar business between SpaceX and Geometric Energy Corporation and sets precedent for future missions to the Moon and Mars.
To read more about Cryptocurrency: Daily Market Analysis – 28th Apr 2021 – Fintoo Blog
2. Tyre Companies may have a speed breaker ahead
There has been a rising input price for the tyre companies which may result in underperforming of the shares of these companies. The prices of rubber and crude have risen sharply since October last year. Rubber has moved up 30% to from Rs.13,000 per 100 kg to Rs.17,000 per 100 kg. Similarly crude has risen 70% since October from $40 per barrel to $68 per barrel.
The tyre companies failed to meet the analyst expectations due to lower profit margin because of high raw material prices. The analysts have started cutting their target prices on most of the tyre stocks to factor in earning stress.
The tyre companies are mostly dependent on the automobile industry, as we are aware that the automobile industry is also not performing due to the COVID19 Pandemic. In April all major auto companies reported a month-on-month decline in sales.
What should we do ?
Long Term Perspective – With the changing government regulations of scrapping the old vehicles and the BS-VI models coming into the picture, there is a good potential of growth in the tyre manufacturing companies.
Short Term Perspective – There might be a small rise in the share prices of these companies in the coming quarter as monsoons may witness a demand for tyres.
3. Rise in Silver Price
Silver has risen nearly 15% since Thursday when posts began circulating on Reddit urging retail investors to buy silver mining stocks and iShares Silver Trust, an exchange-traded fund (ETF) backed by physical silver bars, in a GameStop-style squeeze.
Buying an ETF can boost silver prices by increasing the number of shares in the fund and making its operator buy more metal to back them
However, analysts have urged investors to be cautious. "In case of silver caution is advised as the recent rally has no fresh triggers and is completely driven by speculation
Silver is typically more volatile than its much more costly sister metal, gold, often posting sharp swings in prices. In addition to its role as a speculative asset and store of value, it has industrial uses, including solar panels. Meanwhile, Bloomberg reported that retail sites were overwhelmed with demand for silver bars and coins, suggesting the Reddit-inspired frenzy that roiled commodities markets last week is spilling over into physical assets.
Should we Invest in Silver ?
Silver prices on MCX had posted gains of 3.2% or ₹2,170 per kg on Friday. Despite the recent gains, silver prices are still down about ₹6,000 from their all-time highs of about ₹80,000 hit in August last year. Investments in silver-dependent greener technologies such as solar panels and electronics are rising around the world along with broad-based dollar weakening that is making silver cheaper for holders of other currencies.
Irrespective of the rise or fall in the precious metals' prices, one should invest a small percentage of their investment portfolio in gold/silver as a diversification strategy.
To Invest and keep regular track of your portfolio download: Fintoo App Android http://bit.ly/2TPeIgX / Fintoo App iOS http://apple.co/2Nt75LP
Related Posts
Stay up-to-date with the latest information.