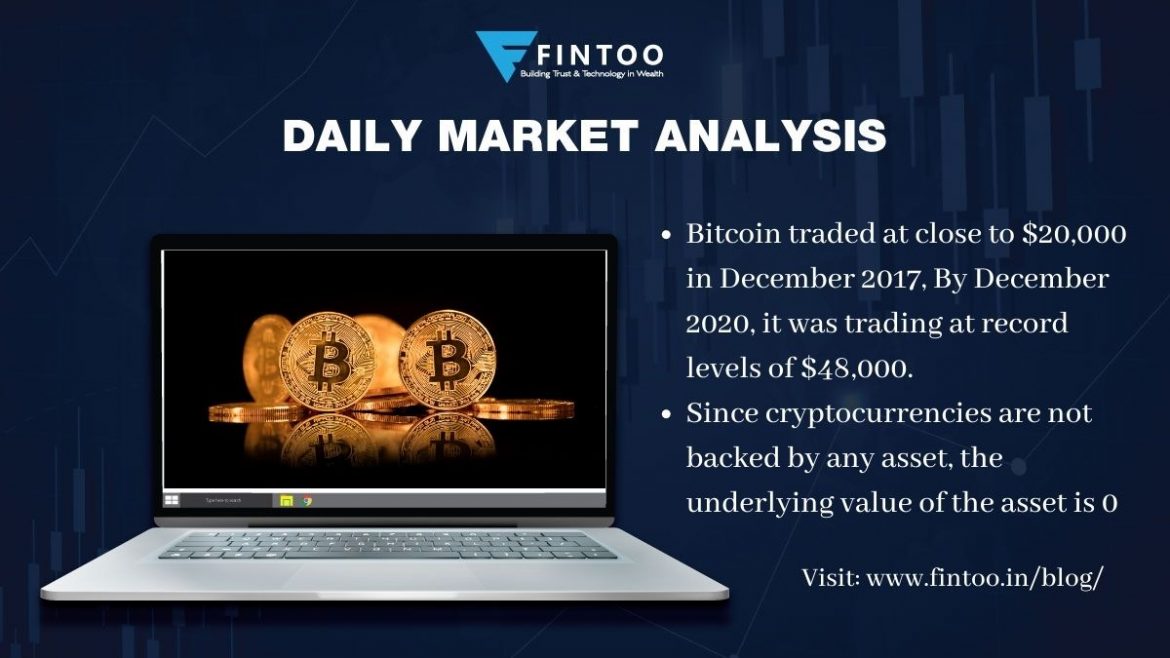 Cryptocurrency V/S Traditional Assets (Stocks, Mutual Funds and other Debt products)
What is Cryptocurrency? How does it work? And why are they so popular?
A cryptocurrency is a form of payment that can be exchanged online for goods and services.
Cryptocurrencies work using a technology called a blockchain. Blockchain is a decentralized technology spread across many computers that manage and record transactions.
As an asset class, its underlying asset is not a business, currency, building, or commodity. Instead, it is a multi-dimensional digital value container powered by a public blockchain.
People in support of cryptocurrencies as the currency of the future and are racing to buy them now, presumably before they become more valuable
Some supporters like the fact that cryptocurrency removes central banks from managing the money supply, as historically these banks tend to reduce the value of money via inflation.
Other supporters like the technology behind cryptocurrencies, the blockchain, because it's a decentralized processing and recording system and can be more secure than traditional payment systems.
Some speculators like cryptocurrencies because they're going up in value and have no interest in the currencies' long-term acceptance as a way to move money.
Should you look at Cryptocurrencies as an investment?
Price volatility and lack of inherent value
For those who see cryptocurrencies such as Bitcoin as the currency of the future, it should be noted that a currency needs stability so that merchants and consumers can determine what a fair price is for goods. Bitcoin and other cryptocurrencies have been anything but stable through much of their history. For example, while Bitcoin traded at close to $20,000 in December 2017, its value then dropped to as low as about $3,200 a year later. By December 2020, it was trading at record levels of $48,000.
This price volatility creates a conundrum. If bitcoins might be worth a lot more in the future, people are less likely to spend and circulate them today, making them less viable as a currency. Why spend bitcoin when it could be worth three times the value next year?
Not an asset backed investment
Since cryptocurrencies are not backed by any asset, the underlying value of the asset is 0. So if an individual is looking at cryptocurrencies from an investment perspective and wants to link any goal with it, it becomes very risky as he doesn't know what the future value of the investment will be.
No Regulatory Body
Cryptocurrency is not centrally regulated by any government, so every government is taking different approaches to regulate cryptocurrencies. There are several areas of regulation like reporting for tax purposes and regulating initial coin offerings the way that securities are regulated.
Cybersecurity
As a digital technology, cryptocurrencies will be subject to cybersecurity breaches and may fall into the hands of hackers. Mitigating this will require continuous upkeep of security infrastructure.
Influence by bigger players
The crypto market is dominated mainly by ten big whales or privates. They are massive in the market and take up a lot of space and volume. It is too easy to manipulate the market so far. They make it very difficult to put any price target on the cryptocurrency.
Also read: What is ELSS? Is ELSS Different from Mutual Funds? – Fintoo Blog
Cryptocurrency v/s Traditional Investments
| | | |
| --- | --- | --- |
| | Cryptocurrency | Traditional Investment |
| Presence of Underlying Asset | No | Yes |
| Availability of Data | Limited | High |
| Regulatory Body | Not present | Different for every asset class and present in every country |
| Fundamental research possible | No | Yes |
| Technical research possible | Yes | Yes |
| Global acceptance | Banned in a few countries | Yes |
Our Opinion
Cryptocurrencies appear to be a lucrative form of investments today because of the historical return it has delivered compared to other asset classes. But in the case of cryptocurrencies, its pros like it is seen as a futuristic currency, it has low transaction costs for global transaction, elimination of banking charges are outweighed by its flaws like that it has like it has no underlying asset, no regulator, prices easily influenced by a few players, limited data, etc. So at this point in time, it won't be wise enough to diversify your portfolio by purchasing cryptocurrency.
To Invest and keep regular track of your portfolio download Fintoo App Android http://bit.ly/2TPeIgX / Fintoo App iOS – http://apple.co/2Nt75LP
Related Posts
Stay up-to-date with the latest information.