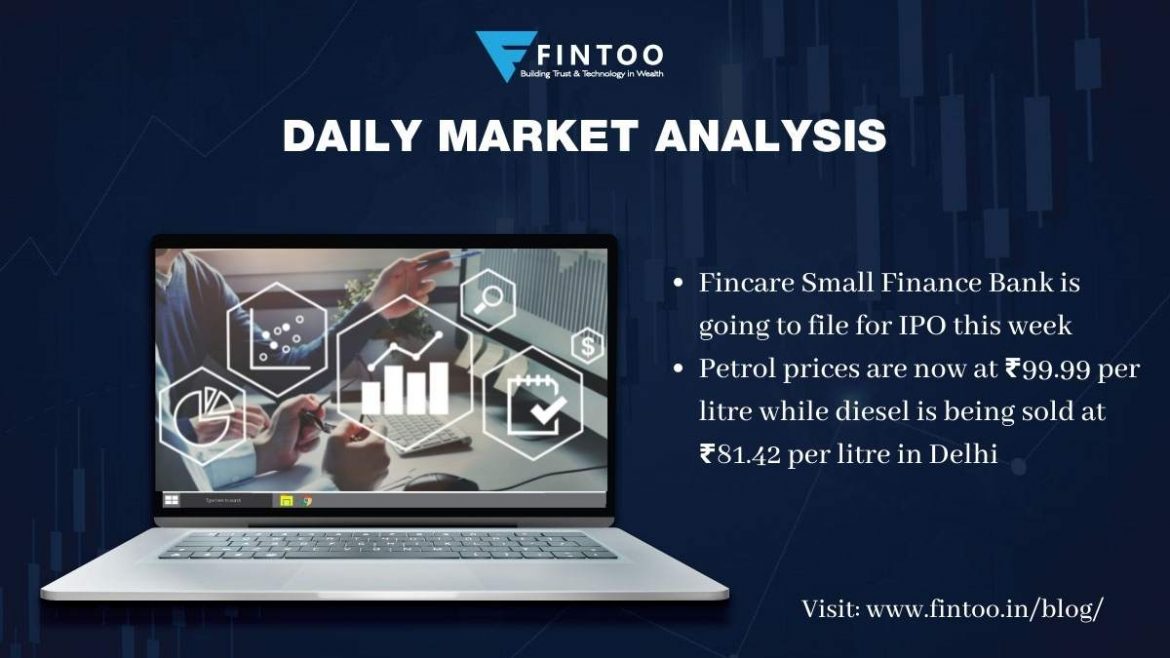 Fincare Small Finance Bank is going to file for IPO this week. It is one of the 10 microfinance institutions to receive the RBI nod to convert into a small finance bank. RBI mandates SFBs to list within 3 years of reaching a net worth of Rs.500 crores. Accordingly, Fincare has till Sept 2021 to get itself listed. Ranging between Rs.1200-Rs.1400 crore, the issue will comprise of fresh issue and OFS by existing shareholders. Fincare will file the DRHP with SEBI this week.
Since late last year, crypto-currencies started gaining steam with Bitcoin going from hovering around the US $10,000 mark to trading at above US $55,000 level presently. With the crypto-currency market opening up S&P Dow Jones Indices have launched the new crypto-currency indices namely, S&P Bitcoin Index, S&P Ethereum Index and the S&P Crypto Mega Cap Index. S&P Global announced the plans first in December 2020 to cover more than 550 crypto-coins in the indexes to allow for the creation of benchmarking tools on crypto-currencies. The indexes will use the data from the virtual currency company Lukka which is based out of New York.
Angel broking announced its plans to enter the asset management business. The company is planning to open an AMC focusing on SIPs and low-cost passive funds. This will allow the AMC to minimize the distribution and management costs. On the back of this news, the Angel Broking stock soared to end at 20% higher on 6th May. In this pandemic, all the brokerage firms have focused on digitization to help increase their customer base. Angel Broking has added 3,93,500 new customers in March 2012 whereas, Zerodha has added 3,06,000 new customers in the same period.
US government has approved the temporary waiver of patent protection rules on the Covid Vaccines. India and South Africa had approached WTO in October last year to get a waiver on the Trade-Related Aspects of Intellectual Property Rights (TRIPS) on Covid-19 vaccines. Approval on the waiver will mean that there can be a free flow of technology and medicines developed worldwide. This will significantly reduce the Vaccine cost. However, it will take time to reach a global consensus as many countries believe that this waiver will stifle innovation as it takes away the incentive of spending on R&D by the global pharmaceutical companies.
Petrol and Diesel prices in India have been on the rise in the past week. With the 3rd rise in the prices in as many days, petrol prices are now at ₹99.99 per litre while diesel is being sold at ₹81.42 per litre in the national capital. The major reason for this price hike is the crude prices which had jumped over $69 per barrel on Wednesday.
RBI has granted perpetual validity to Bajaj Finance for its entry into the digital wallet space. It will be included in Bajaj Pay which is a consolidated payments platform from Bajaj Finance. The company has announced a consolidated profit of Rs.1347 cr. in FY 21 against the Rs.948cr. profit clocked in FY 20.
Russia has authorized the production of the single-shot Sputnik Light vaccine in India which has an 80% efficacy rate
Worldwide semiconductor shortage in the markets have let the Auto companies produce vehicles leaving out the parts requiring the use of semiconductors; China set to build a self-sustaining supply chain of semiconductor products
Zomato plans to invest $100 million in Grofers to expand into the grocery delivery market
Also read: RBI Monetary Policy – Fintoo Blog
Some of the key points mentioned in the RBI Announcement on Wednesday are:

RBI Governor announced Rs.50000 crore on-tap liquidity facility for the tenure of 3 years open till 31st March 2021, for the healthcare infrastructure and additional loan restructuring. This has led to Pharmaceutical companies doing well in the last week with Lupin rising almost 10-11% and Aarti drugs rising almost 13-14%
Banks will be allowed to park surplus liquidity up to the size of the Covid loan book with RBI gaining 40 bps higher than the reverse repo rate
2nd Purchase of Rs35000 crore under G-SAP 1.0 will be conducted on 20th May 2021
RBI Governor also announced targeted long term repo operations for small finance banks of up to Rs 10000 crores to be used for lending of up to Rs 10lakh per borrower, SME MSME borrowers have been given a chance to extend their payment schedules
RBI has allowed a one-time restructuring of the loans to individuals and small businesses up to loan size of Rs 25 crore.
To Invest and keep regular track of your portfolio download: Fintoo App Android http://bit.ly/2TPeIgX / Fintoo App iOS http://apple.co/2Nt75LP
Related Posts
Stay up-to-date with the latest information.