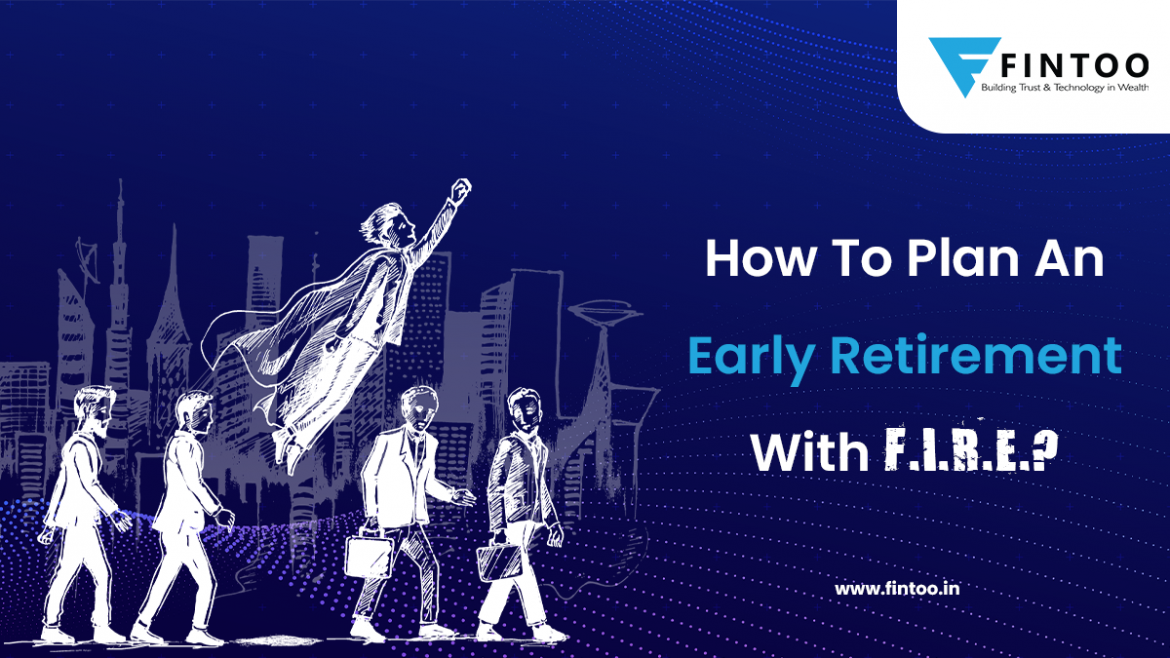 One of the major perks that come with early retirement is living life on your own terms without missing out on opportunities. You've often heard terms like "Live life to the fullest" or "You only get one life" but how much have you ever thought about it?
We spend most of our lives in a hustle and are completely burnt out by the time we retire. Earning money is an essential part of life but at the end of the day when you return home from work, you want to be surrounded by your loved ones.
However, you no longer need to wait till you've lost your youth to be able to spend quality and unburdened time with your family and friends with the Financial Independence, Retire Early (F.I.R.E.) plan. With this, you can enjoy your retirement at an early age and travel without making any last-minute cancellations due to work emergencies.
There is no denying that we all have different motives when it comes to money. To achieve our respective desires we also trace different paths. Yet to the core, we all strive for financial freedom.
The blaze of the Financial Independence, Retire Early (F.I.R.E.) movement has of late become the talk of the town. The abridged context of this term would simply be attaining financial independence and opting for voluntary retirement at an early age.
The conventional retirement age has always been 60 years and above. But the F.I.R.E. Retirement concept breaks down the age-old social constructs revolving around retirement by allowing individuals to retire at their own convenience even while they are still young.
A little backstory
The acronym F.I.R.E. was coined by Vicki Robin and Joe Dominguez in their co-authored book "Your Money or Your Life" originally published in 1992. However, it took a while for people to wrap their heads around this idea and accept the logic and practicality behind it.
Even though this book does not give us a detailed step-by-step guide to reach early retirement, much emphasis is poured on how to consume less while maintaining a good lifestyle. In order to make working a choice, and not a necessity, it becomes essential to have enough resources saved up for the future.
How does the F.I.R.E. Retirement concept work?
You might be curious to learn about this new method that can drive you in the direction of the life you have longed for. Let's take a guide through the entire planning and execution process.
The general standard savings rate followed by many people ranges between 10-15% of their income. The F.I.R.E. Retirement movement pushes this savings bar to around 50-70% per month. On a rational note, saving more than 50% of your monthly income might not be easily manageable. But before discarding this idea try a couple of alternatives to boost your income by focusing on ways and means to earn money wherever you can.
If you have a few debts in your name, make sure to clear them as soon as possible. The longer you stay indebted, the more you delay the execution of your F.I.R.E. Retirement plan. You could start a side hustle or try investing in equity, bonds, mutual funds, securities, and all other reliable options that match your risk-taking capacity.
With this, your budgeting skills also need to be stepped up. Eliminate all the unnecessary expenses that have been burdening your pockets and find substitutes for your mandatory expenses that won't alter your lifestyle by a greater degree.
Basically, the three key takeaways of this scheme are;
Spend less
Save more
Make new investments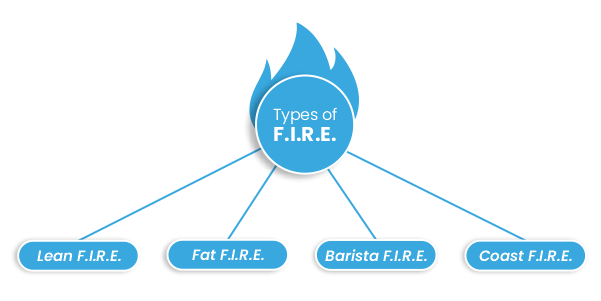 What are the types of F.I.R.E.?
1. Lean F.I.R.E.:
People who follow a very disciplined budget and adhere to living a minimalist lifestyle come under this category. They restrict their spending to the extreme level as possible and save around 25x of their annual income. Although in theory, this may seem far from plausible, it still carries a practical element to it. The F.I.R.E. Retirement promotes trimming your expenses down to the most necessary and unavoidable needs which is why the principle of Lean F.I.R.E. becomes relevant.
2. Fat F.I.R.E.:
This is a slightly different shade of lean F.I.R.E. It includes people who desire to have a lavish post-retirement life but refuse to make any modifications to their current standard of living. There is absolutely no harm in having the vision to live a comfortable life. But it will take a very high salary and immense investment strategies to be able to meet those desires while also living a decent present.
3. Barista F.I.R.E.:
It is a blend of both Fat and lean F.I.R.E. Barista F.I.R.E. enthusiasts will take up a part-time job after retiring early to manage their post-retirement expenses. These people also have sufficient savings and investments to regulate a convenient lifestyle. One of the major benefits that tag along with this principle is that you do not need to sacrifice much of your pre-retirement lifestyle. Even in cases of unpredictable health care expenses having a part-time job can come in handy.
4. Coast F.I.R.E.:
Just like Barista F.I.R.E. this also includes pursuing a part-time job after retirement. The only distinguishing feature is that people following this principle do not have a lot of money saved up or in investments. Coast F.I.R.E. scheme will make sure you don't run out of cash in your retirement but at the same time, it won't give you a high standard of living.
How to achieve F.I.R.E. Retirement?
The objectives and guidelines of the F.I.R.E. Retirement plan are direct and easy to understand. Nevertheless, you need to have a direction to move ahead with this scheme. There are a few things to keep in mind before executing your own F.I.R.E. plan.
Pre-retirement:
Most of your planning and execution take place during this phase. At first, you need to identify which F.I.R.E. Retirement principle you want to follow or which will suit your income, investments, and lifestyle. Learn about all the investment options and curate your weekly/monthly budget accordingly.
Have an emergency fund that will come to your aid in unforeseen circumstances without obstructing your F.I.R.E. Retirement plan funds. Keep the key takeaways in mind and expand your earning capacity while simultaneously curbing your expenses. The more you save now, the more it will reflect in your post-retirement phase.
Post-retirement:
In this phase, you get to live the early retirement you have been envisioning throughout. Your retired life should be sufficiently funded by the savings and investments you had done in your pre-retirement phase. Use the 4% thumb rule to meet your expenses.
This rule is used by retired people to determine how much funds they will withdraw each year. It was introduced by William P. Bengen, a financial advisor based in the U.S. He stated that if every retired individual withdraws 4% annually, it will protect their savings from getting exhausted before intended.
What are the benefits of F.I.R.E. Retirement?
Taking an early retirement will get you off the working hook at an earlier age, giving you a stress-free retired life.
You will inculcate the habit of saving and investing which is a crucial money management requirement
With all the free time to spare you can spend time with your family and friends and also pursue your hobbies and artistic side.
Your mental health will be better as you will have enough time to take care of yourself without being surrounded by work
Moreover, you will be able to accomplish all the dreams you had in mind before you opted for early retirement
The F.I.R.E. Retirement Plan gives a new perspective to life with its uniqueness. Financial independence is not easy to achieve and F.I.R.E. might not be suitable for every individual since it comes with a bunch of sacrifices too.
The ultimate decision relies on you and your money-building preferences. If this policy feels overwhelming then you can try out other retirement options. But if you dream of an early retired life and are willing to make the sacrifices for it then this shoe might be the right fit for you.
Also Read: 6 Retirement Planning Mistakes To Avoid
A financial planning platform where you can plan all your goals, cash flows, expenses management, etc., which provides you advisory on the go. Unbiased and with uttermost data security, create your Financial Planning at Rs. 99/-
Disclaimer: The views shared in blogs are based on personal opinions and do not endorse the company's views. Investment is a subject matter of solicitation and one should consult a Financial Adviser before making any investment using the app. Making an investment using the app is the sole decision of the investor and the company or any of its communication cannot be held responsible for it.
Related Posts
Stay up-to-date with the latest information.