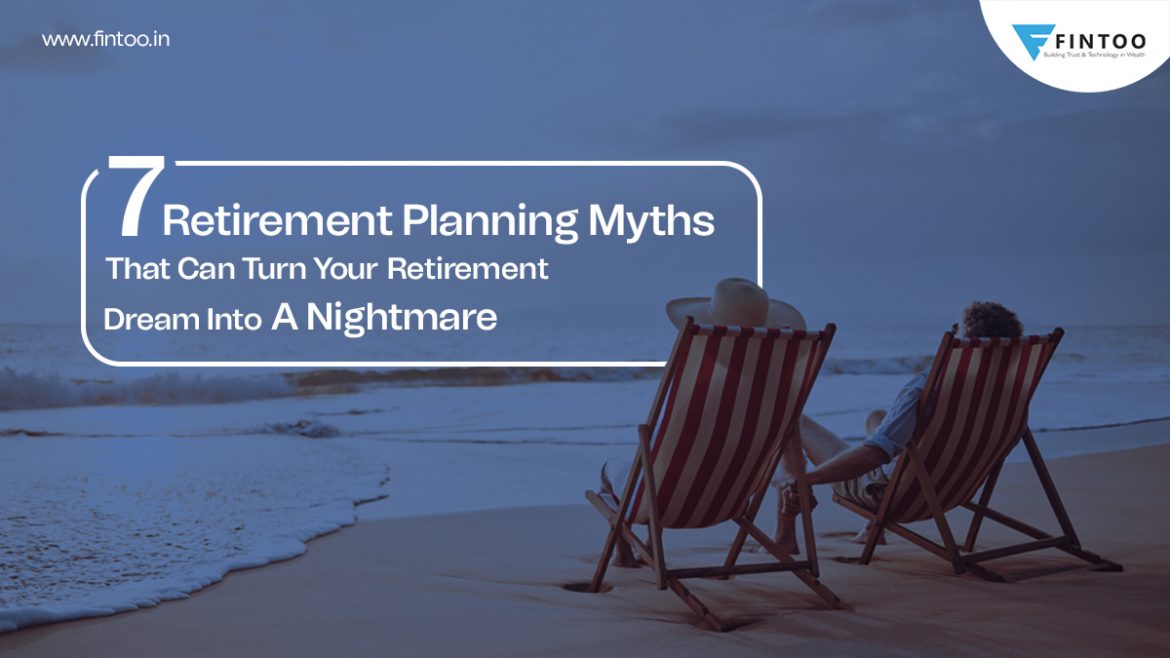 Sitting on the balcony with your family and enjoying the view amidst happy faces. Feels like a dream, doesn't it? A retired life replete with moments of happiness and joy. A stress-free life indeed!
Well, we all dream of living a retired life with the people we love the most, making lifelong memories. Now that there is no time constraint, we may also aim to pursue our long-lost hobbies which we had to let go of due to professional priorities.
While most people dream of living a happy retired life, only a few are able to achieve it. This is because they only have a dream without a plan to realize it.
As failing to plan means planning to fail, the ignorance towards planning brings us to a reality where 78% of people cannot afford to retire even at the age of 60. And unfortunately, such individuals are forced to either work post their retirement or compromise on their dreams to meet both ends and sustain themselves through their retired life.
Above all, it's not only ignorance that prevents people from achieving their retirement goals, these 7 retirement planning myths are equally responsible to turn your retirement dream into a nightmare.
1. My Children Will Support My Retired Life
Being an Indian and following our joint family culture, this is one of the most common reasons that are responsible for skewing the retirement dreams of 45% of retired parents who expect their children to support them through their retirement.
There is nothing wrong with being positive. But, being impractical and over-optimistic is surely a crime. Today, when the cost of living is rising each day and everyone wishes to live a particular kind of lifestyle with minimum compromise, expecting your children to support your retirement dreams may come across as an unreasonable demand.
Whether practically right or emotionally wrong, you surely wouldn't want to relive the story of 'Baghban' in your real life.
2.  YOLO! I Have Just Started To Earn And Live The Life I Always Wanted
Agreed. You are too young to think about retirement and you still have a long way to go. But, as they say, 'Time flies by in a blink of an eye', your YOLO period where you prioritize everything else above your retirement planning should not be so long that you miss the bus to your dream retirement destination.
Research says 4 out of 5 people in their 50s regret not starting their retirement planning at an early age. Technically, the more you delay your retirement planning, the more will be the amount you need to invest, and if you are unable to invest the added amount, you will not be able to achieve your desired amount of retirement fund.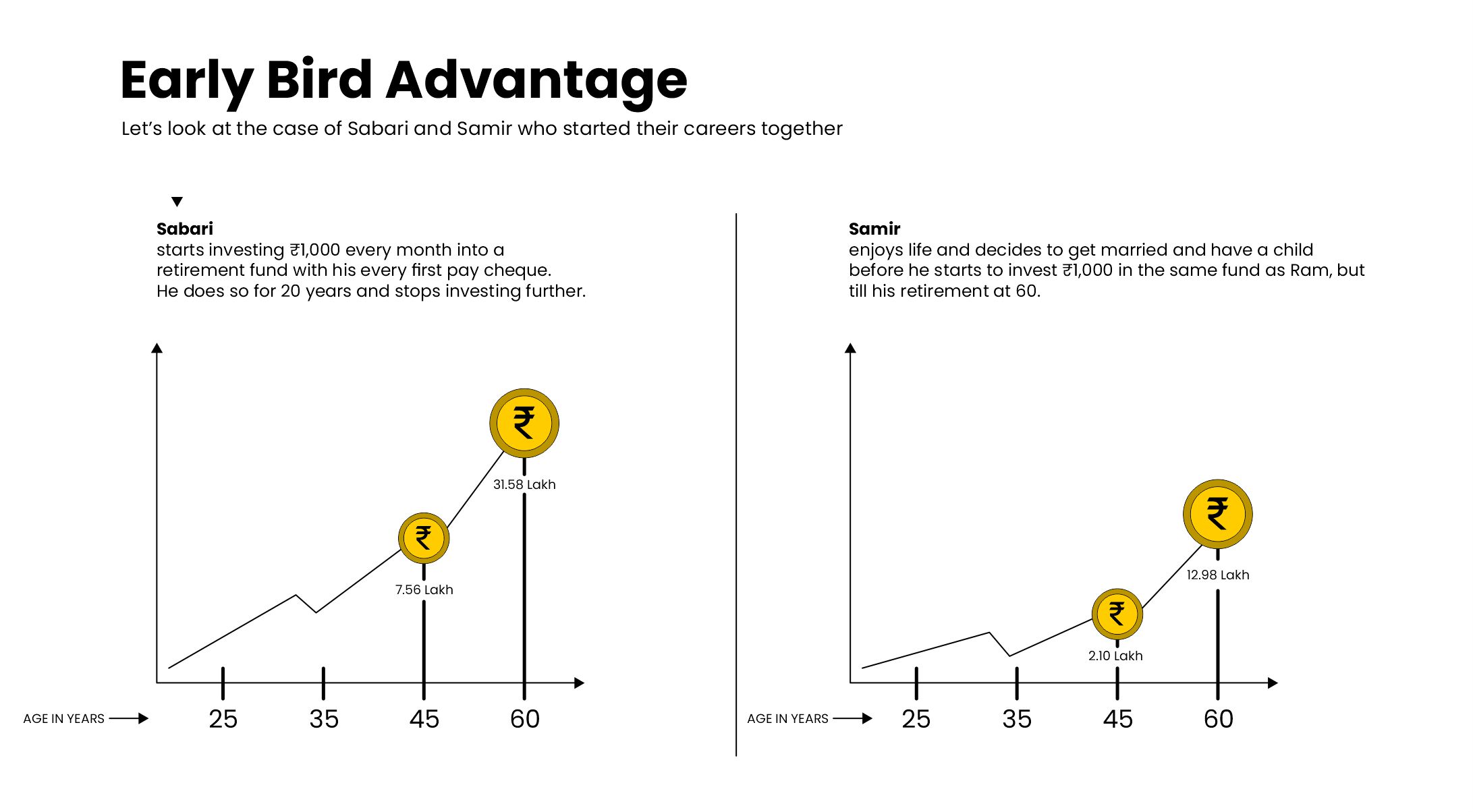 The prime reason behind starting your retirement planning right from the time you start working is that you can start small without any added financial burden and give significant time to your investments to grow. The longer you stay invested also increases the chances of experiencing the power of compounding.
3.  My Salary or Income is Too Low Right Now. I'll Do My Retirement Planning Once I Earn More
Understandably, you may be at the starting point of your professional life and your salary would be around Rs. 15,000/- per month, which you would be wishing to spend on things you like.
However, with your increasing income, your expenses too will keep increasing, and just like most of our initiatives that we usually plan to start from 'tomorrow' or 'Monday', your initiative for retirement planning will also keep getting postponed.
Therefore, it is advised that you start managing your income and expenses using effective methods like the 50/30/20 rule and also start saving and investing with as low as Rs. 500/- or Rs. 1,000/- per month, so that going forward you will at least develop the discipline that is required to save, invest and grow your wealth in the future.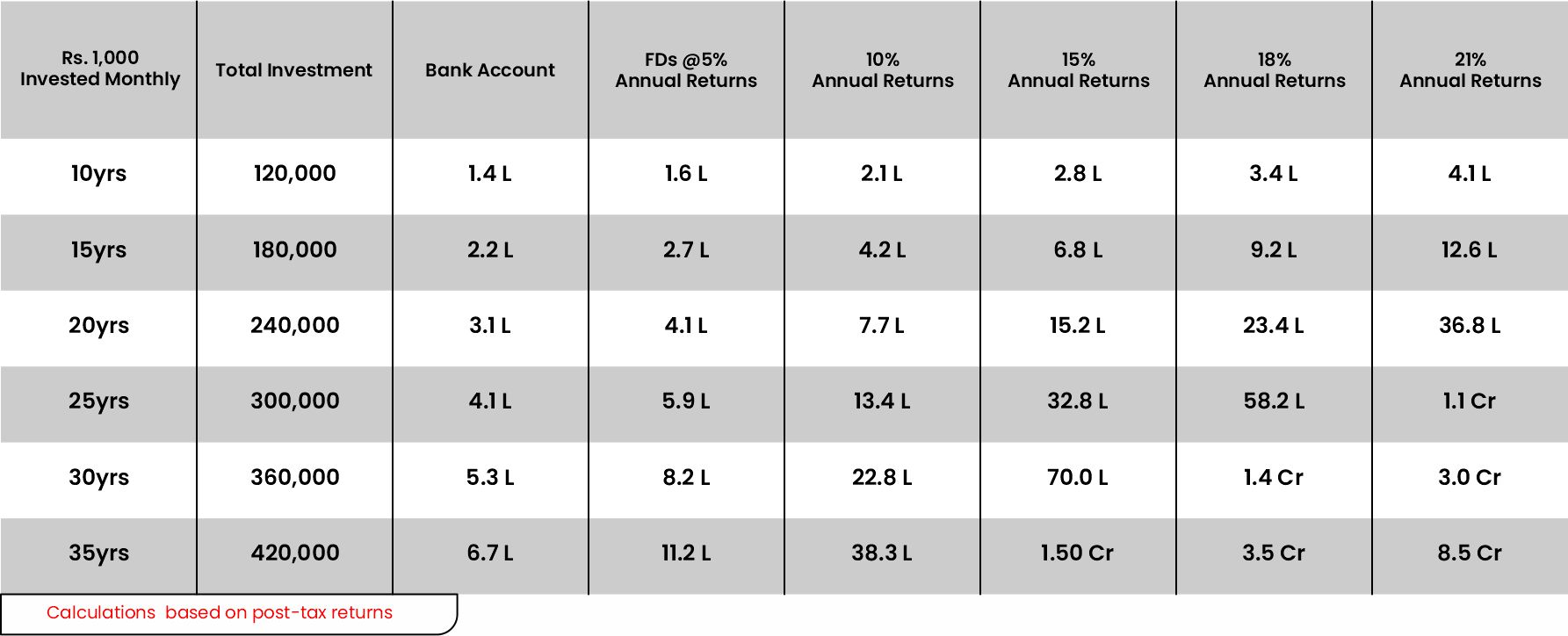 4. I Will Use My EPF, Gratuity, And Pension To Support My Retirement
Indeed, after actively working for your entire professional life, you will surely be entitled to receive a substantial amount in the form of your EPF, Gratuity, and Pension (mostly for government employees which nowadays is replaced with VRS).
But, the question is will that amount be significant enough to help you sail through your retired life without any hassles? Will it help you manage your future expenses with added inflation? Or what if you are forced by any unexpected situation to discontinue your work?
It's always good to hope for the best. But, it's equally important to stay a step ahead by being prepared for the unexpected.
5. My Inherited Assets Will Be Enough To Enjoy My Retired Life
As a thought, it may surely sound convincing enough to utilize your inherited assets like home, gold, investments, bank balance or any other assets to support your retired life. But, is it practical enough to sell or mortgage your assets to support a stage of your life where you won't have any income to either buy new assets or even repay your debt?
As the future is unpredictable, the assets that you are counting on to support your retirement may also be required to overcome a health or financial emergency, well before your retirement.
So, rather than relying on your parent's wealth to support your retired life, it is recommended to be wise and responsible enough to plan and secure your retirement on your own.
6. My Expenses Will Automatically Reduce After Retirement
Is it an astrological prediction, or an assumption?
Well, your expenses related to daily office commute and occasional shopping for office wear will surely stop after your retirement. But, your essential, medical, and personal expenses will still continue for the rest of your life. In fact, with increasing age, your medical expenses will also keep increasing and as you may already know, your health insurance will not cover all of your medical expenses. There will be a few which you would need to pay from your own pocket.
Apart from the medical expenses, you will also have a lot more free time after your retirement which may lead you to spend even more on leisure activities like traveling and joining groups or events related to your interests.
Moreover, according to research conducted by the Employee Benefit Research Institute, almost 52% of retired people continued to spend approximately 95% of their pre-retirement income. So, if you think that a marginal reduction in your expenses is worth ignoring your retirement planning, we would recommend you to think again and make a wise decision without any assumptions about the future.
7. The Safest Investment Options Like FDs or Debt Funds Are Enough For Retirement Planning
Though via FDs and Debt Funds, we are happy that you at least took a step towards making a retirement plan to secure your retirement.
Of course, FDs and Debt Funds are considered to be a few of the safest investment options, but as they say 'All investments are subject to market risks', they too cannot guarantee 100% safety of your investment capital.
While your FDs and Debt Funds offer you around 4-7% returns, the equity-based investment options offer you around 8-12% returns or even more.
The point of consideration here is if the returns that you get do not match the rate of inflation, then those returns will not be enough for you to meet your expenses in the future.
So ideally, it is always recommended that you diversify your investments in the right proportions to get the safety of FDs and Debt Funds, and also the inflation-beating returns of Equity-based investment options.
Retirement planning is a matter of personal choice and completely depends on the kind of lifestyle you wish to continue to experience after your retirement. Whether lavish or minimalistic, no matter the kind of lifestyle you choose, you will still need the required amount of money to support it. So, instead of believing in any of these myths, face the truth and start your retirement planning to prevent your dream retirement from becoming a nightmare.
Wish to get an expert's help to get started? Connect with our financial expert over a 15 minutes complimentary call and take your first step towards realizing your retirement dream now.
Disclaimer: The views expressed in the blog are purely based on our research and personal opinion. Although we do not condone misinformation, we do not intend to be regarded as a source of advice or guarantee. Kindly consult an expert before making any decision based on the insights we have provided.
Related Posts
Stay up-to-date with the latest information.