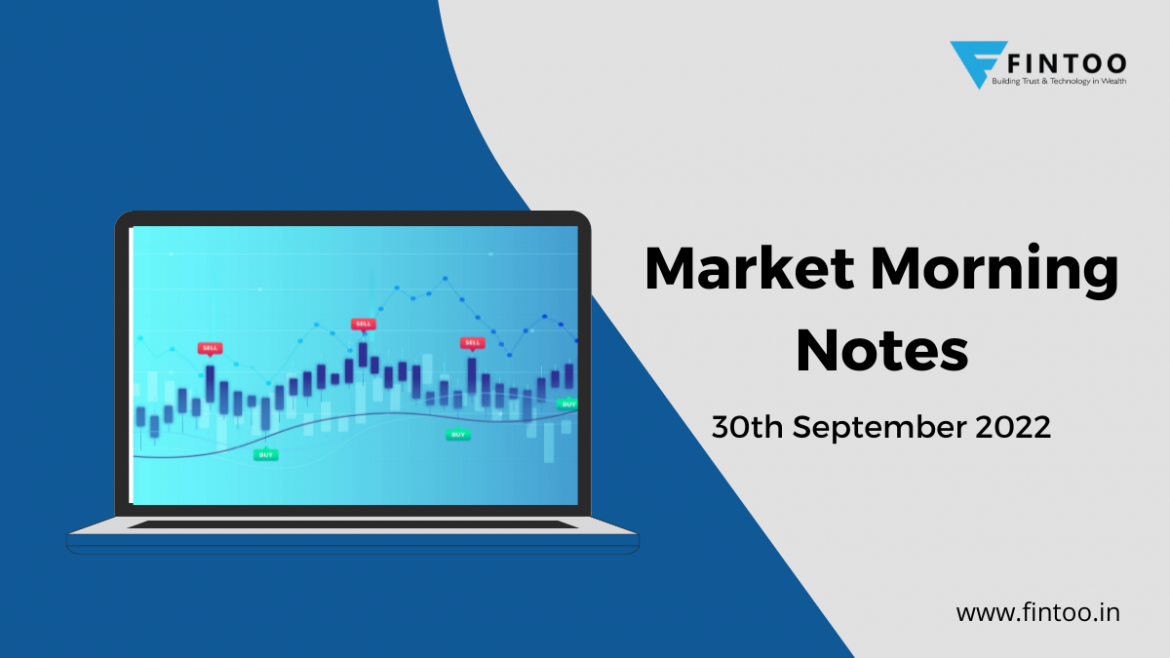 Markets gave away gains yesterday and ended near day's low at 16,800 levels while midcap and small-cap sectors outperformed the key benchmarks. The spread of the Nifty 50 – Nifty 500 Index has landed the support leg of 'Bullish Flag' and this would mean the next leg of up-move will be concentrated in high free float-based Nifty 50 stocks.
In fact, the spread of the Nifty 50-Nifty 500 Index was into a consolidation zone since Oct 2021 which was mainly responsible for range-bound trade in Nifty 50, but soon bullish impetus would take its course. For reversal confirmation, Sensex needs to close above 57634.
Reserve Bank of India expected to announce a 50 bps rate hike today at its policy meet. The policy comments and guidance would be crucial for the market sentiments along with interest rates. Rate-sensitive sectors like Real Estate, Banks, NBFCs, Infrastructure, Auto, etc are likely to remain volatile before the outcome of policy.
Spread Nifty 50- NIFTY 500 Index and Spread of India 10 Yr- US 10 yr yield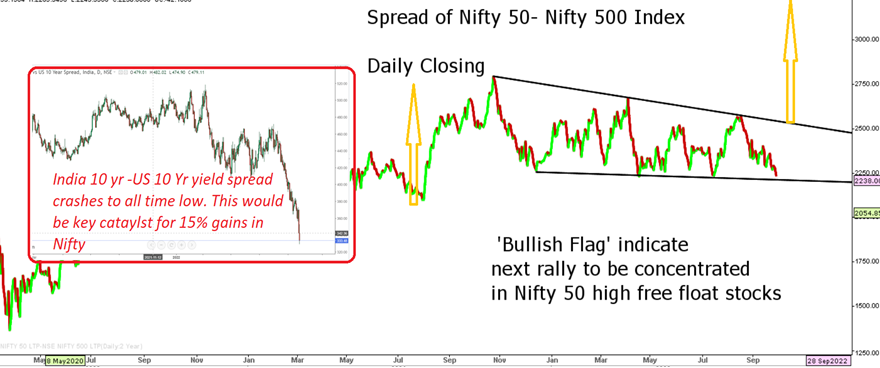 Stocks to watch
Positive Read through
Bajaj Electricals: Company bags order worth Rs 332.6 cr from Power Grid.
Rail Vikas Nigam has received a contract for the construction of 4 lane highway from Samarlakota to Achampeta Junction.
Hero MotoCorp is finalizing a collaboration agreement with Zero Motorcycles, a USA-based manufacturer of premium electric motorcycles and powertrains.
Lupin has received approval from the United States FDA for its abbreviated new drug application.
Tata Comm- Launches Private 5G Global Centre of Excellence in India.
SRF commissions facility to produce 300 million tonnes per annum (mtpa) of P38 at Dahej.
Adani Power- CCI approves the acquisition by Adani Power of the share capital of Diliigen Power and DB Power.
Deepak Nitrite- LIC's shareholding in Deepak Nitrite has increased from 4.97% to 5.02%.
Tejas Network: To merge Saankhya Labs and its subsidiaries with itself.
JSW Steel: Hikes rebar prices by Rs 1,000/t for early-Oct'22: SteelMint.
Zydus Life: US FDA issues 2 observations for Zydus Animal Health & Invsts Ahmedabad unit.
Negative Read through
Zee Entertainment- Sony merger hearing inconclusive, CCI seeks written submissions.
IEX- CERC extends price cap on power exchanges for 3 months till Dec 31.
ICICI Pru- Reports say 15 insurance companies and multiple intermediaries, NBFCs, and banks are under the GGGI scanner.
A financial planning platform where you can plan all your goals, cash flows, expenses management, etc., which provides you advisory on the go. Unbiased and with uttermost data security, create your Financial Planning at Rs. 99/-
Disclaimer: The views shared in blogs are based on personal opinions and do not endorse the company's views. Investment is a subject matter of solicitation and one should consult a Financial Adviser before making any investment using the app. Making an investment using the app is the sole decision of the investor and the company or any of its communication cannot be held responsible for it.
Related Posts
Stay up-to-date with the latest information.