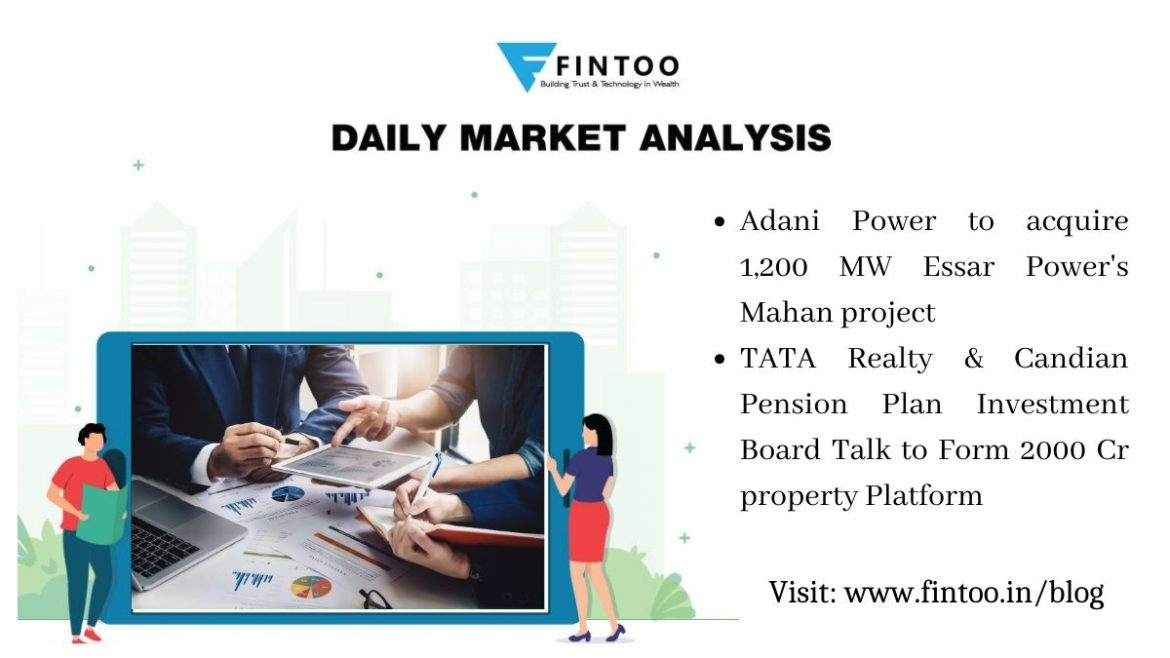 Adani Power to acquire 1,200 MW Essar Power's Mahan project
The country's largest power producer in the private sector, Adani Power Limited (APL), will acquire the 1,200 megawatts (MW) Essar Power's Mahan Project located at Singrauli district of Madhya Pradesh. According to industry sources, Adani Power will shell out close to Rs 3,000 crore for the Mahan Project. 
Adani Group has been on an acquisition spree for power generation assets across the country. Last month, Adani Group's renewable energy arm Adani Green Energy acquired SB Energy's solar and wind power portfolio from Softbank and Bharti Group.
TATA Realty & Candian Pension Plan Investment Board Talk to Form 2000 Cr property Platform
TATA & CPPIB in advance talks to set up a commercial property development platform in India with a 2000cr equity base. Through this platform will be looking for greenfield assets to beef up the portfolio and brownfield commercial properties across the country.
Also read: 8 Common Investment Mistakes You Must Avoid – Fintoo Blog
Four Share of Adani Group Companies locked in 5% Upper circuit
Shares of Adani Group companies were in focus during Monday's session, with four of the six listed stocks being locked in the upper circuit of 5 percent, bouncing back up to 11 percent from their respective intra-day lows on the BSE.
Last week, all Adani group stocks had come under pressure after a media report suggested that the National Securities Depository (NSDL) had frozen accounts of three foreign funds that own stake in four of Adani Group companies. Adani group companies as well as the NSDL had clarified that the Demat accounts of three foreign funds-Albula Investment Fund, Cresta Fund and APMS Investment Fund holding shares in group companies "are not frozen".
India Pesticides IPO opens tomorrow: Shares trades at 34% premium in grey market
Leading agrochemicals manufacturer India Pesticides is trading at a massive 34 percent premium in the grey market ahead of the opening of its initial public offering (IPO) which kicks off on June 23.
India Pesticides is one of the leading agrochemicals firms in India, with a manufacturing capacity of 19,500 million tonnes for technical and 6,500 million tonnes for formulation. The company earned 56.71 percent of revenue from the export market and the rest from the domestic market.
Automakers initiate production ramp-up to recoup lockdown losses
India's passenger vehicle makers are ramping up production to recoup the output lost during the lockdowns since April, with market leader Maruti Suzuki expected to record its highest ever volume for a month in July.
Maruti Suzuki is scheduled to produce 198,000 units next month, industry insiders with knowledge of its plans said. They projected the July production volume of Hyundai Motor at 60,000 vehicles and Tata Motors at 30,000 units, taking the total expected output of the top three automakers alone to close to 300,000 units.
Disclaimer: The views shared in blogs are based on personal opinion and does not endorse the company's views. Investment is a subject matter of solicitation and one should consult a Financial Adviser before making any investment using the app. Making an investment using the app is the sole decision of the investor and the company or any of its communication cannot be held responsible for it.
A financial planning platform where you can plan all your goals, cash flows, expenses management, etc., which provides you advisory on the go. Unbiased and with uttermost data security, create your Financial Planning without any cost on: http://bit.ly/Robo-Fintoo
To Invest and keep regular track of your portfolio download: Fintoo App Android http://bit.ly/2TPeIgX / Fintoo App iOS http://apple.co/2Nt75LP
Related Posts
Stay up-to-date with the latest information.