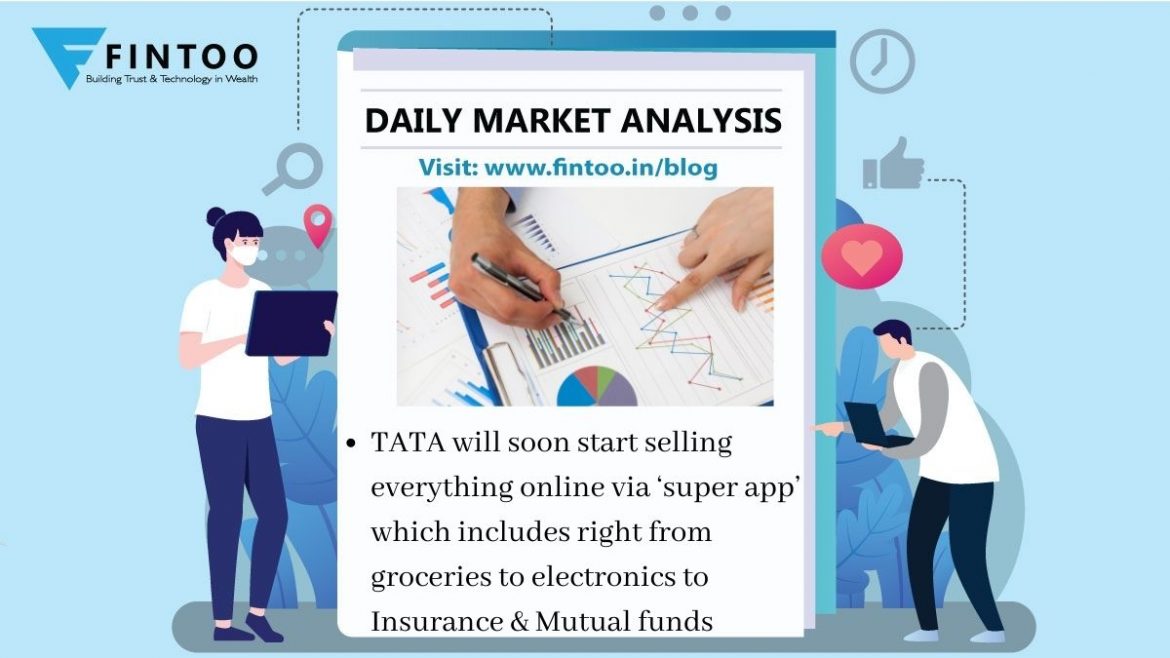 Tata Plans to enter Big in Digital World with all the product offerings
Tata Digital, part of all-rounder conglomerate TATA group, will soon start selling everything online via soon-to-be-launched 'super app' which includes right from groceries to electronics and also Financial Products like Insurance, Mutual funds and Loans.
The salt-to-steel conglomerate's digital entity is touted as an ambitious omnichannel commerce platform that will go head-to-head with Amazon, Flipkart and Reliance's Jio-Mart.
Tata Digital is scouting for strategic tie-ups with licensed banks and insurance companies to offer financial intermediation. These may include services such as credit card applications, insurance distribution, microloans and even merchant management, fintech industry sources privy of the discussions told the business daily. A 'super app' is like a digital megastore where a user can buy anything from groceries to fashion apparel and medicines. The model was first perfected by China's Ant Group and has since been emulated by Amazon, Walmart-owned Flipkart and Paytm in India.
Proposal for 100% FDI in Oil PSUs might accelerate privatisation in BPCL
The commerce and industry ministry has floated a draft cabinet note seeking inter-ministerial views on a proposal to allow up to 100 percent foreign investment under automatic route in oil and gas PSUs, which have an 'in-principle approval for disinvestment
The move, if approved by the union cabinet, would facilitate privatisation of India's second biggest oil refiner Bharat Petroleum Corp Ltd (BPCL).
The government is privatising BPCL and is selling its entire 52.98 per cent stake in the company.
At present, only 49 percent of FDI is permitted through automatic route in petroleum refining by the public sector undertakings (PSU), without any disinvestment or dilution of domestic equity in the existing PSUs.
Also read: Everything You Need To Know About Term Plan – Fintoo Blog
EPFO net new enrolments rise 13.73% to 12.76 lakh April
Defying the trend of job losses during the lockdown, more formal jobs were created under the Employees Provident Fund Organisation in April, which had seen local lockdowns in several states. EPFO added 1.27 million net new subscribers in the month, a growth of 13.7% compared to March at 1.12 million, which shows the payroll data of EPFO on Sunday. Net new subscribers under the scheme had declined by 0.28 million in April last year during the nationwide lockdown.
SEBI halts PNB Housing Finance's Rs 4,000 crore deal with Carlyle group
It may be noted that the housing finance firm was planning to issue shares on a preferential basis to the Carlyle Group and its associates for an investment of Rs 4,000 crore — Rs 3,200 crore through equity shares and Rs 800 crore via issuance of warrants.
As per the proposed deal, the Carlyle-led consortium would acquire a controlling stake of over 50 percent in PNB HFC, a subsidiary of state-owned Punjab National bank. However, the high-profile deal seems to have hit a roadblock after Sebi's order.
However, PNB HFC informed in a regulatory filing that it has filed an appeal before the Securities Appellate Tribunal (SAT) against the Sebi order.
In an earlier regulatory filing with the BSE, PNB HFC defended the deal, saying that the company had acted in compliance with the laws, including price regulations prescribed by the Sebi and the AoA. It further added that the preferential allotment route is in the best interests of the company, its shareholders, and all other stakeholders.
PNB HFC has also made it clear that the pricing is not required to be based on a valuation report from a registered value as demanded by Sebi. It argued that the final price is higher than the floor price suggested by registered valuers.
Disclaimer: The views shared in blogs are based on personal opinion and does not endorse the company's views. Investment is a subject matter of solicitation and one should consult a Financial Adviser before making any investment using the app. Making an investment using the app is the sole decision of the investor and the company or any of its communication cannot be held responsible for it.
A financial planning platform where you can plan all your goals, cash flows, expenses management, etc., which provides you advisory on the go. Unbiased and with uttermost data security, create your Financial Planning without any cost on: http://bit.ly/Robo-Fintoo
To Invest and keep regular track of your portfolio download: Fintoo App Android http://bit.ly/2TPeIgX / Fintoo App iOS http://apple.co/2Nt75LP
Related Posts
Stay up-to-date with the latest information.