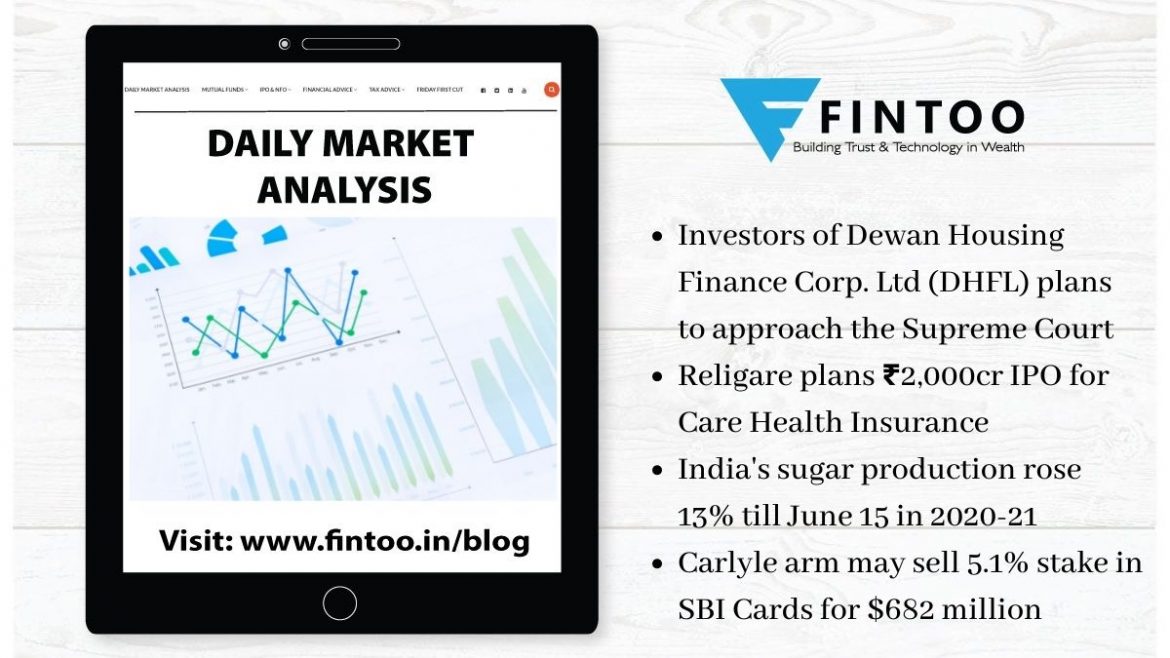 Religare plans ₹2,000cr IPO for Care Health Insurance
Religare Enterprises is considering an initial public offer (IPO) of up to ₹2,000 crores for its health insurance subsidiary Care Health Insurance, where it plans to issue fresh shares, market insiders said.
Management of REL is in discussions with investment banks for the proposed listing of the shares of Care Health and the IPO may be launched around the end of this fiscal, they said. Reliance holds a 70% stake in the firm while Kedara Capital has around an 18% stake. Public Sector banks Including Union and Corporation Bank hold around 6% Stake in the company
The issue, which is expected to be around 2,000 crore is likely to be launched later this year or early next year. Care Health could become the third from the health Insurance Segment after Star Health Insurance and Medi Assist India.
Also read: Insurance and its Tax Benefits – (fintoo.in)
Plan to de-list DHFL Shares
A section of retail investors of Dewan Housing Finance Corp. Ltd (DHFL) plans to approach the Supreme Court against a move by the National Company Law Tribunal (NCLT) to allow delisting of the mortgage lender's shares as part of its resolution plan. In their plea, investors are set to accuse NCLT and the Securities and Exchange Board of India (Sebi) of failing to adequately inform them about the impending delisting, which is part of the Piramal group's approved resolution plan under the Insolvency and Bankruptcy Code.
The number of Retail Shareholders rose from 3,16,000 in December to 3,25,000 by March as the Investors were unaware of the Piramal Group's accepted Proposal.
Since 14 June, the stock has stopped trading on the Exchanges which has created a Liquidity issue for the Retail group of Investors.
Sugar production up 13% so far this marketing year at 307 lakh ton
India's sugar production rose 13 percent till June 15 in 2020-21 marketing year at 306.65 lakh tonnes on higher sugarcane production, according to trade data. Sugar marketing year runs from October to September.
"Sugar mills across the country have produced 306.65 lakh tonnes of sugar between 1st October 2020 and 15th June 2021. This is 35.54 lac tonnes higher than 271.11 lac tonnes produced at the same time last year," Indian Sugar Mills Association (ISMA) said in a statement.
In Uttar Pradesh, sugar production stood at 110.61 lakh tonnes till June 15 of 2020-21 as against 126.30 lakh tonnes in the corresponding period of the previous year.
Sugar output in Maharashtra rose to 106.28 lakh tonnes from 61.69 lakh tonnes during the period under review.
In Karnataka, sugar production increased to 41.67 lakh tonnes from 33.80 lakh tonnes.
As per port information and market reports, ISMA said mills have contracted for 58 lakh tonnes of export .
It is also reported that another about 5-6 lakh tonnes of sugar is in pipeline to be physically exported in June 2021.
In addition to the above, the sugar industry had exported 4.49 lakh tonnes of sugar in Oct-Dec 2020 quarter against the export quota of the 2019-20 marketing year.
ISMA said that sugar demand may cross 260 lakh tonnes in the 2020-21 marketing year as against 253 lakh tonnes in the previous year.
Carlyle may sell 5.1% stake in SBI Cards for $682 million
US private equity fund CA Rover Holdings, an affiliate of Carlyle Asia Partners, is looking to sell 5.1% stake in SBI Cards and Payment Services worth $682 million (₹5,000 crore) through a block deal on Friday
The price per share band decided by the seller is around 1002-1041 which is upto 4.7% discount to Thursday's closing Price of 1051.7 on NSE.
As of March 31 this Year, CA Rover Holdings held an 11.61% stake in SBI Cards and Payment Services. In March Carlyle had sold over 4% stake in SBI through Block Deals to reduce its stake to 11.61% from 15.86%.
The share has rallied 39% from its IPO price of 755 last year and is the 2nd Largest credit card Firm in India. Carlyle had made a gain of 8.5 times in three years span during the IPO period when it sold a 10% stake for 7000 crores.
With almost 1012% returns in 4 years, it would be the best exit by PE fund on an Indian Investment.
EPFO Withdrawals
The EPFO has made various announcements in recent times to make EPF withdrawal possible from one's Provident Fund (PF) balance. These recent EPFO updates include a second Covid-19 advance to a non-refundable advance from the EPF account. These updates in regard to PF withdrawal can be an avenue for a fundraiser, in case, the EPF account holder comes across any kind of financial crisis.
Second Covid advance: The EPFO has announced that an EPF account holder who has availed Covid advance in the first wave is now eligible for a second Covid advance from one's PF account. In this EPFO relief, an EPF account holder can withdraw up to 75 percent of the EPF balance or 3-months basic wages plus Dearness Allowance (DA).
Non-refundable advance: An EPFO member, who is not in the job for one month or more, can withdraw up to 75 percent of their PF balance. This facility has been given to the EPF account holder without closing their PF account enabling the EPFO member to continue pension benefit under EPFO pension rules.
Covid advance after leaving a job: An EPFO member is now eligible for Covid advance from one's EPF account even after leaving his or her job provided full and final PF withdrawal hasn't been claimed.
Rise in insurance benefit under EDLI scheme: The EPFO has raised the maximum insurance benefit under EDLI scheme from ₹6 lakh to ₹7 lakh. Now, if an EPF account holder dies during the services, then its nominee or legal heir (whichever applicable) will be eligible for insurance benefit up to ₹7 lakh. However, the minimum threshold has been left unchanged at ₹2.5 lakh.
The EPFO has made it mandatory for the EPF and PF account holders to link their respective EPF account with Aadhar card. In the case of non-linking of the Aadhaar-EPF account, employers won't be able to contribute to such EPF accounts as EPFO won't allow employers to file ECR (Electronic Challan-cum Return) for such EPF accounts. Earlier the deadline for Aadhar EPF link was 31st May 2021, which has been now extended to 1st September 2021.
Nazara Tech to acquire majority stake in Publishme for Rs 20 crore
Nazara Technologies on Thursday said it will acquire a 69.82 percent stake in Publishme, the largest mobile game publishing agency in the Middle East and Turkey, for about Rs 20 crore – a move that will help the Indian gaming major strengthen its presence in the region. Nazara has signed a binding term sheet to acquire the majority stake in Arrakis Tanitim Organizasyon Pazarlama San Tic Ltd Sti (Publishme) by way of primary and secondary transaction through its subsidiary.
Nazara's offerings are already present in India and across emerging and developed global markets such as Africa and North America."With this acquisition, we will further expand our international footprint in the freemium segment. Nazara will aim to build local execution capabilities cutting across key growth segments – freemium, gamified learning and esports,"
He added that the acquisition will help the company in establishing itself as a key player in the region. Agarwal said the move will also help in taking investee companies of Nazara – The 'Friends of Nazara' network – to the MENA region.
These companies include Nodwin Gaming and SportsKeeda in esports, Next Wave Multimedia (developer of World Cricket Championship (WCC) – the largest mobile-based cricket simulation game) and Paper Boat Apps (developers of the popular gamified learning app Kiddopia). Nazara will focus on markets like Saudi Arabia, Turkey, and the UAE in the region. Publishme, led by zgr zalp – the former publishing head for emerging markets with EPIC Games – has a strong clientele including Garena, My. Games and Lokum Games. It also works with several brands in Turkey and MENA region including Turkcell, RedBull, Hepsiburada.com, KFC, Asus and Yemeksepeti."MENA is one of the fastest-growing gaming markets, with an estimated market size of USD 4.8 billion and has over 160 million gamers in the region (of which 100 million are mobile gamers). Our alliance with Nazara offers a unique blend of the network, global reach, and local capabilities to further the growth of the gaming industry in the region
A financial planning platform where you can plan all your goals, cash flows, expenses management, etc., which provides you advisory on the go. Unbiased and with uttermost data security, create your Financial Planning without any cost on: http://bit.ly/Robo-Fintoo
To Invest and keep regular track of your portfolio download: Fintoo App Android http://bit.ly/2TPeIgX / Fintoo App iOS http://apple.co/2Nt75LP
Related Posts
Stay up-to-date with the latest information.