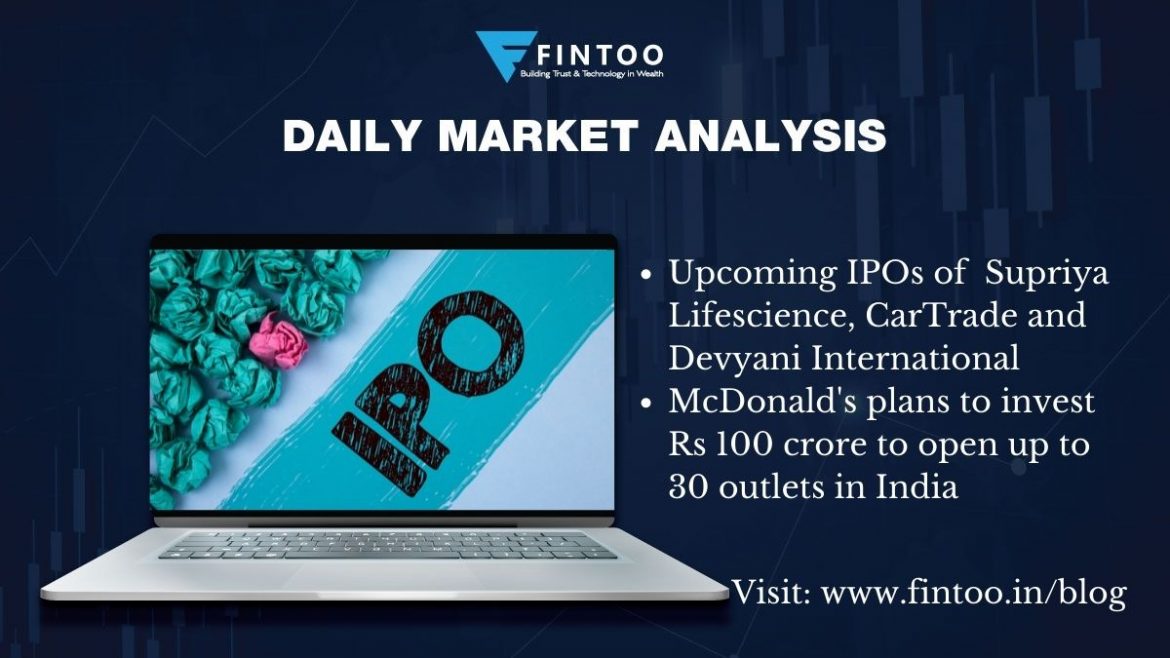 Upcoming IPO
Supriya Lifescience IPO
Supriya Lifescience has filed for preliminary papers with SEBI to raise 120 Crore through IPO. It is one of India's key manufacturers and suppliers of API with its focus on research and development. The IPO is said to issue fresh equity shares worth Rs200 Cr and an offer for sale of up to Rs 1,000 Crore by its promoter Satish Waman Wagh. The proceeds from the IPO will be utilized for the Capex requirements, repayment of the debt, and general corporate purpose. Supriya Lifescience has product offerings of 39 APIs focused on diverse therapeutic segments such as antihistamine, analgesic, and anesthetic, vitamin, anti-asthmatic and anti-allergic.
CarTrade IPO
CarTrade has filed with SEBI to raise Rs2000 Cr through IPO. There is no fresh issue of shares, the IPO consists of a pure OFS or offers for sale of 12,354,811 equity shares. The IPO will facilitate a partial exit for CarTrade investors like Warburg Pincus, Temasek, JP Morgan, March Capital, and other parties who are the selling shareholders. CarTrade.com is an online auto marketplace providing buyers and sellers a structured platform for transacting in new and used vehicles. The firm competes with the likes of Droom, Cars24, Quikr, Olx, and Mahindra First Choice Wheels.
Devyani International IPO
Devyani International files to raise Rs 1400 Cr IPO. It is the largest franchise operator of global restaurant chains like Pizza Hut, KFC, and Costa Coffee. It is the third Quick service Restaurant filing for an IPO this year after Burger King and Barbecue Nation. Devyani International is an arm of conglomerate RJ Corp, the largest bottler for Pepsi Co in India and it currently operates 692 stores of global restaurant chain Yum Brands owned KFC and Pizza Hut, British Café Costa Coffee, and its own brand including Vangoo and Food Street. Devyani International is currently operating in 155 cities of India besides Nepal and Nigeria.
More People willing to make a will
Legal firms and lawyers are witnessing an increase in the consultation on Will and Estate Planning. According to Will Jini, it has witnessed a 400% increase in the number of queries at over 58000 queries in FY21 as compared to 15600 queries in FY20. The cities with major inquiries about will and estate planning are coming from Mumbai, Bengaluru, Delhi, Pune, Gurgaon, Hyderabad, Chennai, Ahmedabad, Kolkata, and Chandigarh.
Also read: Realising the importance of having a WILL during this Pandemic. All about wills. – Fintoo Blog
Shrink in Oil Demands due to Covid Restrictions
The demand for oil in India has worsened as the country is witnessing strict lockdown and curfews in various states. Road transport fuels dropped by a fifth during May 1-15 as compared to the previous month and 28% as compared to the year 2019. A sharp drop in the consumption of oil from the third biggest crude oil consumer will weigh on sentiment on oil prices and damp expectations for a strong global demand rebound in the summer.
Shilpa Medicare to tie-up with Dr. Reddy's for production of Sputnik V vaccine
Shilpa Medicare Limited has tied up with Dr. Reddy's Laboratories Limited for the production of the Sputnik V vaccine. The company on Monday announced that its wholly-owned subsidiary Shilpa Biologicals has entered into a 3-year definitive agreement with Dr. Reddy's for production supply for Sputnik V vaccine from its integrated biologics R&D cum manufacturing center at Dharwad, Karnataka. DRL has partnered with HVI/RDIF for the clinical development of the vaccine and has distribution rights in geographies including India. Under the agreement, SBPL will be responsible for the manufacture of the vaccine, while DRL is responsible for the distribution/marketing of the vaccine in its marketing territories. The companies are also exploring the option to manufacture Sputnik Light, a single-dose version of the vaccine in the near future.
McDonald's plans ₹100 crore investment to open 30 outlets this fiscal

Westlife Development, which operates McDonald's restaurants in the southern and western region in India, plans to invest Rs 100 crore to open up to 30 outlets of the quick-service restaurant brand in the current financial year. In the last quarter of 2020-21, 55-60 percent of the company's sales came from convenience channels and 40-45 percent from in-store business. Vice President Amit Jatia said that he is bullish about FY 22 leaving out the next 2-3 months
To Invest and keep regular track of your portfolio download: Fintoo App Android http://bit.ly/2TPeIgX / Fintoo App iOS http://apple.co/2Nt75LP
Related Posts
Stay up-to-date with the latest information.