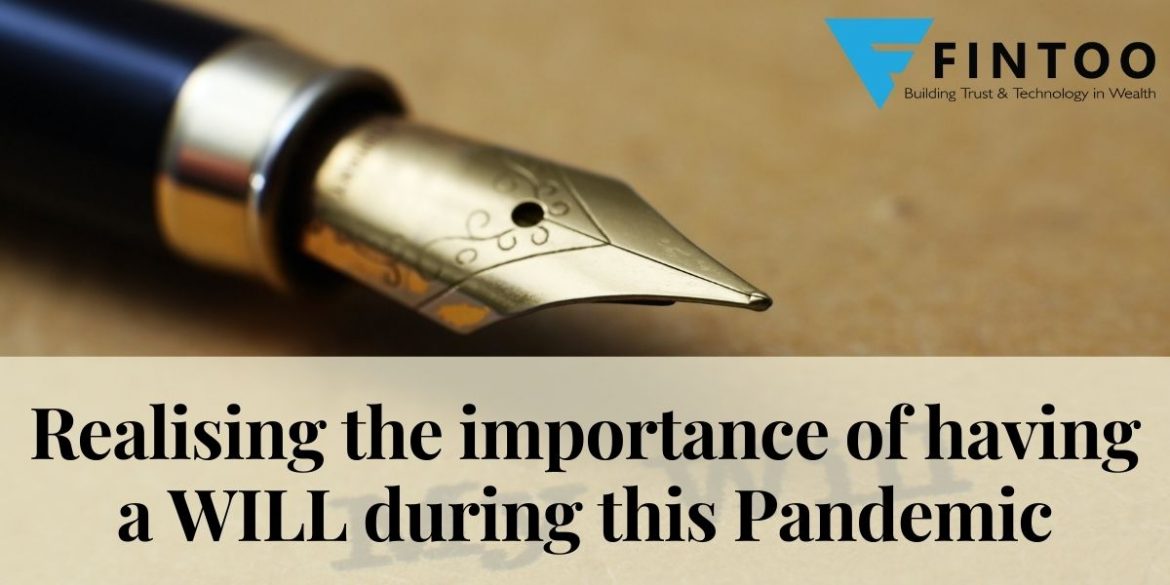 Protecting your assets and your loved ones has always been the first priority when one starts to plan their finances. The first step should be the protection of wealth and then the accumulation of the same. It is vital to realise how important it is to have a WILL.
In India, majority of people think that they are immune to any unfortunate event. Ask those who have suffered. We have personally seen people realise it's importance only when they see their close ones suffering because of no will or invalid will. The trauma the family goes through emotionally is already too much and on top of that if they suffer financially also, the family just gets shattered.
The outbreak of the COVID -19 pandemic has just given us one more reason to realize that storm doesn't knock on your door before coming. It is our social responsibility to try everything we can to prevent the spreading of this deadly disease. But at the same time, shouldn't we be prepared for the worst that could happen to the well-being of our loved ones?
COVID 19 or NO COVID 19! It has always been very critical to have written your WILL. It is strongly suggested that you have a WILL. It is not very difficult to have one.
Let's start from the very basic:
What is a Will?
A will is a legal declaration of intention of person who is making a WILL about distribution of his property and wealth.
Some of the advantages of a Will are
Writing a Will makes sure that your assets are distributed as per your wish.
It reduces family disputes to a greater extent and saves your family with all the stress.
It gives you Peace of mind that you are well prepared.
It ensures a smooth transition of wealth to your loved ones
Also read: Important points to consider while writing a Will – Fintoo Blog
Who can write a WILL?
One who writes the will is called a Testator. A person can write a WILL if he fulfils following conditions:-
He/she must be 18 years of age and above
Must be of sound mind
Must not be in an intoxicated state i.e. no alcohol or drugs to be consumed while writing a will
A will should not be written in undue influence/ coercion
Is this enough? No. There are some other requirements for a valid Will
It must be attested by atleast 2 witnesses.
Attach doctor's certificate to prove sound mind.
Registration is not compulsory but still recommended as it will prove it to be more authentic.
Now suppose the will is made as per the above requirements, and after some time, you acquire a new asset or sell any existing asset or you want to donate some of your wealth.
What can be done in this case? Will you write your will all over again from scratch. No need!
You can make a codicil. Any alteration, addition or deletion in the main will can be done by making a codicil. It should be attached to the main will. However, if too many changes, it is recommended to create a new will.
Last will is always considered as a valid will. The moment new will is created, previous will becomes invalid.
Also read: Will vs Nomination vs Joint Holding – Fintoo Blog
Now that the will is ready, there must be someone to carry out the responsibility of distribution of assets as per the will after the testator's demise. This person is called an Executor. He needs to be appointed by the testator in the will.
So to be more precise, an executor is someone named in a will who is given the legal responsibility to take care of a deceased person's remaining financial obligation and disposing of assets according to his wish.
You should appoint a person whom you can trust as an executor. Usually, very close relative or spouse can be made executor. Please make sure this person is either of the same age or younger to you. Parents ideally should not be kept as executor because of the age factor. Alternatively, One can also appoint third party legal executors.
Now the will is created, Executor is also appointed.
Let's consider a case that if a person dies and now it's the executor who will initiate the proceedings but what if –
His executor also dies or
His executor becomes disabled or
His executor declines to execute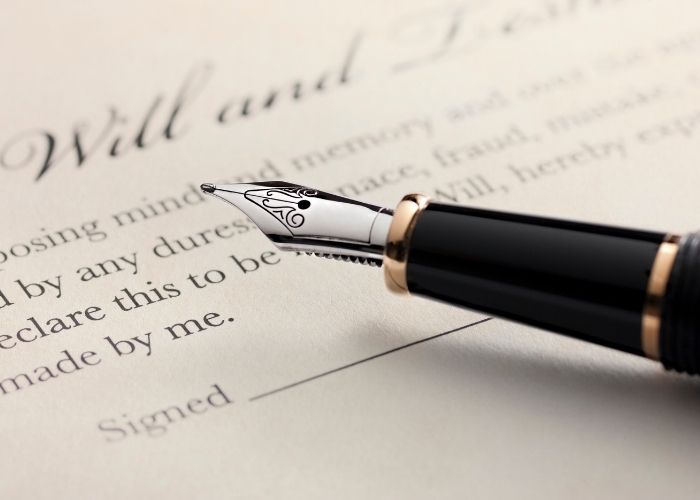 In all the above cases, the court will appoint someone as an administrator. Administrator role is exactly like an executor's role but since he is appointed by the court and not the testator, he is called as an administrator.
Important point to note here is that if the executor declines to execute i.e. renounces the executorship then he/she will have to give up their share in the will as well. This means he cannot take bequeath in such case.
So it is suggested that you appoint alteast 2 executors to avoid such situations.
How will someone check the genuineness of the will?
For instance, there are two sons, each having a will of their father which one of the two is genuine. Unless the will is probated, no one is going to accept it. A will, till it has probate by high court, it cannot be treated as genuine.
What is a probate?
So probate means a copy of a will certified under the seal of the court of competent jurisdiction with a grant of administration of estate. Probate is the proof of the owner of assets under WILL. We do not know for sure the person claiming to be the owner is a rightful owner or not. So after probate, court says now this person (beneficiary) is identified as the clear owner of a particular asset.
A will can be revoked anytime during the lifetime of the testator. How?
By creating a new will or
By destroying the old will
If I have done nomination, do I still need a Will?
Yes. Nomination just makes sure your assets have a custodian. Just by making someone nominee, you are not making them the rightful legal owner. So a WILL is a must. If there is no WILL, the assets will be distributed as per the succession laws.
We hope all your queries related to WILL has been answered. We strongly recommend that you create a WILL keeping in mind all the above mentioned requirements so that it cannot be contested in the court and transition happens smoothly.
A financial planning platform where you can plan all your goals, cash flows, expenses management, etc., which provides you advisory on the go. Unbiased and with uttermost data security, create your Financial Planning without any cost on: http://bit.ly/Robo-Fintoo
To Invest and keep regular track of your portfolio download: Fintoo App Android http://bit.ly/2TPeIgX / Fintoo App iOS http://apple.co/2Nt75LP'
Disclaimer: The views shared in blogs are based on personal opinion and does not endorse the company's views. Investment is a subject matter of solicitation and one should consult a Financial Adviser before making any investment using the app. Making an investment using the app is the sole decision of the investor and the company or any of its communication cannot be held responsible for it.
Related Posts
Stay up-to-date with the latest information.