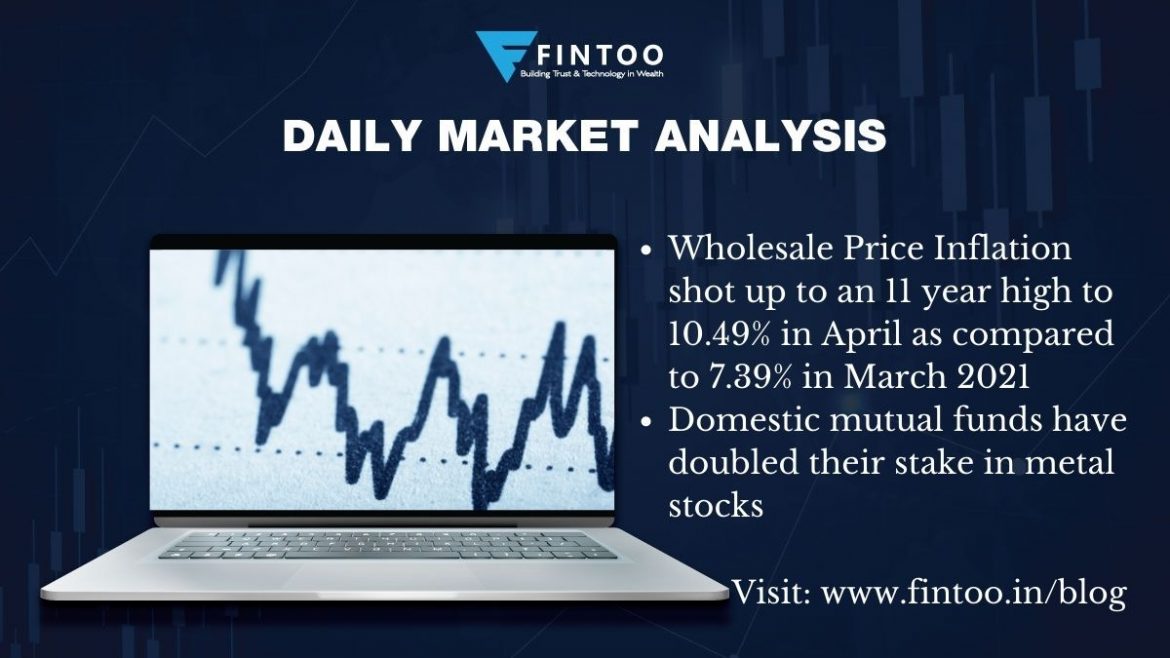 WPI Shoots up to 11-year high
The WPI or the Wholesale Price Inflation shot up to an 11 year high of 10.49% in April as compared to 7.39% in March 2021. The steep climb in wholesale prices is witnessed due to the hardening of global commodity prices. The official release states that the rate of inflation is primarily high due to the rise in prices of crude petroleum, mineral oils viz petrol and diesel.
Ratings agency ICRA has also alarmingly stated that they expect the WPI to rise to 13-13.5% in May 2021.
Adani Green Energy to acquire SB Energy Holdings
Gautam Adani owned, Adani Green Energy Ltd. is in advanced talks to acquire SB Energy Holdings Ltd. The deal could value SoftBank-backed SB Energy Holdings at around $650 million. The primary motive of Adani Green to acquire SB Energy is to expand its energy generation capacity to its planned 25 gigawatts by 2025. Currently, Adani Green is looking at a buyout of the renewable energy company through an all-stock deal.
Go Air files DRHP for IPO
Low-Cost carrier, Go Air has filed its Draft Red Herring Prospectus ahead of its IPO. The carrier aims at raising close to Rs.3600 crore via fresh issue of shares.
The IPO is to be managed by ICICI Securities, Morgan Stanley, and Citigroup. The IPO will be closely monitored as the aviation industry faces its biggest crises after the second wave of Covid cases in the country. With the pandemic and lockdown, the aviation sector has been one of the worst affected due to the travel restrictions imposed. The impact can be seen in the quarterly results as well with almost all major airlines running into losses.
Also read: How to do Retirement Planning? – Fintoo Blog
MFs increase exposure to Metals
In an aggressive move, domestic mutual funds have doubled their stake in metal stocks to close to 3.2% in a short span of 13 months. The move is a result of record prices of steel, aluminum, copper which has driven the earnings of metal companies. The advantage to metal companies is that even with record prices, their prices are still at a 10-15% discount to Chinese imported prices and prices under the Free Trade Agreement. It is because of this move that we have seen steel companies like Tata Steel and JSW Steel report an earning upgrade of 20-40% FY22 despite the second wave of the pandemic.
PE players set to bet on intermediate pharma companies
Global Private Equity players are set to invest close to $3-4 billion in India's thriving Active Pharmaceutical Ingredients (API) market. These companies are mainly into vaccines-related manufacturing and bulk pharmaceutical chemicals.
After the Covid-19 pandemic, the situation changed which has forced PE players to rejig their investment strategy and they see India as a global powerhouse when it comes to API, bulk, and contract manufacturing in the field of medicines.
APIs have now become one of the hottest sectors to bet on and some of the biggest names in the Private Equity business like KKR & Co, Carlyle, ICICI, and Chrys Capital have shown keen interest to invest in this sector.
To Invest and keep regular track of your portfolio download: Fintoo App Android http://bit.ly/2TPeIgX / Fintoo App iOS http://apple.co/2Nt75LP
Related Posts
Stay up-to-date with the latest information.