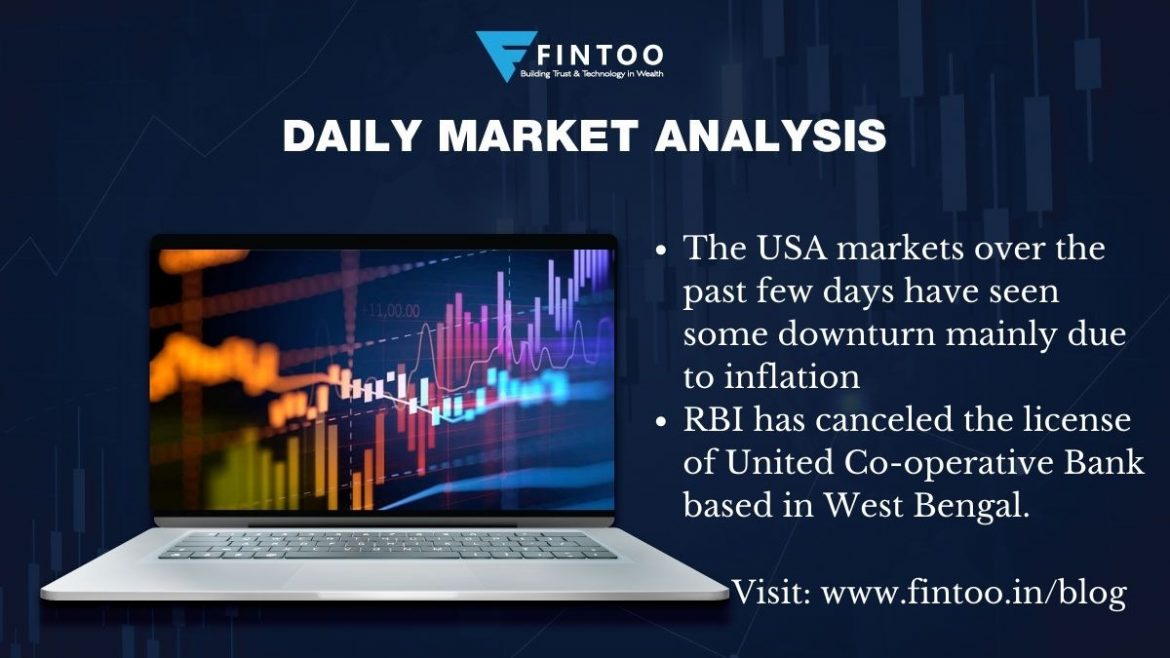 Value Stocks vs Growth Stocks – US Markets
Value stocks have beaten the growth stocks by about 13% in the latest data as per the Russell 1000 Value Index vs Russell 1000 Growth Index. The reason for the outperformance could be the lower valuation and lower PE that the value stocks were trading at.
Alternatively, there exists a massive opportunity in the technology space and bluechip stocks of the US Markets, namely Apple, Netflix, Tesla as they have seen some correction and there seem to be better days ahead due to the strong market share and fundamentals they command.
Also read: RBI Monetary Policy – Fintoo Blog
Global Cues – USA , China and Australia
The USA markets over the past few days have seen some downturn mainly due to worse than expected inflation data (rise in consumer prices) and the possibility of withdrawing some Fed Policies which were initially introduced. The USA markets staged a late recovery yesterday and ended on a positive note.
China on the other hand could not meet their quarterly GDP forecasts which led to selling in their market
Australian markets have been volatile due to its tug of war with China and the sharp fall in iron ore price could prove to be an economic disaster for Australia as they are an exporter of Iron ore to China
GO AIR IPO
The Wadia group-owned Go Air has filed the Draft Red Herring Prospectus for its initial IPO. They would be raising Rs3600 Cr via fresh issue of shares
The airline had started its operations in 2005 and has just over 50 aircrafts in its fleet.
The aviation sector is facing some tough challenges and amidst this chaos , it is to be seen how this IPO fares.
Rise in Unemployment Rates
India's unemployment rate has increased to 8% in April 2021 as compared to 6.5% in March 2021.
Restrictions that were imposed by various State Governments due to the second wave of Covid 19 and the inability of the economy to absorb the labor force has resulted in about 7.35 million job losses.
EPFO Update – Insurance Cover upto 7 Lakhs
The Employee Provident Fund Organisation has announced that if an active salaried individual dies of Covid19, their family members will be offered a sum of up to 7lakh rupees as insurance cover.
This cover is provided under the EDLI scheme and the ceiling is Rs. 15000 for the purpose of calculation.
RBI cancels license of United Co-operative Bank
RBI has canceled the license of United Co-operative Bank based in West Bengal. Through an order dated 10th May, the central bank has prohibited the co-operative lender from carrying out banking business.
The reason for canceling the license was that the Bank did not have adequate capital and earning prospects were slim. The bank also failed to comply with various regulatory requirements. In its present capacity as well, the bank would be unable to pay its depositors in full and its continuance would further prejudice the interest of the depositors.
To Invest and keep regular track of your portfolio download: Fintoo App Android http://bit.ly/2TPeIgX / Fintoo App iOS http://apple.co/2Nt75LP
Related Posts
Stay up-to-date with the latest information.