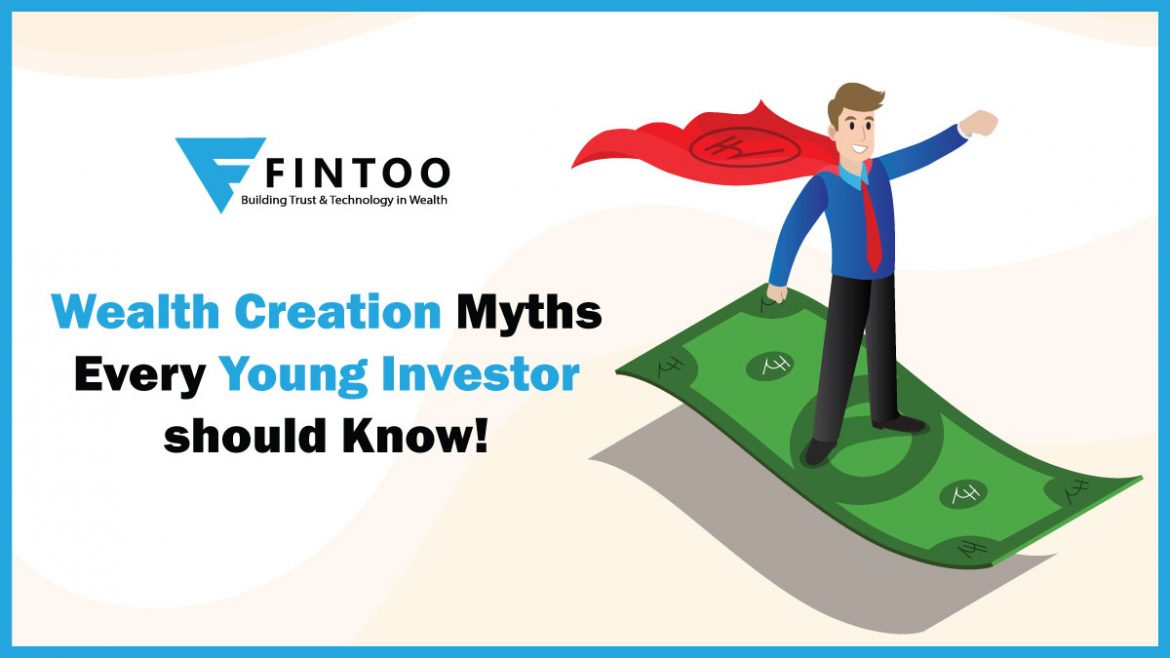 Financial security, a decent lifestyle, and financial freedom are the most important things that we all want in our lives, isn't it? However, because of our hectic schedule, we tend to shift our focus from the goal and only consume the information known by the masses, which often turn out to be nothing but myths. You even tend to develop antiquated ideas about wealth creation in due course of time. This could be because of the experience or influence of the community you socialise with. There are a few myths that are very popular among investors and this article will help you to clear & understand them. You can consider them in the long run for creating wealth.
Saving is the only way to become wealthy
We all have been cherishing this myth for ages, isn't it? Though saving is always better than spending your money, it does not result in any wealth creation.
Let's understand this technically – Consider the average inflation rate in the country which is around 7%.  Your savings lying ideally in the bank would have earned you a rate of interest of around 3-4%  on an average.  This return does not even match the inflation rate which means it is eroding your wealth over a period of time. On a contrary, if you would have invested the same amount in equity you would have earned 12-14% thereby creating wealth. To generate wealth you need to invest in an asset class that gives you more return than the rate of inflation. To conclude you will be able to create wealth only if you invest in the right financial instruments.
Job & provident fund will take care in the future
Thanks to the development in the medical field an average person's life expectancy has increased from 60 to 75-80 years. However, this does not mean that you can work till 80, your professional life will still have some limitations.
By that age, your retirement savings should hit a target kitty. You will have to accumulate money at least 25 times the annual expenses to keep you sound and secure. In case you are not hitting the target make sure to start a separate retirement fund and start investing.
Don't focus on high returns while investing
When investing, there is nothing wrong with focusing on investment avenues like equity that give you high returns. However, along with the returns, the amount of risk involved in investing in such avenues is also high. So, instead of blindly believing in market sayings like 'only risk-takers are winners', you should carefully analyse the amount of risk and returns and understand whether the investment is worth the risk or not. If required, it's always better to consult a financial expert in order to make a wise decision and ensure the safety of your hard-earned money.
For example – If you need money for the downpayment of your new house after 3 years you can invest the money in a fixed deposit or some secured financial asset so that the money is not lying ideally and you are able to generate some passive income. The bottom line is to evaluate individual product risk and consider return parameters for making a decision in investment.
Don't have money to invest
Most of the youngsters spend their early years procrastinating and thinking that they don't make enough money to invest. The reason behind this myth is that they think that they require a huge amount of money to make an investment. But this is not true, you can always begin small as per your appetite. The key is to start early and also stay longer. I am sure you must be knowing the power of compounding. If you give it another thought, you have no financial responsibilities to discharge at a young age. This is the right time to kickstart your journey and it's never late to begin.
Need to consider the timing of the equity investment
Another myth that holds investors from making money from stocks is to fall for the media hype. The investors then try to time the market. Hence, you will always end up wasting a lot of time to figure out the right time to invest in the market. Market practice is an irrational approach. Our job as an investor should be to invest regular amounts from a long-term perspective. Over a period of time, your portfolio will grow in line with the growth rate of the organizations that you have invested in. Focus on the end result and not the beginning.
Select the right product before making an investment decision
One of the biggest myths is choosing the right product. New investors often face "choice paralysis" and this delays their investments. You should not ignore the fact "Time is money" wealth cannot be created by choosing the right product but by starting early and staying long is the only secret. Investors lack the basic understanding that they will always have room for improvement. Instead of finding the right product, build your portfolio by doing thorough research and keep updating the knowledge. Investors that adapt to the changing environment are the ones who make the most of it.
Earning well is enough to create wealth
Earning decent is the first step towards achieving your financial goal. Many may think is true, however, it is no indicator nor does it give any assurance of achieving your financial goal. Earning a regular sum of money acts as a raw material. Now you have to process this raw material (money) to develop a finished product. You must be wondering how is this a myth? Well in case, you don't invest this money elsewhere you will end up spending or saving it for a very small percentage of interest thereby resulting in quick losses.
As said "Doubts kill more dreams than failure", myths stop your growth too! Education is the only weapon that can be used to understand myths. These myths can be considered as pitfalls that will hinder you in creating wealth.
A smart & informed investor only succeeds in the long run. Stick to the fundamentals of investment or consider an expert for it. Remember the future depends on what you do today. So plan it wisely!
Must Read: Wealth Habits – Learn, Unlearn and Relearn
A financial planning platform where you can plan all your goals, cash flows, expenses management, etc., which provides you advisory on the go. Unbiased and with uttermost data security, create your Financial Planning without any cost on: http://bit.ly/Robo-Fintoo
Disclaimer: The views shared in blogs are based on personal opinion and does not endorse the company's views. Investment is a subject matter of solicitation and one should consult a Financial Adviser before making any investment using the app. Making an investment using the app is the sole decision of the investor and the company or any of its communication cannot be held responsible for it.
Related Posts
Stay up-to-date with the latest information.