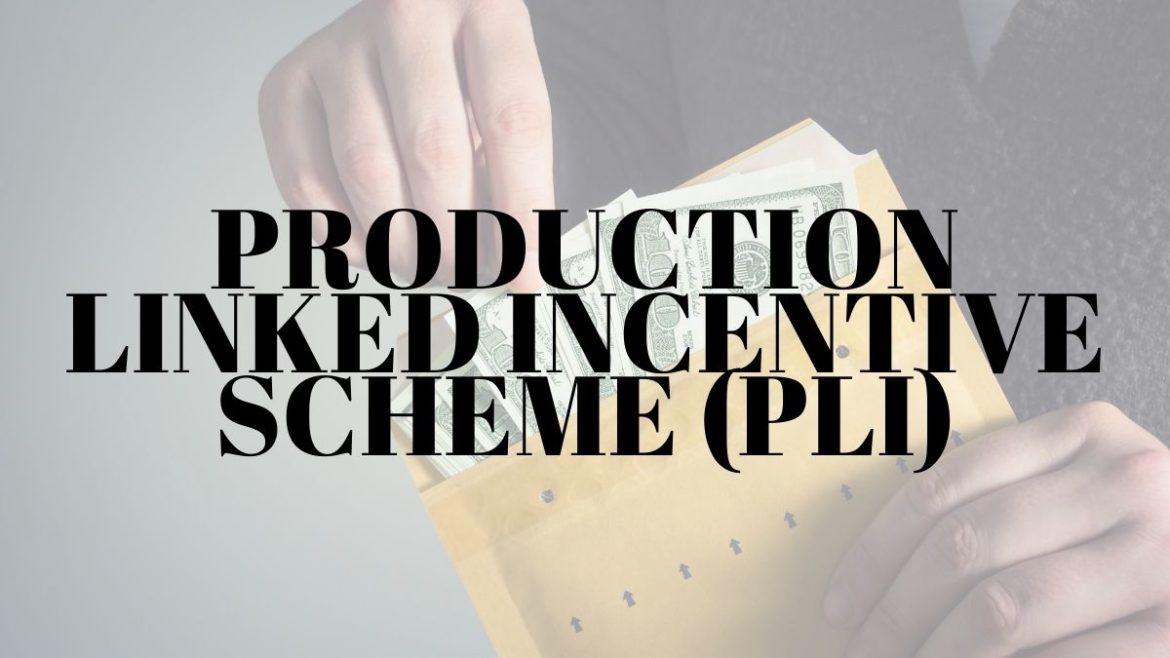 The Production linked incentive (PLI) scheme is a scheme that aims to give incentives to companies on incremental sales (base year is 19-20) from products manufactured in India. It aims to encourage local companies to set up and expand existing manufacturing units thus cutting down reliance on imports from other countries, mainly China. It will also invite foreign companies to set up manufacturing units in India.
Purpose of the Scheme
1. To introduce non tariff measures that would make imports expensive.
2. To focus more on the domestic market by producing locally and exporting to other countries
3. To offer production incentives and encourage investments both from within and outside.
Sectors covered in the PLI Scheme
The initial beneficiary of the PLI scheme was the Pharmaceutical industry where 53 drugs were made eligible for the scheme amounting to Rs 6940 Cr in March 2020. Then, As a part of the National Policy on Electronics, on April 1, 2020, the IT Ministry had notified a scheme which would give incentives of 4-6% to electronics companies that manufacture mobile phones and other electronic components amounting to Rs 40,951 Cr.
The other sectors that are covered are:
Source – CARE Ratings
• ACC battery manufacturing represents one of the largest economic opportunities of the twenty-first century for several global growth sectors, such as consumer electronics, electric vehicles, and renewable energy. The PLI scheme for ACC battery will incentivize large domestic and international players in establishing a competitive ACC battery set-up in the country.
• India is expected to have a USD 1 trillion digital economy by 2025. Additionally, the Government's push for data localization, the Internet of Things market in India, projects such as Smart City and Digital India are expected to increase the demand for electronic products. The PLI scheme will boost the production of electronic products in India.
• The automotive industry is a major economic contributor in India. The PLI scheme will make the Indian automotive Industry more competitive and will enhance the globalization of the Indian automotive sector.
• The Indian pharmaceutical industry is the third-largest in the world by volume and 14th largest in terms of value. It contributes 3.5% of the total drugs and medicines exported globally. India possesses a complete ecosystem for the development and manufacturing of pharmaceuticals and a robust ecosystem of allied industries. The PLI scheme will incentivize the global and domestic players to engage in high-value production.
• Telecom equipment forms a critical and strategic element of building a secured telecom infrastructure and India aspires to become a major original equipment manufacturer of telecom and networking products. The PLI scheme is expected to attract large investments from global players and help domestic companies seize the emerging opportunities and become big players in the export market.
• The Indian textile industry is one of the largest in the world and has a share of ~5% of global exports in textiles and apparel. But India's share in the manmade fiber (MMF) segment is low in contrast to the global consumption pattern, which is majorly in this segment. The PLI scheme will attract large investment in the sector to further boost domestic manufacturing, especially in the MMF segment and technical textiles.
• The growth of the processed food industry leads to better prices for farmers and reduces high levels of wastage. Specific product lines having high growth potential and capabilities to generate medium- to large-scale employment have been identified for providing support through the PLI scheme.
• Large imports of solar PV panels pose risks in supply-chain resilience and have strategic security challenges considering the electronic (hackable) nature of the value chain. A focused PLI scheme for solar PV modules will incentivize domestic and global players to build large-scale solar PV capacity in India and help India leapfrog in capturing the global value chains for solar PV manufacturing.
• White goods (air conditioners and LEDs) have a very high potential for domestic value addition and making these products globally competitive. A PLI scheme for the sector will lead to more domestic manufacturing, the generation of jobs, and increased exports.
• Steel is a strategically important industry and India is the world's second-largest steel producer in the world. It is a net exporter of finished steel and has the potential to become a champion in certain grades of steel. A PLI scheme in Specialty Steel will help in enhancing manufacturing capabilities for value-added steel leading to an increase in total exports.
Must read: ELSS vs Public Provident Fund (PPF): What return Mr. Iyer may get with ₹ 5000/month in 5 years.
How Can India Benefit?
India will be well-positioned as a global hub for the manufacturing of Telecom and Networking Products. Incremental production of around Rs. 2 Lakh crore is expected to be achieved over 5 years. India will improve its competitiveness in manufacturing with increased value addition. It is expected that the scheme will bring more than Rs. 3,000 crore investment and generate huge direct and indirect employment. Through this policy, India will move towards self-reliance, thus realizing the goal of Atmanirbhar Bharat. The provision of higher incentives to MSME will encourage domestic telecom manufacturers to become part of the global supply chain.
Our View
The PLI is definitely a big boost to the manufacturing in India with some sectors to benefit specifically. The companies must deliver on both, the investment and sales to derive the benefit. Jobs will be created, local manufacturing will be boosted, India's dependency on imports will reduce and exports will sharply rise. The base year of 2019-20 will be of advantage for the companies.
The only concern is that the performance parameters are stiff (For example, in case of the product of mobiles (value of above Rs 15,000) in the first year, companies must invest Rs 250 crore and show an incremental output of Rs 4,000 crore to claim the 6% benefit.)
If these norms and criterias are eased, the benefit derived would be greater.
There are a few companies that will directly benefit from this scheme and these would be shared in our sectoral reports at a later date.
To Invest and keep regular track of your portfolio download Fintoo App Android http://bit.ly/2TPeIgX / Fintoo App iOS – http://apple.co/2Nt75LP
Related Posts
Stay up-to-date with the latest information.