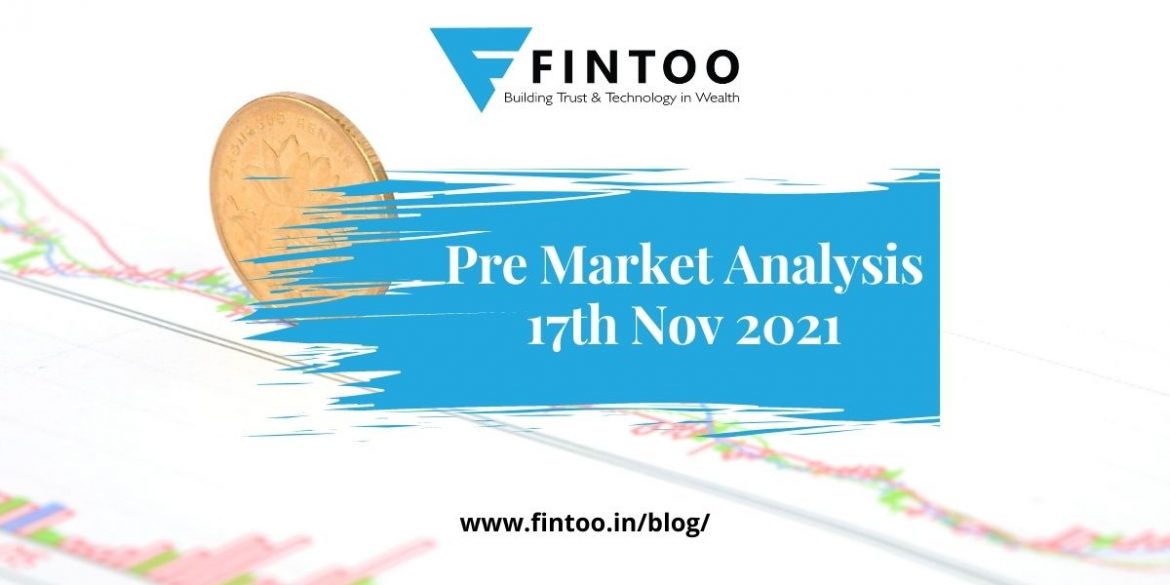 Markets developed wider cracks on Tuesday with Nifty closing below 18034 after intense battle with bulls and Bank Nifty surrendered below the 50 DMA on closing basis. The strength in market has certainly vanished after yesterday's down move and once MSCI India ETF closes 1% further lower, it could turn out to be the final nail in the coffin before start of a sizeable and extended downtrend in the Indian markets. The possibilities of Nifty hitting 19000 are more or less neutralized after yesterday's move and we can expect Nifty to test 16500 at any time.
U.S. October Retail Sales rose by 1.7%, higher than the 1.4% foreseen by economists. U.S. Industrial Production for October rose by 1.6%, better than the 0.7% expected by economists. Dollar rallied to a fresh 16-month high as U.S. yields took off on the back of impressive retail sales, industrial production and housing market data along with hawkish Fed speakers. The Dow Jones Industrial Average rose 57.34 points, or 0.16 percent, to 36,144.79. The S&P 500 gained 17.68 points, or 0.40 percent, to end at 4,701.44 points, while the Nasdaq Composite was up 118.68 points, or 0.75 percent, to 15,972.52.
Stocks in news
IndiGo: Company is mulling charging passengers for checked-in luggage as the airline prepares for a potentially fierce price war in India's cutthroat air travel market. (Positive)
Biocon: Subsidiary Biocon Biologics, and Viatris launched interchangeable biosimilars SEMGLEE (insulin glargineyfgn) injection (Positive)
Infosys Cobalt and MIT Technology Review Insights Launch The Cloud Hub. A One-Stop Destination to Help Enterprises Navigate from Cloud Chaos to Clarity. (Positive)
Eicher Motors: The automaker is ranked 8th amongst global automotive companies for ESG practices. (Positive)
ONGC: The government wants to carve out non-producing high-potential areas of prolific Mumbai High and Bassein fields for privatisation (Positive)
Steel companies: China's top steel production hub Hebei will cut crude steel output by over 20 percent in this heating season. (Positive)
Panacea Biotec: India Resurgence Fund and Piramal Enterprises are in the process of extending the repayment date of the debt facility availed of by Panacea (Positive)
Sonata Software: Investor Hemendra Mathradas Kothari sold 5,38,290 equity shares in the company at Rs 866.65 per share on the NSE. (Negative)
Kirloskar Pneumatic: HDFC Mutual Fund sold 5 lakh equity shares in the company at Rs 410.1 per share on the BSE. (Negative)
Metropolis: Promoter Duru Sushil Shah sold 4.25 lakh equity shares in the company at Rs 3,142.72 per share on the BSE. (Negative)
Punjab Alkalies: Net loss of Rs 37.3 crore against profit Rs 3.4 crore, revenue seen at Rs 87.0 crore from Rs 56.0 crore YoY. (Negative)
Parag Milk: Investcorp Infrastructure Fund 1 sold 2% stake in the company via open market transactions, (Negative)
PVR expects 'biggest' March quarter in 2022 on easing COVID curbs (Positive)
PTC India bags orders from BEE; wins consultancy assignments from BSCL, EESL (Positive)
Vodafone Idea in talks to raise debt, equity funds by FY22 end (Positive)
Must Read: Everyone Teaches You To Save Money, But No One Teaches You How To Spend It?
A financial planning platform where you can plan all your goals, cash flows, expenses management, etc., which provides you advisory on the go. Unbiased and with uttermost data security, create your Financial Planning without any cost on: http://bit.ly/Robo-Fintoo
Disclaimer: The views shared in blogs are based on personal opinion and does not endorse the company's views. Investment is a subject matter of solicitation and one should consult a Financial Adviser before making any investment using the app. Making an investment using the app is the sole decision of the investor and the company or any of its communication cannot be held responsible for it.
Related Posts
Stay up-to-date with the latest information.