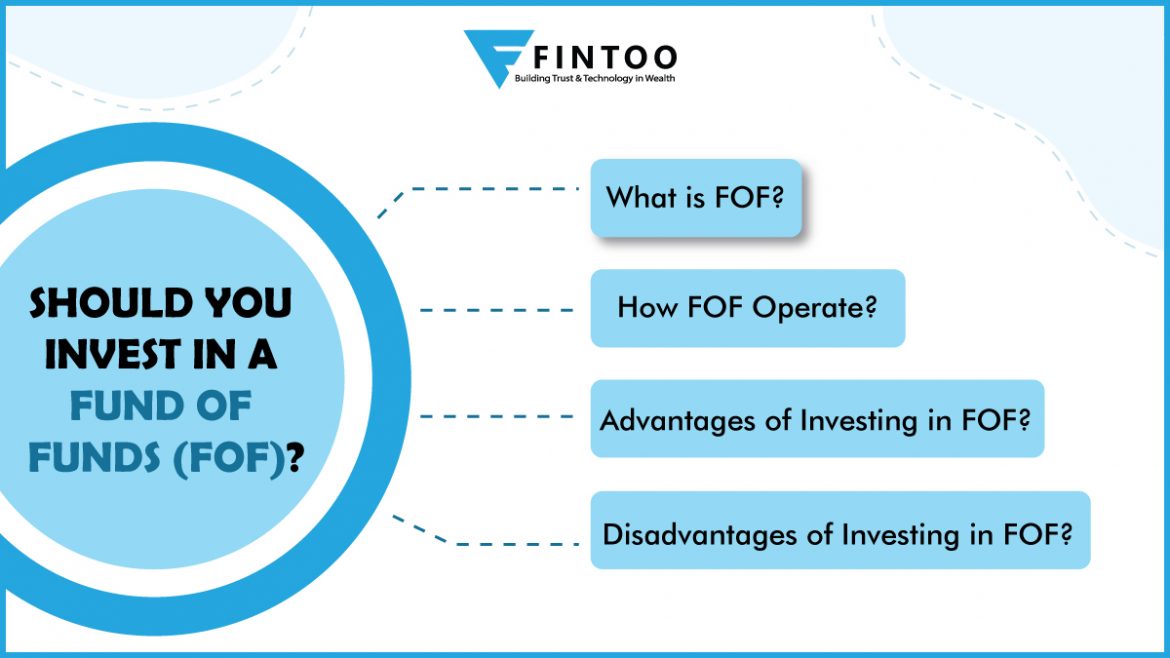 Successful investing is about managing risk and not avoiding it! For investors who are new and looking to invest at a minimum risk, they should consider the fund of funds as an investment option.
What is a Fund of Funds(FOF)?
A Fund of Funds is a type of mutual fund scheme that invests in other mutual funds. So, instead of directly investing in equities or debt securities, the manager invests in other portfolios of mutual funds. The prime objective of it is to attain the financial goal by diversifying risk across profiles. Creating wealth, in the long run, is the primary motto of the fund of funds.
Let us now understand how it operates: –
How Does A FOF Operate?
The objective of FOF is to achieve diversification and proper asset allocation along with a variety of fund categories that combine in a single portfolio. Different FOF have different investment schemes. Fund of Funds can be a mutual fund, hedge fund, investment trust, or private equity too. The investment in a fund of funds is entirely managed by the fund manager and all the investments are made on the basis of his / her experience and expertise.
Let us explore more to understand the attached advantages and disadvantages before we make the decision.
What is the Advantage of Investing In a FOF?
❖ Ease of Handling – Just like too many cooks spoil the food, multiple investments divert the attention of an investor. But here you will have just a single NAV to track, this makes it easy to handle and manage.
❖ Fund Management services– Since Fund of funds requires thorough research to be done on the portfolio managers you will be assured only a credible person will be selected. You should always consider a professionally managed fund for the services.
❖ Tax-friendly– Rebalancing your assets will attract no capital gains for the internal transaction. Moreover, it will help you maintain a balance between debt and equity along with diversifying your investments across Asset Allocation Funds, Gold Funds, International Fund Of Funds, Multi-Manager Fund Of Funds and ETF FOF.
❖ Opportunity to small investors– Investors who have limited capital and want to get exposure to a diversified portfolio, FOF is the best option for them.
What is the Disadvantage of Investing In a FOF ?
Just as every coin has two sides, the fund has disadvantages too!
❖ Taxation – As per the current Income Tax rules in India, a FOF is considered as a Non-Equity Fund and it is taxed accordingly, i.e. even though the FOF may be investing in equity funds, but they are not considered as an equity fund and thus, the investor who invests in Fund Of Funds will not get the tax benefits that are he/she can get by directly investing in the equity fund.
❖ Over diversification– In FOF, the manager invests in one particular fund which further invests in multiple funds. This will lead to overlapping and owing to the same securities via different funds.
❖ Higher fees- Investing in fund of funds is more expensive than regular funds because the investor has to pay annual operating expenses and performance fees along with the management fees, which is indirectly higher for the FOF as it also includes the management fees of mutual funds that it further invests in.
Should You Invest In A Fund Of Funds?
If you are a new investor with limited market knowledge and capital then investment in the fund of funds would be a safe choice. This will help you to lower your risk and attain your financial objective at the same time. Do thorough research before making any investment decision. You can even consult an expert and understand other implications like tax implications, risk, and also transactional timelines. Remember- Wise investing is wise spending, and it is never too late to start!
Must Read: Everyone Teaches You To Save Money, But No One Teaches You How To Spend It?
A financial planning platform where you can plan all your goals, cash flows, expenses management, etc., which provides you advisory on the go. Unbiased and with uttermost data security, create your Financial Planning without any cost on: http://bit.ly/Robo-Fintoo
Disclaimer: The views shared in blogs are based on personal opinion and does not endorse the company's views. Investment is a subject matter of solicitation and one should consult a Financial Adviser before making any investment using the app. Making an investment using the app is the sole decision of the investor and the company or any of its communication cannot be held responsible for it.
Related Posts
Stay up-to-date with the latest information.