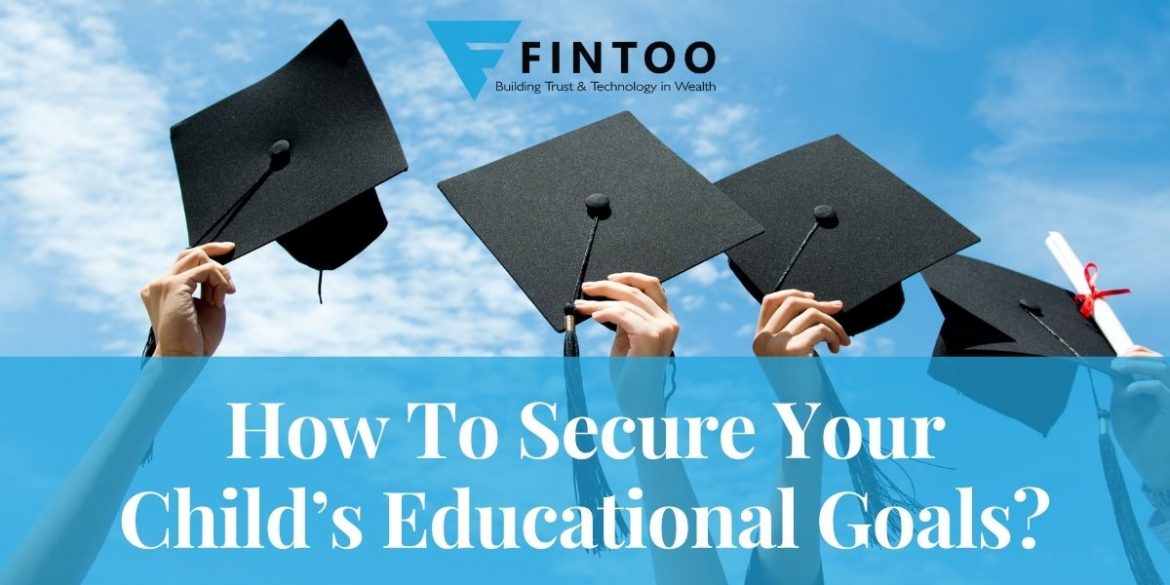 Having a good educational goal for the child is the dream of every parent. Parents focus and invest in their child's educational goals so that their children join a career of repute once they grow. However, we understand that children's education is also very expensive nowadays and parents have to shell out a lot of money for their primary to secondary education and for their college education as well. Further, if the child wants to enroll for a post-graduate course such as an MBA or professional course like MBBS, B.Tech, you need more than INR 15-20 Lakh rupees for the same.
There are some diverse investment options that are available for making secure investments for your child's educational goal. There are some fixed investments such as fixed deposits which are completely secure but the return on investment is small. Other options which every month can fetch you a large amount but might be available at moderate risk.
What can you do to secure your child's future educational goals?
There are many investments which parents can make to secure and save money for their child's education. These investments can be done through diverse options to ensure that you get the maximum return out of your investment.
Starting a SIP: – A SIP (systematic investment plan) is by far the best thing to start saving for your child's education. You can start a SIP with a small amount as low as INR 100. Even saving a small amount of say INR 1000 – 2000 per month through SIP can help you earn a large corpus at maturity. You can start the SIP with a bank through your direct account or hire a funds manager who can help you start the SIP.
Sukanya Samridhi Scheme:- An initiative for the girl child by the Government of India. Under this scheme, anyone who has a daughter up to the age of 10 years can open an account. An amount ranging from INR 1000 – 1.5 Lakh can be deposited each year. People can also claim tax exemption under Section 80C. Partial withdrawal can be done after the child has attained the age of 18 years.
Related Article :- Did you know you could save Tax through Sukanya Samriddhi Yojana?
Gold investment:- A gold fund or gold bank can be started with banks. You can invest by purchasing anything from 2 grams of gold to 500 grams of gold. Instead of purchasing real gold which calls for storage issues, Sovereign gold bonds are a better option. The rate of gold funds or bonds is equivalent to that of real goods. Plus investors will also get an annual interest rate of 2.5% on these gold bonds. There are many types of investments in gold, via gold bonds, gold ETFs, or E-Gold. The best part of the investment in gold is that the rate is not volatile.
Unit Linked Insurance Plans:- The investment cum insurance plans make a great option for people who are looking at low-cost investments. Along with offering a risk cover, you will also get the option to invest in bonds, mutual funds or stocks. This plan helps in giving a higher level of cover for the investment as well as protection. The endowment plan gives a fixed amount to the parents on maturity. In case of the death of the parent, the child will receive the amount.
Public Provident Fund (PPF):- You can also start making an investment through Public Provident Fund i.e. PPF. This has a lock-in period of fifteen years with extendable five years. If you are planning to save for your child's education, you can start a PPF under the child's name itself. You can get a high corpus amount which will be enough to fund your child's education.
Recurring deposit:- You can start a recurring deposit for your child's educational goal. A recurring deposit can be started from a minimum amount of INR 500. Depending upon your budget, you can fix a separate amount of money to start the recurring deposit for your child's need. The approximate rate of interest on the recurring deposit is 5.5 – 6% per annum.
Fixed deposit:- You can keep a fixed amount separately i.e. INR 50000 – INR 2 Lakh for your child's education and keep it fixed for a time period up to 15 years and use it fund your child's college fee.
Some of these investment options can be great for one to secure a good amount of money for a child's future educational goals. This systematic way of investments will not only help you gain large corpus on maturity but will also help you track the amount you are able to save every month. One should opt for a combination of two or more options as per their risk profile.
A financial planning platform where you can plan all your goals, cash flows, expenses management, etc., which provides you advisory on the go. Unbiased and with uttermost data security, create your Financial Planning without any cost on: http://bit.ly/Robo-Fintoo
To Invest and keep regular track of your portfolio download: Fintoo App Android http://bit.ly/2TPeIgX / Fintoo App iOS http://apple.co/2Nt75LP'
Disclaimer: The views shared in blogs are based on personal opinion and does not endorse the company's views. Investment is a subject matter of solicitation and one should consult a Financial Adviser before making any investment using the app. Making an investment using the app is the sole decision of the investor and the company or any of its communication cannot be held responsible for it.
Related Posts
Stay up-to-date with the latest information.