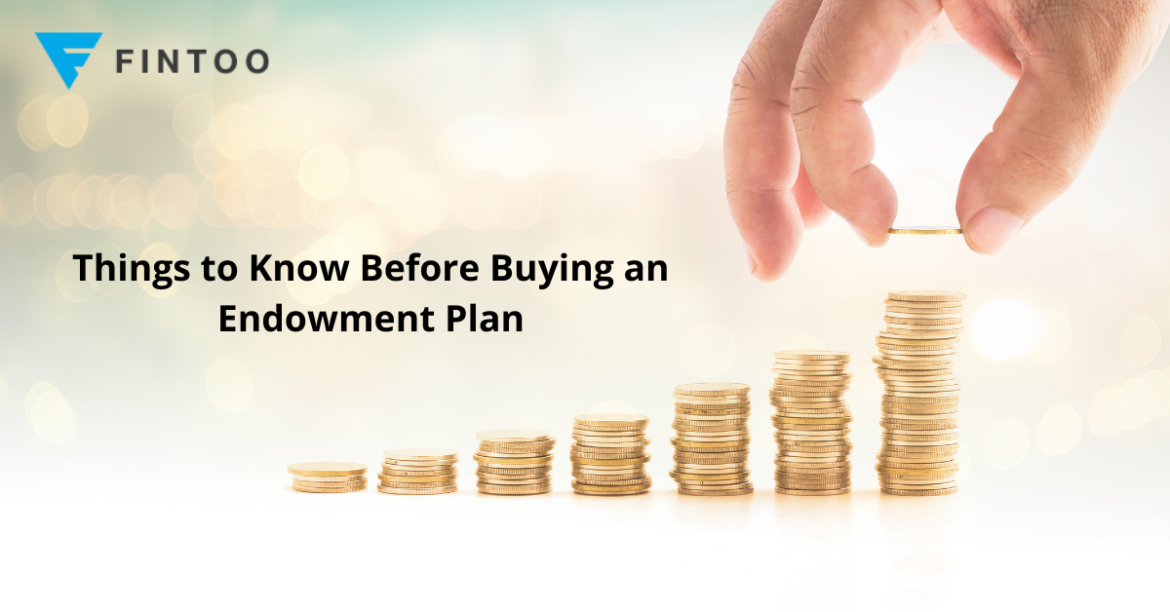 Many of us are impulsive buyers and a lot of the time we end up spending on a whim. We buy things which we may or may not need in the future. While treating yourself to such pleasures is in no way a sin, one should give equal thought to securing their future. If you relate to this, buying an Endowment Plan could be the solution to your savings and future security. People who have a steady flow of income benefit the most from an Endowment Plan. However, it is important to understand what an Endowment Plan is before investing in one. This article will take you through most of the salient features of an Endowment Plan and let you consider if an endowment plan is a right pick for you.
Some Key Features
Endowment Plans are basically life insurance policies that allow you to save systematically over a specific time period. Eventually, these guarantee you a well-rounded big sum of money once they mature. Apart from this, endowment policies also give you life coverage. At the same time, they can be used to fund various financial needs like retirement savings, buying a new home, children's education, their marriage, etc. Not only will you receive Endowment Plan benefits once the plan matures, but in case of an unfortunate accident, the beneficiaries listed on your plan will receive the promised sum of money.
There following are the four major benefits that you can avail when buying an Endowment Plan:
Tax exemptions under Sections 80C and 10(10D) of the Income Tax Act
Secure the finances of loved ones
Savings based on targets and goals
Availing loan against the policies in case of emergencies
Should You Opt For An Endowment Policy?
If you are an impulsive buyer or a shopaholic without a financial backup, this might be a very suitable option for you. Endowment Policies are great saving options if you are looking for a proper retirement plan with financial security. As mentioned above, an endowment policy offers you a big, well-rounded figure at the end of its maturity, later in life. If you are looking for long-term benefits that provide double privileges of savings along with life coverage, you could consider buying an Endowment Policy.
Proper circumstances to go for an Endowment Plan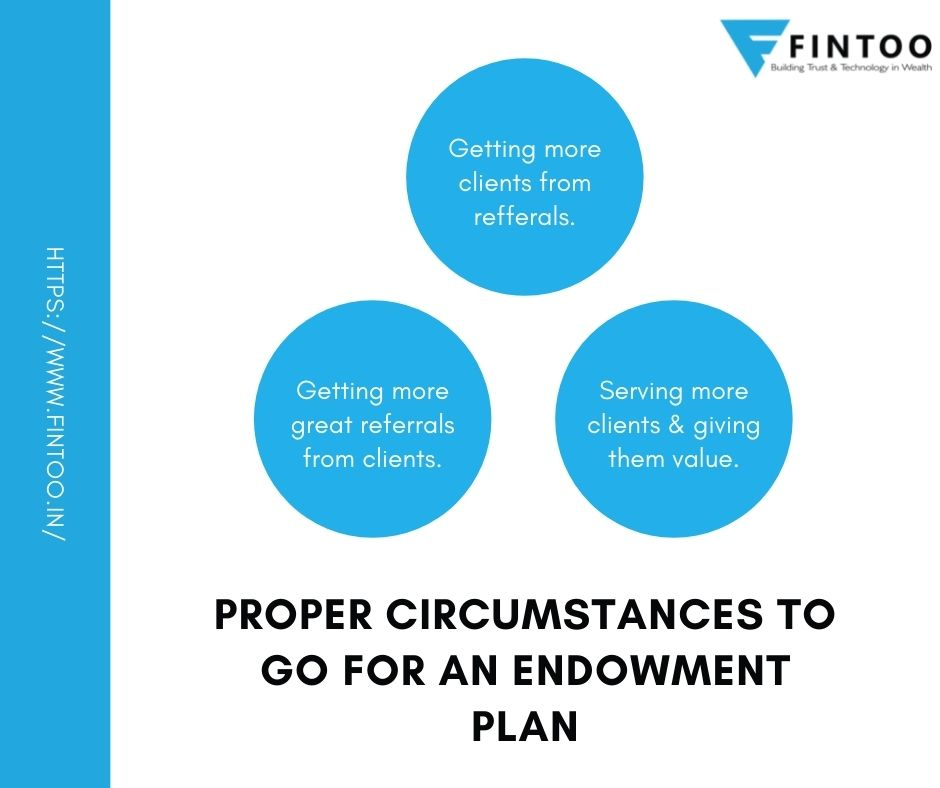 We all need a no-risk assured plan to invest based on our financial needs. Therefore, before choosing an Endowment Plan, keep three things in mind and invest thereafter. They are:
Achieve your financial targets and goals
Ensure financial security and stability for your family
Long-term savings plan such as retirement plans or other heavy expenditures that might come your way
Apart from these, the other most important factor should be a regular flow of income. Consider buying an endowment policy that fits your needs, only if you can guarantee a steady flow of money. You cannot afford to miss out on paying your premiums by the notified due dates. It is important to understand that you will enjoy better benefits if your policy runs for a longer time period. Hence, a regular flow of money is important.
Why should you choose an Endowment Plan?
The most important reason why you should go for an Endowment Plan is that you will get life coverage apart from the opportunity to lay the foundation stone to secure your future financial position. Moreover, it will give you a way to be disciplined when it comes to saving for your financial needs. The risk associated with investing in an Endowment Plan is very low. Therefore, even though Endowment Plans give you relatively lower return benefits, they are more stable and secure in nature. As mentioned above, you are also eligible to tax exemptions from the Income Tax Department of India. At the same time, the other listed beneficiaries will receive the full sum of money in case of the untimely event of your death. This secures a future not just for you, but also for your loved ones, thus making it a risk-averse investment.
Kinds of Endowment Policies
There are mainly two types of endowment policies:
Ones that come with profits and
Ones that come without profits
In general, there are various kinds of endowment policies available nowadays. Each of them focuses on the different kinds of needs you might have. These can range anywhere from securing a more protected retirement life to funding your child's education or any other goals and targets which might be precious to you. It is important to discuss your options with a financial consultant and understand which kind of plan will be most beneficial to you.
Things to Keep in Mind Before Investing in an Endowment Policy
There are three points, which you should carefully consider before buying an endowment policy. They are as follows:
There are many different types of endowment policies available. Before choosing one that fulfils your long term needs, always check for quotes. Look at, and compare the various interest rates and maturity benefits that the endowment plans have to offer before investing in one. You should also consider a few other factors such as your steady income, life-stage, needs, risks, etc.
Always do a thorough background check on the company before investing in one of their endowment policies. Look out for their claim settlement ratio, customer service and financial stability. It is better to be cautious, rather than regretting later once the policy has been bought.
Related Article : 4 Things You Need To Consider Prior To Purchasing A Term Insurance Plan
You should check for previous track records of the company. A Unit Linked Insurance Plan (ULIP) provides higher return benefits compared to an Endowment Policy, but they are prone to higher risks. So, a comparison of the return rates is crucial before committing to a company and buying an Endowment Plan for your needs.
A financial planning platform where you can plan all your goals, cash flows, expenses management, etc., which provides you advisory on the go. Unbiased and with uttermost data security, create your Financial Planning without any cost on: http://bit.ly/Robo-Fintoo
To Invest and keep regular track of your portfolio download: Fintoo App Android http://bit.ly/2TPeIgX / Fintoo App iOS http://apple.co/2Nt75LP'
Disclaimer: The views shared in blogs are based on personal opinion and does not endorse the company's views. Investment is a subject matter of solicitation and one should consult a Financial Adviser before making any investment using the app. Making an investment using the app is the sole decision of the investor and the company or any of its communication cannot be held responsible for it.