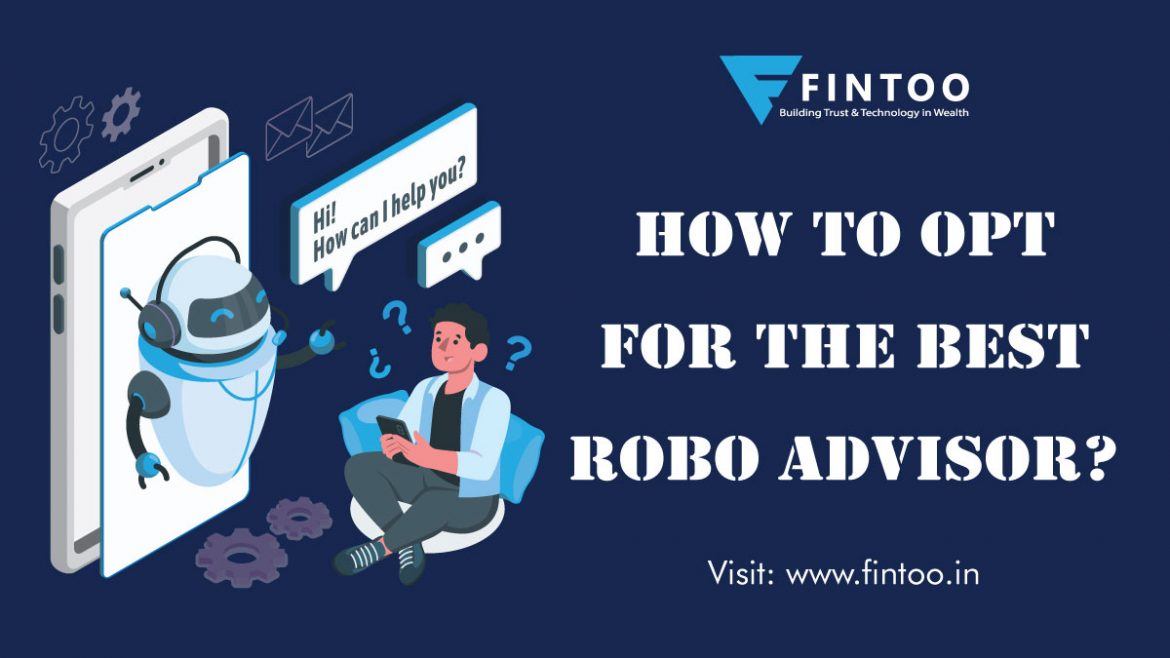 Robo Advisor is the new talk of the town, especially popular among the youths. A plethora of information is available on the internet that talks about the pros and cons of using the services. Has all the information available on the net still left you unsettled?
Since you have now decided to take a plunge into financial automation, don't know where to start? This article will guide you on how to evaluate the best Robo advisor for yourself!
Here is a quick list of steps that you should take to select the right one for you:
I. Identification of the Need:
Financial planning is the broader term and varies from goal-based planning to a comprehensive service of managing all the debt and the cash flow of an individual. Most of the Robo advisors will only be able to handle the former.
Therefore if you are planning to set a new goal or haven't started any financial planning, then Robo advisors are just the right option for you. Robo advisory services come with discrete options as some may offer complete automation while a few may offer a hybrid option of pairing the customers by using a computer algorithm with the right financial planner.
Hence you need to choose wisely. If you aim to only do simple goal-based planning then any Robo advisor services would work for you, but in the future, you might require the services of a certified financial planner as your financial needs grow.
Therefore it is important to select Robo advisors who offer advanced financial planning services i.e. human interaction as an additional service.
II. Pick only SEBI registered Robo Advisors:
Once you decide on the type of Robo advisor, shortlist a few and then find out if they are registered with SEBI (Securities Exchange Board of India) as "Investment Advisors" SEBI has laid stringent guidelines for both offline and online investment advisors to ensure that they only offer products that are suitable along with proper evaluation of risk.
The advisors also need to mention conflict of interest in the advice that is provided to their customers. Be aware of mutual funds distributors who function like Robo advisors. Few of them even offer the platform for free and earn commission from the mutual funds they suggest to clients.
Since there is a conflict of interest investment advice to clients would be unbiased.
III. First, opt for a free trial or free membership:
Most the Robo advisors allow their prospective customers to make a free account for some time so that they can explore. While some may even provide the platform for free as the advisors earn via commission. It is a wise decision to always take a test drive before committing.
By doing this you will get a fair idea about the user interface and also the technical glitches. Though glitches are part and parcel of the system it is always good to know them before the monetary commitment.

IV. Evaluate the Robo advisor on important criteria:
1. Service offering – Always consider the services offered by Robo advisors because some may provide only transactional while some comprehensive. Select the one with mixed service to achieve a long-term goal.
2. Research-backed advice – Most of the Robo advisors suggest mutual funds as these are convenient and less risky instruments to invest in. Robo advisors that pick the best option for your portfolio should be the topmost priority.
3. The reputation of the company – Don't fall for Robo advisors that offer gifts, discounts, lucky draws, or even extended subscriptions. Choose the one who is genuinely concerned about your long-term commitment. Small companies might shut and leave you. Robo advisors that are backed by established companies should have opted. You should make sure that the commission earned by these Robo advisors does not influence their advice.
4. Cost – Cost plays a crucial role in planning for investments. Robo advisors may charge you based on the following
· A subscription fee
· Some percentage of the amount invested
· Transaction fees
· Commission earned from the mutual funds.
Select the one that suits your requirements. For instance, does a transaction fee or subscription fee makes sense to you? Evaluate the cost by all the methods and figure out the appropriate option.
V. Make a Decision and Stick to it:
After evaluating all the Robo advisors based on the above points, you have narrowed down the list and now it will be easier for you to select an advisor for yourself. Selecting the right Robo advisor is just the first step to achieving your financial independence. When you set a goal make sure you keep a track of it.
Many a time people choose advisors but are unable to stick with the plan. Once you begin stay till the end.
As said, "A stitch in time saves nine" so is the financial planning. If you follow the action plan rigorously with dedication you shall reap benefits in the long run.
Robo advisors are truly a compelling alternative to the traditional approach. Always remember that not all Robo advisors are perfect and their advice may not be customized.
The Robo advisor you choose should care for the investment and financial goals you want to achieve in the long run. Evaluate all the Robo advisors on the above parameters. As said a step taken today can do wonders in life tomorrow, therefore choose wisely!
A financial planning platform where you can plan all your goals, cash flows, expenses management, etc., which provides you advisory on the go. Unbiased and with uttermost data security, create your Financial Planning at Rs99/-
Disclaimer: The views shared in blogs are based on personal opinions and do not endorse the company's views. Investment is a subject matter of solicitation and one should consult a Financial Adviser before making any investment using the app. Making an investment using the app is the sole decision of the investor and the company or any of its communication cannot be held responsible for it.