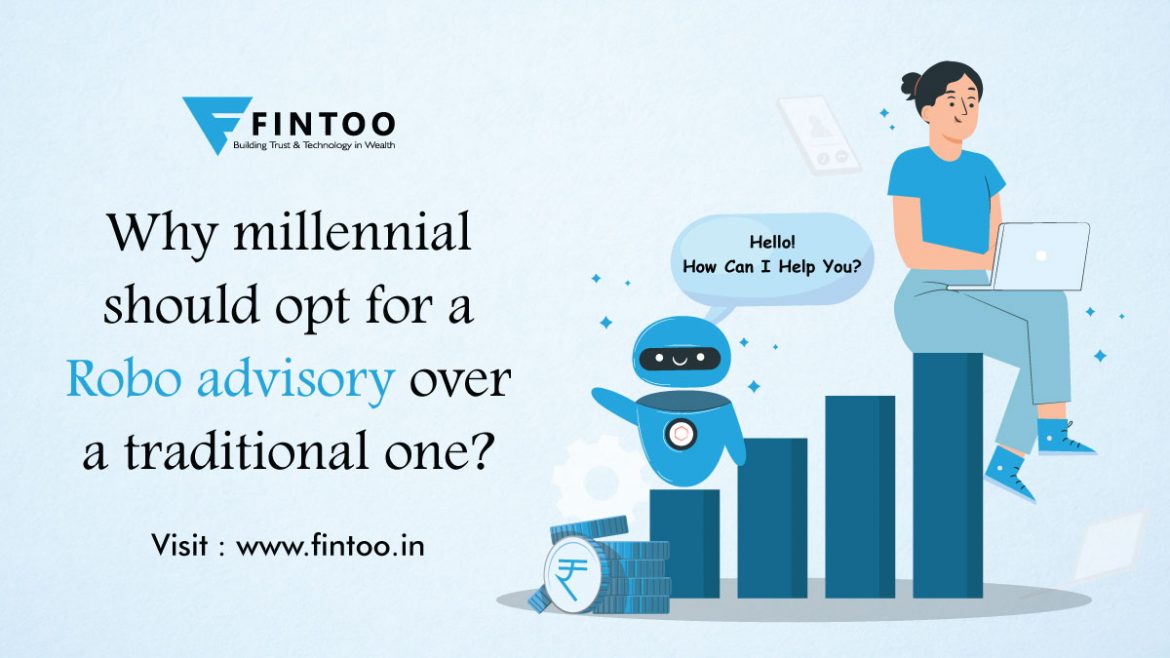 Many millennials feel that they are going to work forever, but with the right investment at the right time, early retirement is possible. Now, the real question is how do we decide which time and how much is the right one for investment?
Do we rely on the financial advisors who charge a fortune? The answer to this question is NO!
In today's digital time and the world, the right investment is just a click away with Robo Advisors. Robo Advisors are your finance gurus who will help you make the right investment by studying the data. Let's further understand their benefit!
Following are the benefits of Robo Advisors:
Less expensive compared to a human advisor

It is the most cost-effective alternative to a human advisor, as Robo advisors don't have to bear the expenses of owning an office or staff. The fee of a Robo advisor is a fraction of a cost of a human advisor. Most of the Robo advisors generally charge annual flat fees which are less than .5% per specific amount managed.
Since millennials are not financially stable or rich as tenured investors, using a Robo advisory service for an expensive financial advisor makes it a more plausible option. Also, Robo advisors will automatically rebalance the portfolios when the market fluctuates.
You don't have to have numerous meetings or fill out various forms when it comes to using their services. In a nutshell, Robo advisory is economical.

Accessibility
Millennials are tech-savvy and they also believe in working with no restrictions when it comes to time & place. The Robo advisory services give them the freedom of accessing it anywhere, anytime with just the tap of the mobile phone or a click of a button on the computer. One can reach Robo advisors 24/7 with an internet connection.
These are automated platforms having user-friendly interfaces making them very simple and easy to use. Therefore it is the best option for those who don't follow the traditional mantra of doing the right thing at the right time.
One-stop solution
Complete financial planning includes planning for investment, tax as well as retirement. Many of the human advisors provide these as individual services and charge a bomb for each of them. As millennials cannot afford to subscribe to each service as they have a limited budget they do not prefer human advisors.
Alternatively, most the Robo advisors provide a comprehensive solution that includes all the other investments. Thereby making it the most preferred choice of all the investors with limited spending capacity.
Unbiased Investment option
As said "Too many cooks spoil the food" having too many options for investment creates unnecessary confusion. This may also result in taking wrong decisions, especially when you consider the multitasking millennials. Robo advisors help these investors to get a few but extensively analyzed, reliable, and also unbiased options.
The millennials do not have to spend too much of their time and effort when it comes to availing of a Robo advisor services. Also, it helps the investors to make the process faster and easier.
Low Investment
Most of the professionals (human advisors) offering financial advisory services charge very high fees for consultation along with a minimum amount of investment. Since millennials are just at the beginning of exploring their career it is difficult for them to invest a minimum amount or pay such high fees.
Since Robo advisors provide a 360 financial planning solution that is at par with human advisors, young investors prefer Robo Advisory over human advisory.
If you were looking for an introverted, logical finance advisor, who will help you invest right and early retirement, then Robo Advisory is the right choice for you.
A financial planning platform where you can plan all your goals, cash flows, expenses management, etc., which provides you advisory on the go. Unbiased and with uttermost data security, create your Financial Planning at Rs99/-
Disclaimer: The views shared in blogs are based on personal opinions and do not endorse the company's views. Investment is a subject matter of solicitation and one should consult a Financial Adviser before making any investment using the app. Making an investment using the app is the sole decision of the investor and the company or any of its communication cannot be held responsible for it.