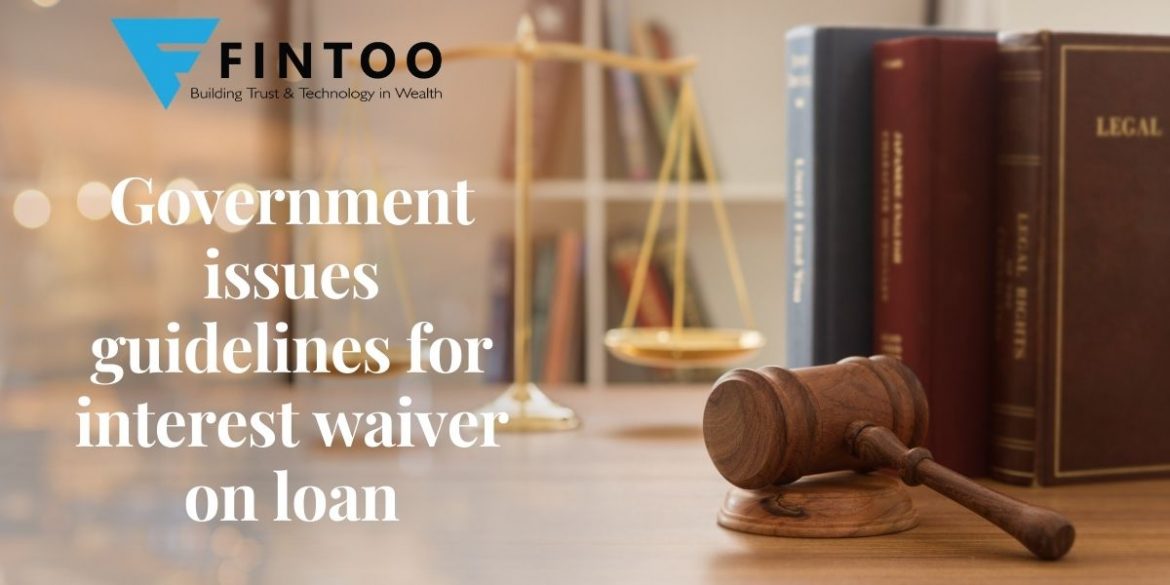 The Government of India recently announced the interest waiver on loans up to 2 crores. This was done to provide relief to the borrowers who have the liability to repay loans amid COVID-19. Global Pandemic had resulted in a nationwide lockdown and thus we experienced disruption in businesses. This further led to job loss and sizeable pay cuts to most employees. With limited cash in hand, it was difficult for most of us whether a businessman or an employee to continue paying EMIs.
To bring in some ease for the borrowers, Government had earlier introduced moratorium of EMIs on loans for a period of 6 months i.e. from March 2020 to August 2020. This gave loan borrowers an opportunity to not pay EMIs for few months in anticipation of regular cash flow in coming months.
Although it gave a relief of not paying EMI without affecting the CIBIL score. However, this move was not much of use as people opting for loan moratorium had to pay interest on that amount later on.
Related Article: RBI's 3 month EMI Moratorium : 360 degree view
Hence, Finance ministry has now approved guidelines for a scheme for grant of exgratia payment announcing the waiver of interest during this moratorium period on your outstanding loans. The important point to note here is that the entire interest is not waived off.
A bank will charge simple interest instead of compound interest from the borrowers for the 6 month duration from March,2020 to August,2020. So people who have not opted for loan moratorium and paid the entire EMIs on time will receive a refund of difference in interest.
In other words, we can say that people will get refund of amount equal to difference between compound interest and simple interest.
The lending institutions after crediting the amount will claim the reimbursement from the central government. It is estimated that the government will have to shell out ₹6,500 crores for the implementation of this scheme.
Although it seems like a Diwali gift to many, but it is not something to celebrate. The scheme is just aimed at refunding the compound interest on loans that accumulated during the six-month moratorium period.
We will see this in detail later on in this blog.
But let us first understand who are all eligible for this waiver benefit?
Eligibility
This benefit is available for all borrowers who whether availed of the moratorium or not availed. Hence, it is good news for those who paid regular EMIs and also for those who opted for moratorium benefits whether fully or partially during those 6 months.
The maximum aggregate loan outstanding should be not more than Rs.2 Crores. The eligibility limit of Rs. 2 crores as borrowed sum has to be an aggregate loan taken from the banking system.
The loan should not be under NPA (Non-Performing Assets) with the bank as of 29th February 2020.
The loan should be active as of 29th February 2020.
Lenders may be private banks, public sector banks, co-operative banks or regional, rural banks, all India Financial Institutions, NBFCs or Housing Finance Company.
This benefit is also available for those who closed the loan during the moratorium period.
Even partly-disbursed loans will be covered under this scheme.
Types of Loan for which this benefit is available
Following are the types of loans eligible for interest waiver scheme:
Home loans
Consumer durable loans
Educational loans
Automobile loans
Personal loans
Consumption loans
MSME Loans
Credit card dues
It is important to note that loans against fixed deposits and shares etc., and loans given for investment in financial assets (shares, debentures etc.) are not eligible for coverage under the scheme.
Amount of benefit to be received
Are you wondering how much benefit you will get in this scheme?
Well, let's dive into the calculations to understand in detail.
As per this scheme, for these 6 months starting from 1st March 2020 to 31st August 2020, the simple interest is calculated on the outstanding principal as on 29th February 2020. The difference between the compound interest and simple interest will be credited back to the borrower.
Let us understand with the help of following table where a loan amount of 1 lac is assumed and different interest rate scenario is considered.
| | | | |
| --- | --- | --- | --- |
| Interest Rate | Compound interest | Simple Interest | Refund Amount |
| 8% | 4067 | 4000 | 67 |
| 10% | 5105 | 5000 | 105 |
| 12% | 6152 | 6000 | 152 |
| 15% | 7738 | 7500 | 238 |
| 20% | 10426 | 10000 | 426 |
In the above table, you can see the refund amount applicable in the last column. For example, you had a loan outstanding of Rs. 25 lacs at an interest rate of 8%, then the amount of refund you are eligible to get is Rs.1,682 (67*25).
Above data in the table is for a loan amount of Rs.1,00,000. So you can use the above table by multiplying the refund amount by your loan amount and divide by 1 lac.
We can clearly see that the benefit is just peanuts. The difference is not much as it is the interest on interest only which is to be refunded. Even if we consider the maximum 2 crores loan at 15%, the benefit will be Rs. 47,664 (238*20000000/100000).
If you have a home loan of 50 lacs at 8%, the benefit is only Rs. 3,363 (67*50)
Even though it looks like a big relief, when you do your own individual calculation, it may not be more than few thousand. Also, the tax benefit on interest on home loan or education loan will not be received on this refund amount as you have not paid it. This means your net benefit amount further reduces.
Borrowers will not have to apply to their lending institutions. The compound interest refund will be credited into their bank accounts automatically by all banks and financial institutions. You will receive this refund by 5th November 2020.
I hope you have got a better clarity and understanding of this compound interest waiver scheme.
A financial planning platform where you can plan all your goals, cash flows, expenses management, etc., which provides you advisory on the go. Unbiased and with uttermost data security, create your Financial Planning without any cost on: http://bit.ly/Robo-Fintoo
To Invest and keep regular track of your portfolio download: Fintoo App Android http://bit.ly/2TPeIgX / Fintoo App iOS http://apple.co/2Nt75LP'
Disclaimer: The views shared in blogs are based on personal opinion and does not endorse the company's views. Investment is a subject matter of solicitation and one should consult a Financial Adviser before making any investment using the app. Making an investment using the app is the sole decision of the investor and the company or any of its communication cannot be held responsible for it.