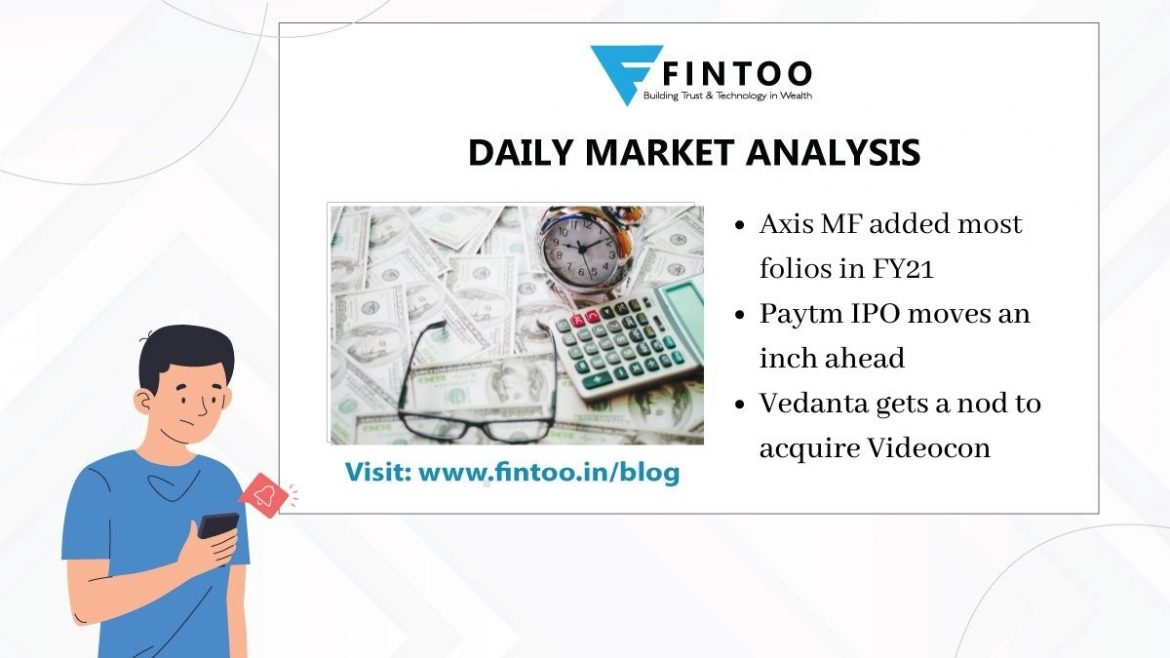 Axis MF added most folios in FY21; followed by ICICI, whereas HDFC loses client base

The Axis Mutual Fund beat the top three mutual funds in the industry to record its largest addition to new folios in FY-21. It added 20,42,150 new folios in FY-21 whereas ICICI added 20,42,016 new folios. In this, ICICI remained the winner in the top three which include HDFC Mutual fund & SBI Mutual fund. Mirae AMC also managed to add another 8.26 lacs new folios in this similar period, whereas ABSL AMC lost 1.20 lacs folios.

The increasing investor awareness along with the right asset allocation since years helped Axis Mutual fund to come up as a leader for the said period, whereas, for ICICI AMC, sectoral funds where it has dominance in the IT & Pharma sector funds might have played a pivotal role in the performance of the AMC, whereas acc. to the ICICI AMC's MD & CEO, Mr. Nimesh Shah, delivering good returns throughout all market cycles with zero default rate for nearly two decades helped them throughout.
The story of IPOs to look out for
The Ed-Tech Startup Byju's is planning to go public before April 2023. On April 5, the startup acquired Aakash Educational Services Ltd. cracking a deal worth $1 Billion (7300 Cr.) marking its biggest acquisition to date. Byju's, the most valued ed-tech startup in the country, is backed by marquee investors like Mary Meeker, Yuri Milner, Chan-Zuckerberg Initiative, Tencent, Sequoia Capital, Tiger Global and others. It is estimated to have raised over USD 2 billion in funding to date.

As the Pandemic situation has enticed the educational systems all over the world to restructure the way they work, Byju's should be an interesting IPO to watch out for. While the current valuation of Byju's is $16.5 Billion which is amongst the highest globally whereas that of Unacademy stands at $2 Billion.
Also read: Wealth Habits – Learn, Unlearn and Relearn – Fintoo Blog
Vedanta gets a nod to acquire Videocon
The Bankruptcy court of India gave a nod to Anil Agarwal's Twin Star Technologies (a part of the Vedanta Group) to acquire Videocon Industries Ltd. The company will put up 5 billion rupees within 90 days and the rest as non-convertible debentures over a period of time.
Videocon's debt stood at over 635 billion rupees in 2019, out of which, 574 billion rupees was owed to over three dozen banks and other financial creditors.
Paytm IPO moves an inch ahead

Recently Paytm came up with a draft red herring prospectus that gives the employees of the company the option to sell their shares ahead of the IPO. The company, whose investors include Berkshire Hathaway Inc., SoftBank Group Corp., and Ant Group Co., is seeking to raise about 218 billion rupees ($3 billion) at a valuation of around $25 billion to $30 billion.
Paytm's public market debut will include a mix of new and existing shares to meet regulatory obligations in India. The country's regulations require that 10% of shares are floated within two years and 25% within five years. Paytm Is Said to Target $3 Billion IPO, Largest Yet in India.
A financial planning platform where you can plan all your goals, cash flows, expenses management, etc., which provides you advisory on the go. Unbiased and with uttermost data security, create your Financial Planning without any cost on: http://bit.ly/Robo-Fintoo
To Invest and keep regular track of your portfolio download: Fintoo App Android http://bit.ly/2TPeIgX / Fintoo App iOS http://apple.co/2Nt75LP
Related Posts
Stay up-to-date with the latest information.