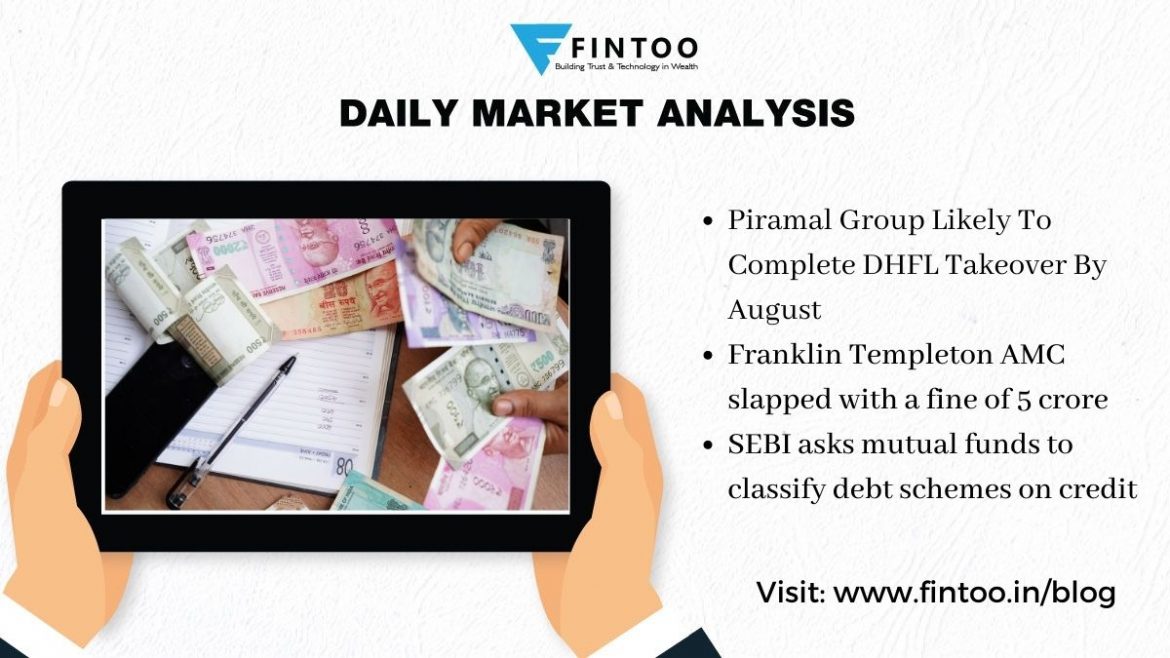 Franklin Templeton AMC slapped with a fine of 5 crore; Banned from launching new debt mutual funds
The SEBI has banned Franklin Templeton AMC from launching debt schemes for the next two years. Rs 5 crore penalty has been levied for "several irregularities" in the running of its six debt schemes that were wound up in April 2020. The irregularities extend to failures to exercise adequate due diligence, carry out valuation of securities as per the principles of fair valuations and ensure a robust risk management framework.
A refund of Rs 451 crore management and advisory fees with 12% interest has also been ordered along with separate adjudication proceedings against the CEO & Directors.
SEBI asks mutual funds to classify debt schemes on credit, interest rate risk basis
AMCs will have to classify all debt schemes in terms of a potential risk class matrix, based on interest and credit risk, SEBI announced. AMCs will have full flexibility to place single or multiple schemes in any cell of the Potential Risk Class matrix.
Interest rate risk will be now categorized into three buckets. The lowest risk bucket Class I with a Macaulay Duration of up to a maximum of 1 year, Class II-moderate risk bucket to have MD up to 3 years and the class III can have MD above 3 years. Class I schemes will have debt paper with a maximum residual maturity of 3 years and Class II schemes with a maximum residual maturity of seven years, while maximum residual maturity has not been fixed for Class III. Credit risk will also be divided into three categories- greater than 12, greater than 10 and less than 10.
It is another progressive step to ensure the potential risks in a debt scheme are appropriately revealed to the investors and support informed decision-making.
Also read: The Five Secrets You Never Knew About Mutual Funds – Fintoo Blog
Piramal Group Likely To Complete DHFL Takeover By August
The NCLT has approved a resolution plan submitted by Piramal Group. Piramal Group's resolution plan, which offered Rs 37,250 crore for DHFL, was approved by the committee of creditors in January with a majority. Once this happens, the equity of existing shareholders is said to be written down to zero and DHFL shares to be delisted.
DHFL's fixed depositors are part of the committee of creditors and those with dues up to Rs 2 lakh will receive full payment on their principal amount. Depositors with dues between Rs 2-10 lakh will get 40-43% of their principal outstanding. Those with dues higher than Rs 10 lakh are likely to be repaid through a mix of cash and securities on a pro-rata basis.
RBI implements operational flexibility for reporting FPI deals in G-Secs
The RBI is to provide operational flexibility for reporting Over the counter transactions in Government securities transactions undertaken by the Foreign Portfolio Investors . The new rules will come into effect from June 14.
Due to this announcement, the information about trades undertaken by domestic counterparties with FPIs must be disseminated by the Clearcorp Dealing Systems India Ltd (CDSL) after one part of the trade is reported on the NDS-OM platform by the domestic counterparty with a suitable qualifier to indicate that the trade is awaiting counterparty confirmation.
Also watch: Daily Market Analysis – Sensex, Nifty, Go Air IPO & Debt Schemes – YouTube
Rising fuel prices in India- reasoned by Union Petroleum and Natural Gas Minister Dharmendra Pradhan
The recent surge in global crude oil prices is the major cause of the fuel price hikes in India. Its price has gone over USD 70 (per barrel) in the international market. This negatively impacts consumers here, as India imports 80 percent of its oil requirement.
He added, it is up to the GST Council to decide whether fuel should be brought under the Goods and Services Tax, which, many believe, would substantially bring down prices.
FIIs Invest 3K Crore in First 4 Days of June After Withdrawing 18K Crore in April
FIIs have net invested Rs 3,049.81 worth of Indian equities in the first four trading days of June. It is too early to make a call with certainty but this data shows that FIIs might be changing their outlook to India to a more positive one as COVID 19 infections drop and the vaccination drives in various states gather pace.
Economies across the world have also opened up and exports from India are going up with Indian merchandise exports up 67.39% to $32.21 billion in May compared to May 2020 and goods exports are up 195.7% in April 2021 compared to 2020.
A financial planning platform where you can plan all your goals, cash flows, expenses management, etc., which provides you advisory on the go. Unbiased and with uttermost data security, create your Financial Planning without any cost on: http://bit.ly/Robo-Fintoo
To Invest and keep regular track of your portfolio download: Fintoo App Android http://bit.ly/2TPeIgX / Fintoo App iOS http://apple.co/2Nt75LP
Related Posts
Stay up-to-date with the latest information.