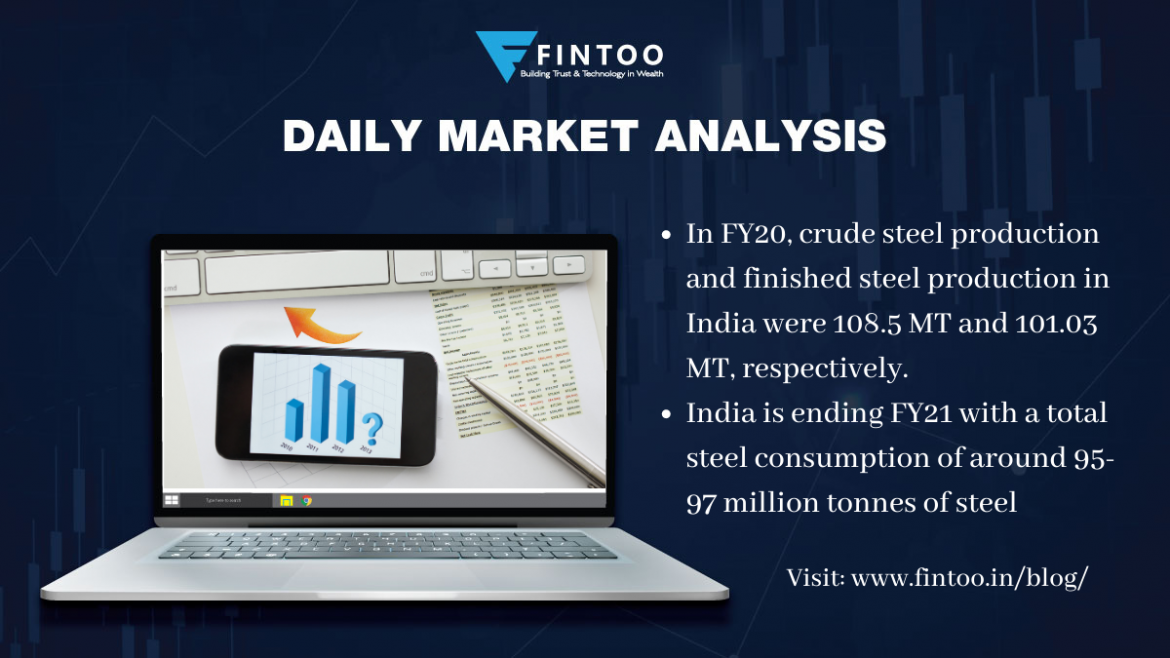 Steel Industry & Its Impact on Indian Economy
Overview of the sector:
India was the world's second-largest steel producer in 2019. India surpassed Japan to become the world's second-largest steel producer in 2019 with crude steel production of 111.2 million tonnes (MT).
The country is ending FY21 with a total steel consumption of around 95-97 million tonnes of steel which is nearly 5 percent lower than the previous year.
Apart from construction and infra sectors (68 percent share), engineering goods and fabrication comprises around 20 percent share of steel use, while automobile and packaging have shares of 9 and 3 percent respectively of total steel demand.
In FY20, crude steel production and finished steel production in India were 108.5 MT and 101.03 MT, respectively.
Between April–September 2020, India's cumulative production of crude steel was 52.37 MT, and finished steel was 47 MT. In the month of October 2020, India produced 9.06 MT of crude steel.
Export and import of finished steel stood at 8.42 MT and 6.69 MT, respectively, in FY20.
India's per capita consumption of steel grew at a CAGR of 4.43% from 46 kgs in FY08 to 74.10 kg in FY19.
Must watch: Types of health insurance covers and which one should you have?
Government Initiative towards the sector:
The government has taken various steps to boost the sector including the introduction of National Steel Policy 2017 and allowing 100% Foreign Direct Investment (FDI) in the steel sector under the automatic route.
The Government's National Steel Policy 2017 aims to increase the per capita steel consumption to 160 kg by 2030-31.
The Government has also promoted a policy that provides a minimum value addition of 15% in notified steel products covered under preferential procurement.
In 2019, the Government introduced Steel Scrap Recycling Policy with an aim to reduce imports.
Steel Industry under the pandemic scenario:
Steelmakers have supplied about 1.43 metric tonne (MT) liquid medical oxygen to various parts of the country for the treatment of coronavirus patients.
From September 2020 to April 22, 2021, the total LMO supplied by the steel industry — including public and private sectors — was 1,43,876.283 MT, of which the contribution of steel CPSEs stood at 39, 805.73 MT, as per data provided by the Steel Ministry.
Private steel companies supplying oxygen are Tata Steel, ArcelorMittal Nippon Steel India (AMNS India), JSW Steel, Jindal Steel and Power Ltd (JSPL), and Vedanta ESL, while state-owned firms are Steel Authority of India NSE 8.00 % Ltd (SAIL) and Rashtriya Ispat Nigam Ltd (RINL).
Steel prices rose to historical highs in the week ended 16 April 2021, in response to the global rise in steel prices. Prices have gone up by ~59% y-o-y in the month (until April 16).
An increase in prices of steel to record levels will impact automobile manufacturers in the coming months as most of them will have to increase the prices of their products, twice in the last four months, to protect their operating margins.
Growth Prospect & Future Outlook:
India is ending FY21 with a total steel consumption of around 95-97 million tonnes of steel which is nearly 5 percent lower than the previous year.
In FY22 the budget has announced a capital investment target of Rs 5.4 lakh crores that is more than a 34 percent increase compared to BE FY21.
After a slight dip in February, 2021 domestic steel prices recovered in March 2021 and are expected to remain elevated over the coming months on the back of higher international steel and iron ore prices.
To Invest and keep regular track of your portfolio download Fintoo App Android http://bit.ly/2TPeIgX / Fintoo App iOS – http://apple.co/2Nt75LP
Related Posts
Stay up-to-date with the latest information.