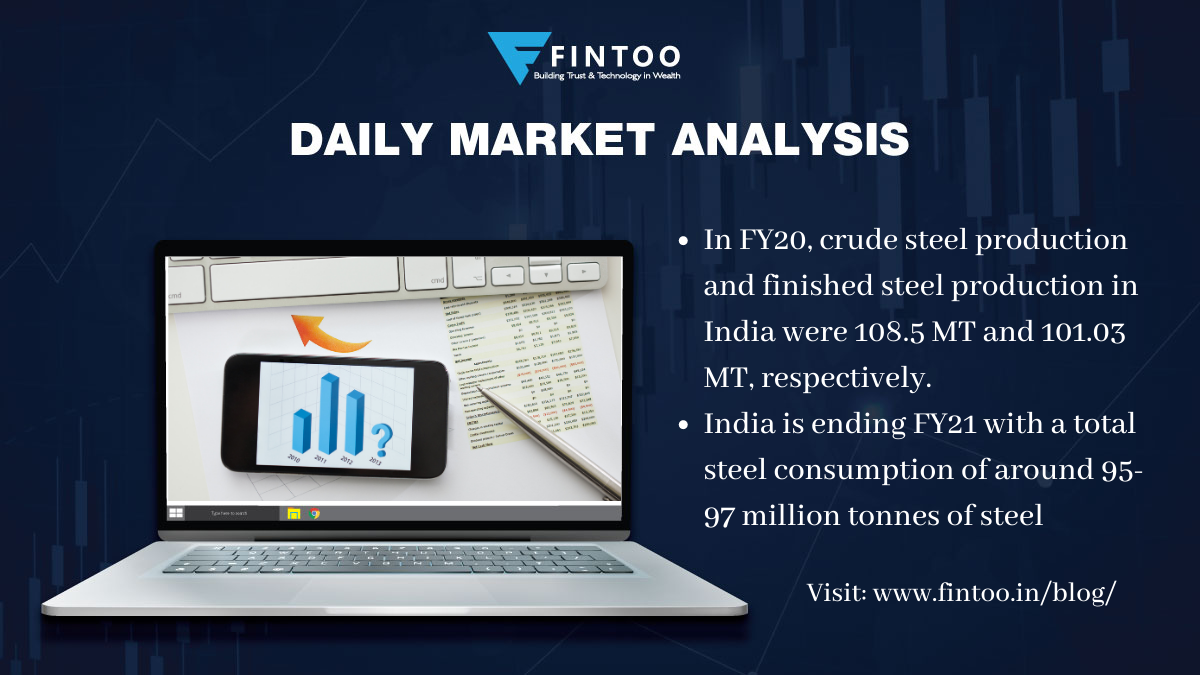 by
Aditi Kedia
April 26, 2021
Steel Industry & Its Impact on Indian Economy
Overview of the sector:
India was the world's second-largest steel producer in 2019. India surpassed Japan to become the world's second-largest steel producer in 2019 with crude steel production of 111.2 million tonnes (MT).
The country is ending FY21 with a total steel consumption of around 95-97 million tonnes of steel which is nearly 5 percent lower than the previous year.
Apart from construction and infra sectors (68 percent share), engineering goods and fabrication comprises around 20 percent share of steel use, while automobile and packaging have shares of 9 and 3 percent respectively of total steel demand.
In FY20, crude steel production and finished steel production in India were 108.5 MT and 101.03 MT, respectively.
Between April–September 2020, India's cumulative production of crude steel was 52.37 MT, and finished steel was 47 MT. In the month of October 2020, India produced 9.06 MT of crude steel.
Export and import of finished steel stood at 8.42 MT and 6.69 MT, respectively, in FY20.
India's per capita consumption of steel grew at a CAGR of 4.43% from 46 kgs in FY08 to 74.10 kg in FY19.
Must watch: Types of health insurance covers and which one should you have?
Government Initiative towards the sector:
The government has taken various steps to boost the sector including the introduction of National Steel Policy 2017 and allowing 100% Foreign Direct Investment (FDI) in the steel sector under the automatic route.
The Government's National Steel Policy 2017 aims to increase the per capita steel consumption to 160 kg by 2030-31.
The Government has also promoted a policy that provides a minimum value addition of 15% in notified steel products covered under preferential procurement.
In 2019, the Government introduced Steel Scrap Recycling Policy with an aim to reduce imports.
Steel Industry under the pandemic scenario:
Steelmakers have supplied about 1.43 metric tonne (MT) liquid medical oxygen to various parts of the country for the treatment of coronavirus patients.
From September 2020 to April 22, 2021, the total LMO supplied by the steel industry — including public and private sectors — was 1,43,876.283 MT, of which the contribution of steel CPSEs stood at 39, 805.73 MT, as per data provided by the Steel Ministry.
Private steel companies supplying oxygen are Tata Steel, ArcelorMittal Nippon Steel India (AMNS India), JSW Steel, Jindal Steel and Power Ltd (JSPL), and Vedanta ESL, while state-owned firms are Steel Authority of India NSE 8.00 % Ltd (SAIL) and Rashtriya Ispat Nigam Ltd (RINL).
Steel prices rose to historical highs in the week ended 16 April 2021, in response to the global rise in steel prices. Prices have gone up by ~59% y-o-y in the month (until April 16).
An increase in prices of steel to record levels will impact automobile manufacturers in the coming months as most of them will have to increase the prices of their products, twice in the last four months, to protect their operating margins.
Growth Prospect & Future Outlook:
India is ending FY21 with a total steel consumption of around 95-97 million tonnes of steel which is nearly 5 percent lower than the previous year.
In FY22 the budget has announced a capital investment target of Rs 5.4 lakh crores that is more than a 34 percent increase compared to BE FY21.
After a slight dip in February, 2021 domestic steel prices recovered in March 2021 and are expected to remain elevated over the coming months on the back of higher international steel and iron ore prices.
To Invest and keep regular track of your portfolio download Fintoo App Android http://bit.ly/2TPeIgX / Fintoo App iOS – http://apple.co/2Nt75LP
by
Aditi Kedia
February 11, 2021
IRDAI annual report: LIC's claim settlement ratio deteriorated in FY20 to 96.6%
LIC saw its claim settlement ratio deteriorate marginally in FY20 to 96.6% from 97.7% in FY19 even as private insurers increased their settlement ratio to 97.18% from 96.6% in this period. Private sector life insurer Max Life had the highest claim settlement ratio for the industry at 99.2% followed by HDFC Life and TATA AIA – with a settlement ratio above 99%. Edelweiss Tokio Life and Sahara Life had among the worst settlement ratios at 83.4% and 89.4% respectively. Private insurer, ICICI Prudential was in the tenth spot with a settlement ratio of 97.8%.
Government plans to sell 20% of its stake in National Fertilizers Ltd through 'offer for sale'
The GoI intends to disinvest 20 percent paid-up equity capital of NFL out of its shareholding of 74.71%, through the 'Offer for Sale' (OFS) method of shares by promoters through the stock exchanges. The Centre is also considering allotting shares to eligible and willing employees of NFL at a discount on the issue or discovered price. Incorporated on August 23, 1974, National Fertilizers is a Mini Ratna company with an authorized capital of ₹1,000 crores and a paid-up capital of ₹490.58 crores out of which the Government of India (GoI) holds 74.71 percent shares and 25.29 percent shares are held by financial institutions and others.
Geotagging of warehouses in works for location tracking
The government is working on geotagging all warehouses, cold storages and refrigerated vans in the country for real-time tracking of the location and status of space availability. The data will be captured in a mobile app, which can be used by the government as well as farmers to locate the nearest warehouses and store their produce, reducing the risk of wastage. As per an estimate, we lose Rs 44,000 crore every year due to harvest rot. Even if there are storage facilities available in the vicinity, farmers don't know about them. With the mobile app, they will have access to information.
Spat between builders, cement makers ramp up over price hike
The tussle between manufacturers of construction inputs such as cement and steel and builders is intensifying, with both sides trading charges of faulty trade practices. The South India Cement Manufacturers Association (SICMA) alleged that builders were spreading "misinformation" on cement prices to take advantage of the economic recovery and increase real estate prices, which are already at unaffordable levels.
CCI actions on Cement & Steel Industry
The Competition Commission of India had come down heavily on cement companies, many of whom saw their offices being raided in December 2020. In 2016, the CCI had slapped a fine of Rs 6,700 crore on 11 cement makers, including UltraTech, Ramco, ACC and Lafarge. Offices of some of these companies were raised in December 2020, as part of a fresh probe against price cartelization. Steel companies have maintained that domestic prices, despite the hikes, remained lower than international rates. Prices in China, Europe, and the US – the three biggest markets – were higher than those in India.
Five-fold spike in BoI's Q3 net at Rs 541 cr as NPA provisions dip
Public sector lender Bank of India's (BOI) net profit rose by 412 percent to Rs 541 crore in the third quarter ended December 2020 (Q3FY21) on a sharp dip in provisions for bad loans. It had posted a net profit of Rs 106 crore in the third quarter ended December 2019 (Q3FY20). The bank's deposits grew by 0.72 percent to Rs 6,11,879 crore in December 2020 from Rs 5,22,138 crore a year ago. The lender's Capital Adequacy Ratio stood at 12.51 percent with tier-I of 9.44 percent in December 2020. The bank raised Rs 750 crore Basel-III-compliant AT-1 bonds in January 2021.
Mastercard to allow cardholders to transact in cryptocurrencies
Mastercard has partnered with some of the biggest cryptocurrency firms including Wirex and Bitpay. The company will begin allowing cardholders to transact in certain cryptocurrencies on its network, becoming the latest to embrace digital assets. Mastercard isn't recommending to start using cryptocurrencies. It is enabling customers, merchants and businesses to move digital value.
Delhivery plans to raise $800 million through IPO
In 2019, Delhivery raised $415 million in a Series F financing round led by SoftBank, which valued the Gurugram-based company at $1.5 billion. It is looking to raise up to $800 million through an initial public offering (IPO) that might value the company at $3.2-4 billion.