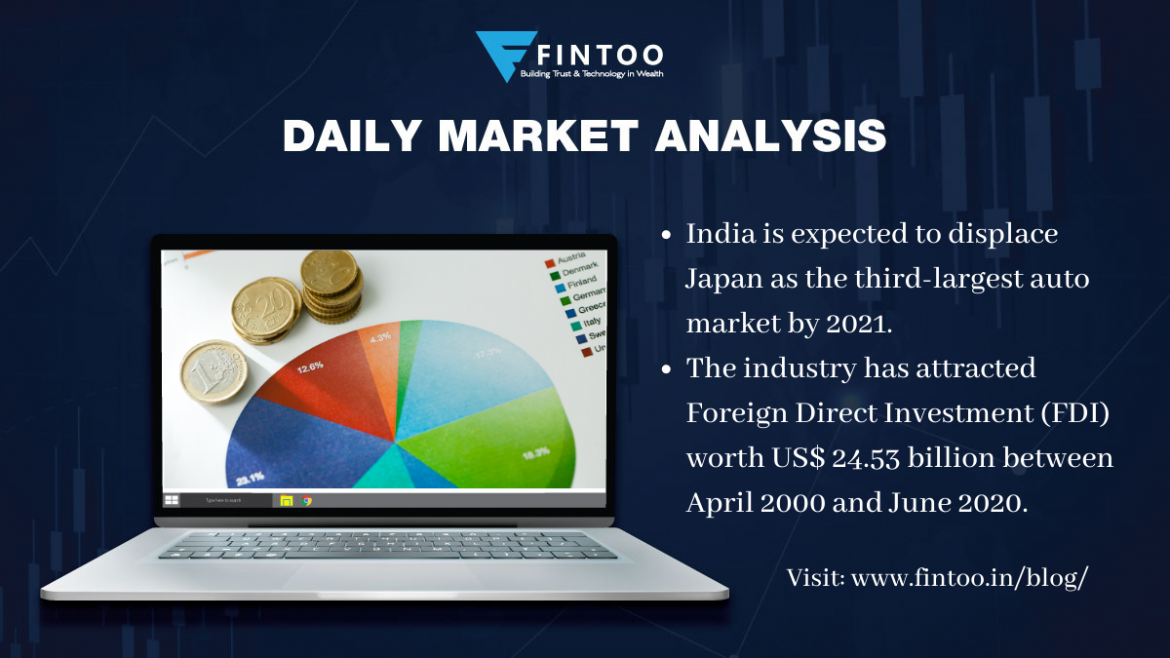 Auto Industry & Its Impact On Indian Economy – India became the fourth largest auto market in 2019 displacing Germany with about 3.99 million units sold in passenger & commercial vehicles categories. India is expected to displace Japan as the third-largest auto market by 2021. Our country is also a prominent auto exporter and has strong export growth expectations for the near future. 
Market Size
Domestic automobile production increased at 2.36% CAGR between FY16-20 with 26.36 million vehicles being manufactured in the country in FY20. Overall, domestic automobile sales increased at 1.29% CAGR between FY16-FY20 with 21.55 million vehicles being sold in FY20.
Passenger vehicle (PV) sales stood at 3,10,294 units in October 2020, compared with 2,71,737 units in October 2019, registering a 14.19% growth. As per the Federation of Automobile Dealers Associations (FADA), PV sales in November 2020 stood at 2,91,001 units, compared with 2,79,365 units in November 2019, registering a 4.17% growth.
EV sales, excluding E-rickshaws, in India witnessed a growth of 20% and reached 1.56 lakh units in FY20 driven by two-wheelers.
Investments
The industry has attracted Foreign Direct Investment (FDI) worth US$ 24.53 billion between April 2000 and June 2020, according to the data released by the Department for Promotion of Industry and Internal Trade (DPIIT).
In November 2020, Mercedes Benz partnered with the State Bank of India to provide attractive interest rates, while expanding the customer base by reaching out to potential HNI customers of the bank.
Hyundai Motor India invested ~Rs. 3,500 crore (US$ 500 million) in FY20, with an eye to gain the market share. This investment is a part of Rs. 7,000 crore (US$ 993 million) commitment made by the company to the Tamil Nadu government in 2019
In October 2020, Kinetic Green, an electric vehicles manufacturer, announced plan to set up a manufacturing facility for electric golf carts besides a battery swapping unit in Andhra Pradesh. The two projects involving setting up a manufacturing facility for electric golf carts and a battery swapping unit will entail an investment of Rs. 1,750 crore (US$ 236.27 million).
In October 2020, Japan Bank for International Cooperation (JBIC) agreed to provide US$ 1 billion (Rs. 7,400 crore) to SBI (State Bank of India) for funding the manufacturing and sales business of suppliers and dealers of Japanese automobile manufacturers and providing auto loans for the purchase of Japanese automobiles in India.
MG Motor India planned to launch MG ZS EV electric SUV in early 2020 and have plans to launch affordable EV in the next 3-4 years.
Covid-19 Impact
The coronavirus pandemic has hit the Indian auto industry hard.
Commercial & Passenger Vehicle Sales, Commercial Vehicle sales have plummeted around 90% for all manufacturers. Therefore, the segment was under tremendous pressure due to the economic slowdown, Liquidity crunch.
| | |
| --- | --- |
| Company | March Sales Growth |
| TATA Motors | 90% ( YoY) |
| Ashok Leyland | 90% (YoY) |
| M&M | 90% (YoY) |
| Volvo Eicher | 82.7% (YoY) |
Two Wheelers & Three Wheels Sales- 42% of down fall in sales, companies like Hero Moto & Eicher Motors. M&M Posted a decline of 93.9% & TVS motor with 25.5% fall.
Tractor Sales & Exports- Again Fall in the tractor sale company like M&M posted 31% fall & Escorts with 54.3%.
Recovery will be challenging for the auto industry. BS VI implementation is a challenge as the cost of ownership is expected to rise.
Government Initiatives
Must watch: What is Risk Profiling? – Friday First Cut Episode 18
The Government of India encourages foreign investment in the automobile sector and has allowed 100% foreign direct investment (FDI) under the automatic route.
Under Union Budget 2019-20, the Government announced to provide additional income tax deduction of Rs. 1.5 lakh (US$ 2,146) on the interest paid on the loans taken to purchase EVs.
Vehicle Scrappage Policy Announced- Old cars to be removed.
Atma Nirbhar Bharat -Special economic & Comprehensive package of INR 20 Lakh Cr towards promoting manufacturing in India.
Production – Linked Incentive (PLI)- Automobile sector have a financial outlay of INR 51,000 Cr under the Atma Nirbhar Bharat Package.
Future of Automobile Industry in India
Incentive-Based Scrappage policy will support sales growth in the long run & more importantly reduce the age of vehicles on India's road, thereby reducing fuel import and air pollution.
In 2025, the India Electric Vehicle market will be 50,000 Cr approx. $7 billion, therefore generating a number of jobs.
To Invest and keep regular track of your portfolio download Fintoo App Android http://bit.ly/2TPeIgX / Fintoo App iOS – http://apple.co/2Nt75LP
Related Posts
Stay up-to-date with the latest information.