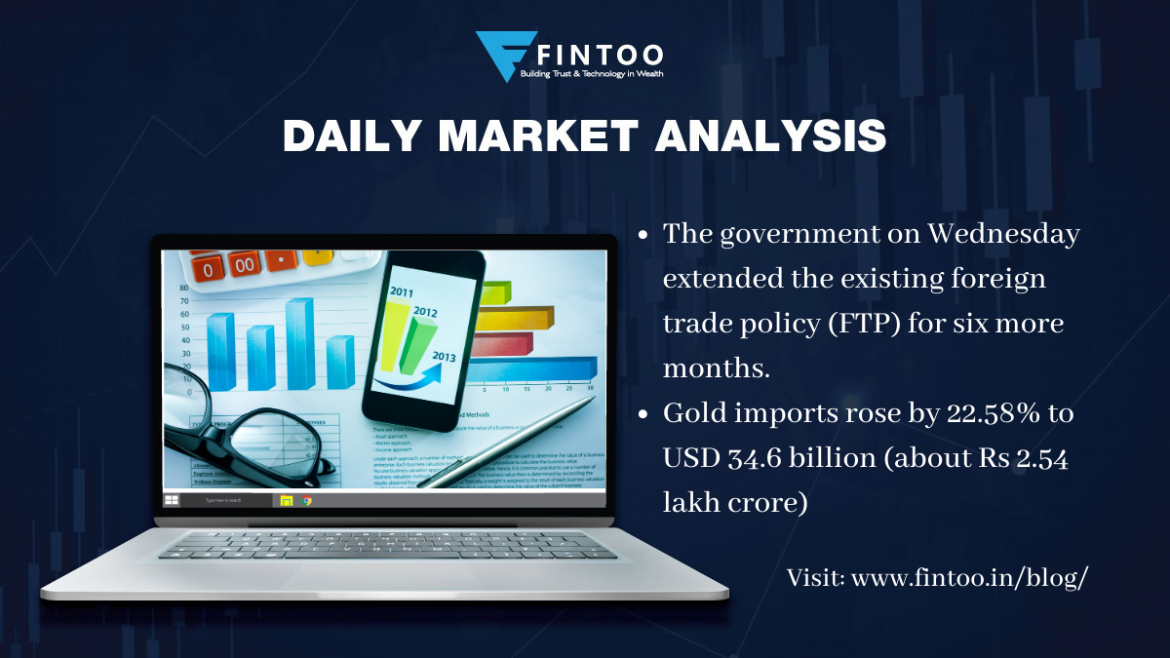 Foreign Trade Policy: 
The government on Wednesday extended the existing foreign trade policy (FTP) for six more months amid the coronavirus outbreak. The current policy will now be valid up to September 30, 2021.
The foreign trade policy is essentially a set of guidelines for the import and export of goods and services.
Covid-19 was catastrophic for international trade. Exports during April-February this fiscal dipped by 12.23% to $256 billion. Imports during the period too declined by 23.11% to $340.8 billion, leaving a trade deficit of $84.62 billion. The country mainly exports petroleum oils (13.2%), diamonds (6.8%), medicaments (4.5%), articles of jewelry (4.2%), and motor vehicles (2.2%), while it imports petroleum oils (21.3%), gold (6.5%), coal and similar solid fuels (4.7%), diamonds (4.6%), petroleum gas and other gaseous hydrocarbons (3.6%).
Gold imports rose by 22.58% to USD 34.6 billion (about Rs 2.54 lakh crore) during 2020-21 due to increased domestic demand. The demand for gold would further increase on account of forthcoming auspicious Akshaya Tritiya and marriage season
The government is likely to waive a 10% customs duty levied on imported vaccines in a bid to keep low the cost of overseas vaccines that are being eyed to supplement domestically made shots ahead of opening COVID-19 vaccination to all citizens over 18 years of age. The government presently levies 10% customs or import duty plus a 16.5% IGST and social welfare surcharge on vaccines coming from overseas. 
Related Article: Chennai Super Kings CSK – Unlisted Stock
Expectations from FTP 2021-2026
A long-standing demand of exporters, especially MSMEs, is credit access. Formal financial institutions such as banks are reluctant to lend to MSMEs due to their lack of adequate collateral. The policy can help open up alternate credit avenues, such as financial technology start-ups.
The advisory group suggests raising borrowing limits at the Export-Import Bank of India.
If India were to do away with subsidies, exporters would still need some form of government support. Easier and lower taxes are a way of filling this gap. The reduction of corporate tax rates and simplification of duty structures are long-standing demand
The existing FTP focuses on the Merchandise Exports from India Scheme (MEIS), an incentive scheme, where exporters receive duty credit scrips for a percentage of the value of the goods exported.India has decided to withdraw the MEIS and replace it with a Remission of Duties or Taxes on Export Products (RoDTEP) scheme.
To Invest and keep regular track of your portfolio download Fintoo App Android http://bit.ly/2TPeIgX / Fintoo App iOS – http://apple.co/2Nt75LP
Related Posts
Stay up-to-date with the latest information.