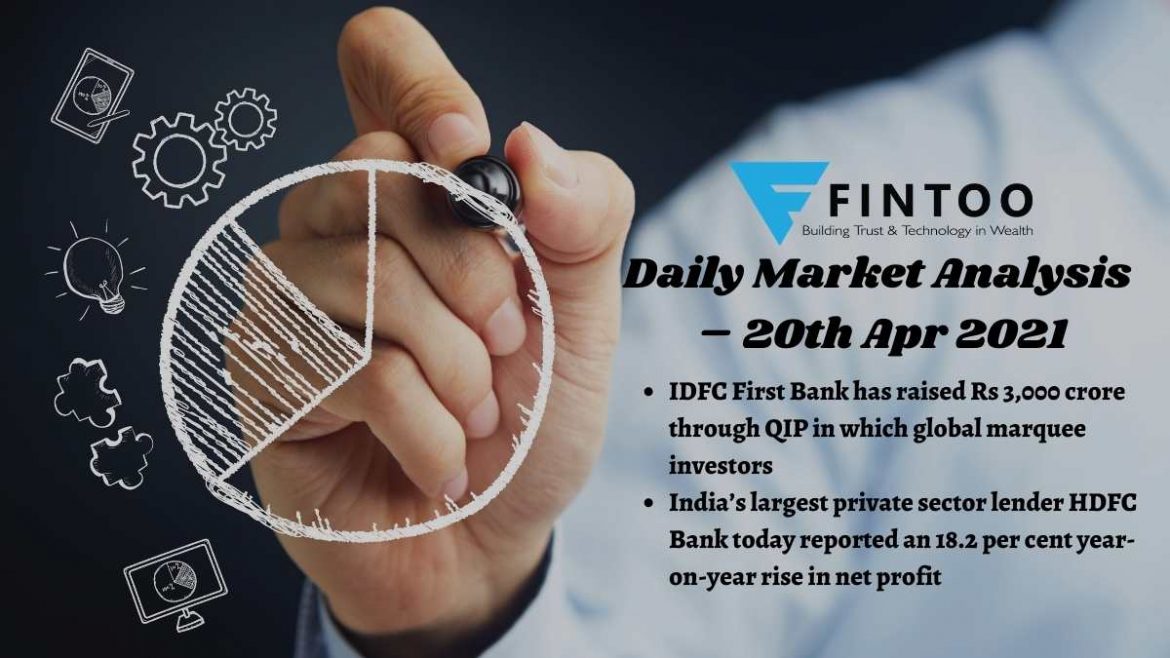 Market Analysis on Banking Sector
HDFC Bank
India's largest private sector lender HDFC Bank today reported an 18.2 percent year-on-year rise in net profit to Rs 8,186.51 crore for the quarter ended March. The lender reported a net interest income of Rs 17,120.2 crore, up 12.6 percent from a year-ago quarter.
Analysts had expected the bank to report a 23 percent year-on-year rise in net profit to Rs. 8,550.3 crore and a near 12 percent rise in net interest income to Rs 17,000 crore.
For the quarter, the lender's gross non-performing loans ratio stood at 1.32 percent as against 1.38 percent on a proforma basis in the previous quarter.
Loan Book grew 14% YOY riding the domestic corporate book growth. While the Mid corporate and SME sector saw improved demand, large corporates showed deleveraging tendencies. Cash flows into SME accounts have been improving from December 2020.
Must watch: What is Risk Profiling? – Friday First Cut Episode 18
Cheque bounce rates have deteriorated in April compared to March, however, there has been some pressure from Maharashtra, MP, Telangana and Punjab.
HDFC expects to build on its card portfolio from newly acquired liability relationships (2mn customers added during the quarter) once forbearance is lifted.
It has partnered with tech companies for faster migration, as well as the independent audit by RBI is in its final stages which looks like good news for the bank.
Uncertain times put a premium on resilience, a strong balance sheet and likely higher residual capital than most keeps HDFC in a good position and makes it one of the best bets in the current markets.
IDFC Bank
IDFC First Bank has raised Rs 3,000 crore through QIP in which global marquee investors like BNP Paribas and Baillie Gifford participated alongside domestic players such as Bajaj Allianz Life and HDFC Life.
The qualified institutional placement (QIP) closed on Tuesday and the lender issued 52.31 crore fresh equity shares at Rs 57.35 per share. Out of this, 68.33 percent of the allotment was made to foreign investors and 31.67 percent to domestic investors.
The private sector bank also witnessed over 10 per cent yearly growth in its total funded assets at Rs 1,17,803 crore as of March 31, 2021 from Rs 1,07,004 crore a year ago.
Total consumer deposits grew by 43.15 per cent year-on-year to Rs 82,628 crore from Rs 57,719 crore for the period.
Bank's CASA deposits (current account and savings account) jumped by 122.74 percent to Rs 46,022 crore from Rs 20,661 crore by March 2020. The CASA ratio stood at 51.95 percent by the end of March 2021, up from 31.87 percent by a year ago.
However, the top 20 depositors' concentration witnessed a decline at 7.76 per cent against 20.26 per cent.
To Invest and keep regular track of your portfolio download Fintoo App Android http://bit.ly/2TPeIgX / Fintoo App iOS – http://apple.co/2Nt75LP
Related Posts
Stay up-to-date with the latest information.