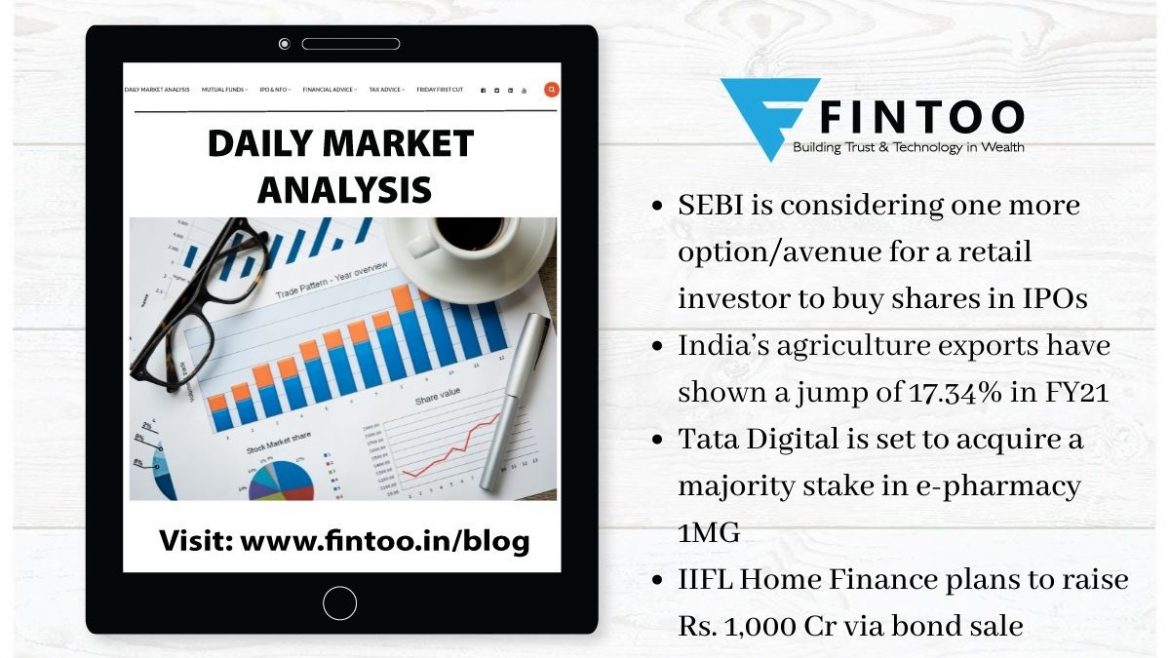 Tata Digital is set to acquire majority stake in e-pharmacy 1MG
This investment is in line with Tata group's vision of creating a digital ecosystem that specifically addresses consumer needs across various categories. This is the second major investment of the company in an Indian startup. Recently they announced a $75 million investment in fitness startup Curefit and the current deal is a primary and secondary share sale worth $250-$270 million along with other investors. $160 million will be in the form of primary infusion into the company and Tata Digital is expected to own almost 60% in 1MG and will increase its shareholding in the e-pharmacy startup in the coming months. With this fundraising, 1MG's valuation is expected to cross $450 million from $270 million before the deal.
SEBI is considering one more option/avenue for retail investor to buy shares in IPOs
SEBI – India's capital market regulator may open one more avenue for retail investors to pay for shares that are offered in IPOs. The talk is going on with the central bank and payment banks so that these payment banks can accept money from IPO applicants though they are not allowed to accept IPO subscriptions. The main purpose of this is to ease out the efforts involved in subscribing to new share sales and allow investors in smaller cities and towns to buy stocks. Also, involving payment banks in this process can actually make the entire process quicker and faster as app-based payment reach is much higher in Tier 2 or Tier 3 cities.
Home and personal care segment – Galaxy Surfactants Limited
In an interview with Mr. Saurabh Mukherjea – Founder & Chief Investment Officer of Marcellus Investment Managers, he was asked to identify a champion from the mid and smallcap space. According to him, the cleaning and personal care segment is something that can be recommended and he has identified one company in this segment i.e. Galaxy Surfactants Limited. This is the largest manufacturer of surfactants in the country and supplies to companies like Unilever, P&G and so on.  The company has a large business which goes into personal care products like lotions and skincare and so on. The company has a substantial export franchise. Profit after tax (PAT) has been at around 20-22 percent for the last 5 years with a strong balance sheet, clean management team, and strong R&D capability.
Sharp decline in auto registrations
Retail sales of automobiles were badly hit in the month of May as vehicle dealerships shut across most states because of localised lockdowns imposed by state governments. Vehicle registrations fell 55% to 535,855 units on a month-on-month basis this May. This decline is even more noticeable at 70.6% when compared with 1,822,566 units sold in May 2019. Retail sales of vehicles were negligible in May 2020 due to the nationwide lockdown. This time not only urban markets but rural areas are also badly hit.
Registrations in different auto segments:
Vehicle segment – dipped 59% to 85,733 units
Two-wheeler – fell by 52.5% to 410,757 units
Commercial vehicles – fell by 65.9% to 17,534 units
Tractor sales – fell by 56.6% to 16,616 units in May
Also read: Quick tips for financial planning in 2021 – Fintoo Blog
India's agriculture exports have shown a jump of 17.34% in FY21
India is seeing growth in the export of cereals, non-basmati rice, wheat, millets, maize and other coarse grains in spite of pandemic disruptions which is driven by the government's policy-level interventions as well as the expansion of products into new markets.
The export of agriculture has been stagnant for the last three years. However, the same during 2020-21 grew 17.34% to $41.25 billion. In 2017-18 and 2018-19, it was around $38 billion and thereafter declining to $35.16 billion in 2019-20.
Major contributor towards this growth is "various programmes from agriculture policy December 2018.
Highest growth has been recorded in Indonesia, Bangladesh and Nepal.
IIFL Home Finance plans to raise Rs. 1,000 Cr via bond sale
IIFL Home Finance is planning to raise Rs. 1,000 Cr in bonds and targeting 18% growth in this fiscal year despite challenges faced by them. The company has solid co-lending arrangements with Standard Chartered Bank, ICICI Bank and Central Bank of India to grow its loan portfolio. As of March 2021, its loan portfolio stood at Rs. 14,439 Crore. The AUM by way of securitization and off-balance sheet exposure was at Rs. 20,700 Crore. The company is seeking approval from SEBI for the bond issue.  Issuing non-convertible debentures are one of the options the company is looking for fundraising.
A financial planning platform where you can plan all your goals, cash flows, expenses management, etc., which provides you advisory on the go. Unbiased and with uttermost data security, create your Financial Planning without any cost on: http://bit.ly/Robo-Fintoo
To Invest and keep regular track of your portfolio download: Fintoo App Android http://bit.ly/2TPeIgX / Fintoo App iOS http://apple.co/2Nt75LP
Related Posts
Stay up-to-date with the latest information.