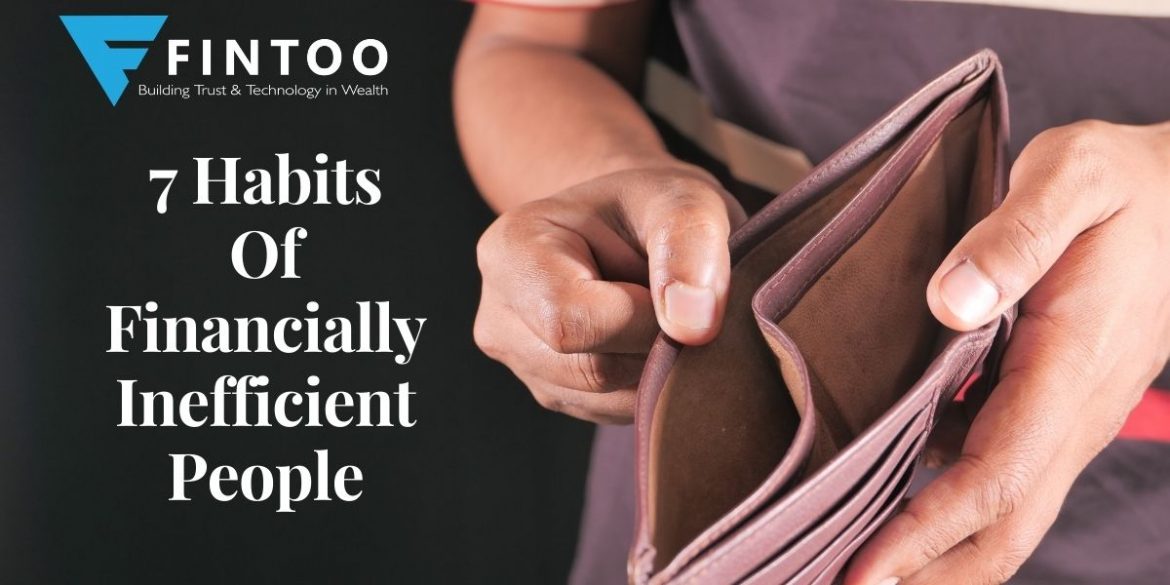 No one is immune to making mistakes as we are human after all. But we should learn from our mistakes as well as other people's mistakes. If you want to learn faster, learn from other's mistakes specifically in personal finance as making mistakes in personal finance can be very costly. The purpose of this article is to learn from the common mistakes made by financially unorganized and inefficient people. Everyone suffers from one or all of these habits discussed here. We can identify some of these mistakes which we have made and accordingly change our habits to not repeat them again.
Overspending
Overspending is a habit when we spend more than we earn. Spending on luxurious habits like buying gadgets, shopping, eating out etc. are some of the examples which leads to overspending. Impact of overspending on personal finance can be disastrous. It can lead to financial mess and debt trap. The best way to overcome this habit is to keep a track of cash inflow and outflow. By preparing a monthly income expense sheet and budgeting for future expenses will help us to control our cash flow efficiently.
Unplanned Financial Goals
One of the important parts of financial planning is prioritizing financial goals. We may allocate more resources to unnecessary or less important goals if we don't prioritize them. We may spend more money on financial goals like buying a car, a bigger house, etc. but it should not be at the cost of other important goals. To deal with such problems it is advisable to identify and prioritize financial goals. As per the principle of personal finance, we should first allocate resources to basic necessities and financial needs of life. If we have additional resources then we can think about splurging on other aspirations of our life.
Lack Of Contingency Planning
Many people are not prepared for contingencies. Loss of Job, unfortunate events like death, disability, hospitalization of self or family members has huge financial and emotional consequences. Human behavior has a tendency to run away from difficult events. If you are not well prepared to deal with such a situation then it can have an unimaginable financial impact on your life. One of the behaviors of an individual is to assume that it won't happen to you. It will impact people around you but not you or your near & dear ones. The day it happens it changes our financial life and future goals. It is always advisable to start financial planning by identifying risks in our lives and ensuring those risks sufficiently.
Chasing High Returns
Investors tend to invest in high-risk asset classes while chasing high-return investments. Two of the most common behavioral emotions involved in investment are greed and fear. We tend to make mistakes by not thinking logically or rationally instead we use greed and fear to make investment decisions. It's important to control these emotions and invest as per your financial plan. To negotiate this habit it's important for investors to invest according to their asset allocation. This will help investors to deal with market volatility as well as help them to achieve their goals more comfortably.
Also read: How to check if your Financial Planning is on track – Fintoo Blog
Debt Trap
A debt trap is a scenario in which we are unable to repay debt from available resources. People have habits to utilize easy money to fulfill their dreams. The easiest way to define debt is it's a charge on future income. People take loans to fulfill their short-term or long-term goals. But it's important to check our repayment ability and its impact on our financial life. We should ideally take a loan where it can be used productively and helps us to increase earning ability. Business loans, property loans for investing in income-generating property, etc. are few examples of good loans. A few of the examples of bad loans can be loans for buying consumer goods, credit card loans, etc. We should try to avoid high-cost loans and borrow in case if necessary.
Copy Paste (Ctrl C + Ctrl V) Approach
Copy-paste approach won't work in personal finance. Just copying successful people's style of investment by following it as it is can be disastrous. Every individual's goals, objective, as well as their risk appetite, is different. Proper planning and goal-based investment is an important ingredient of a successful financial plan.
Lack Of Succession Planning
There are so many instances in recent days we came across where legal heirs and family members are fighting for family assets and properties. It's important to nominate, prepare a will, or trust to transfer your estate to your beneficiary. Many people fail to write a will or do their succession planning. Later on, their family members fight among themselves for property and assets. There is no specific age to plan for succession. Preparing a will is important for succession planning. It's an important aspect of financial planning.
How to overcome these habits?
Financial planning helps us to overcome these habits and to be more organized in managing our personal finance. It's important to follow best practices while managing money. Making a financial plan and keeping a track of financial fitness are key ingredients to financial success. Financial Planning is nothing but goal-based planning. 
A financial planning platform where you can plan all your goals, cash flows, expenses management, etc., which provides you advisory on the go. Unbiased and with uttermost data security, create your Financial Planning without any cost on: http://bit.ly/Robo-Fintoo
To Invest and keep regular track of your portfolio download: Fintoo App Android http://bit.ly/2TPeIgX / Fintoo App iOS http://apple.co/2Nt75LP
Disclaimer: The views shared in blogs are based on personal opinion and does not endorse the company's views. Investment is a subject matter of solicitation and one should consult a Financial Adviser before making any investment using the app. Making an investment using the app is the sole decision of the investor and the company or any of its communication cannot be held responsible for it.
Related Posts
Stay up-to-date with the latest information.