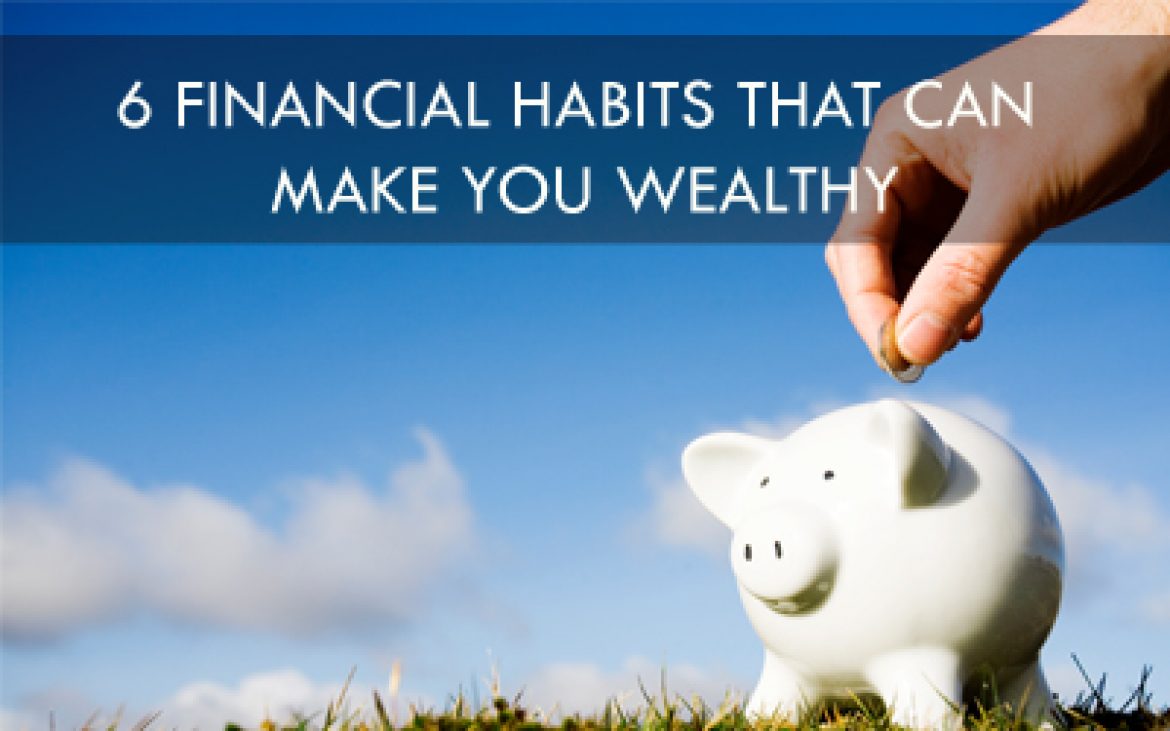 If calculated the total amount of money that an individual earn in their whole life, it sums up to millions but have you ever imagined why all of these people are not millionaires? Why there are very few who can earn millions in their lifetime and become wealthy? Many people inherit wealth from their parents or grandparents and some work hard throughout their life and build their own empire but what is the difference in between these people and the ones those are working hard, day in and day out, but not getting the positive outcomes of their hard work? The people having surplus amount of money continue to be rich and wealthy but what matters most is how you try to keep the inflow of the money and do not just spend it carelessly. It is generally said that there are many ways by which you can earn money and become wealthy but you have to keep some of the good financial habits by your side and the discipline that is mandatory to work in this sector.
A good financial habit can pull you out from the stressful and depressing financial situations and with a fresh and relaxed mind; it is much easier for you to focus more on your financial targets and goals. The mere implementation of the good financial habits can create a major difference between the life of a financially prosperous person and a financially stressed person. Along with the good financial habits comes various good financial relationships with the people in the market and the credibility is also increased in the market.
Financial planning can also help you to stay wealthy and earn large amount of money through achieving the set financial goals and targets, by investing into the various insurance, funds, stocks, etc and in a much more diverse way. But financial planning cannot alone drag your financial status and your financial wealth throughout, if you lack the important and the major good financial habits that it is hard to keep up with the plans that you made for your finances. Without proper discipline and the good financial habits, one cannot alone depend on the financial planning or the financial advisors to drag him or her from the financial crisis.
"A disciplined person can achieve everything that he aims for, but without the discipline everything is just temporary and short lived."
What are financial habits that will not just help you to become rich but will also help you to lead a financially happier life without any stress?
You get along with these good financial habits and it is a sure shot way of being rich and wealthy throughout your life. These financial habits will not just provide you wealth but the peace of mind as well that is the most required thing in the financial market these days.
Here are some of the important and essential financial habits that everyone should have in them –
Always keep the track of the inflows and outflows.
Whether or not you are rich, but keeping the track of the inflows and outflows is a very major financial habit. One must always have a deeper insight of what's coming and what's going out and from which sources. It will help you in building up a strong financial plan.
Reverse your mindset from the typical financial planning methods.
It is observed that the people first spend their money then they start paying their bills and then they try to save whatever is left out from their paychecks. But this is a completely wrong way of planning your financial assets. One must try to focus on their financial goals and targets first and pay for them, then payment of the bills and then they should spend from the rest that is left. This is the right way to maintain the financial balance and to achieve the wealth that you dream of.
Start at the early stages of life.
When you start earning, the first thing you experience is financial independence and you try to enjoy out of your pay checks, but one should pay more attention towards the financial plans as well.
The early bird catches the worm
. This is what exactly happens in the financial market. The early you will start planning for your financial goals, the more lavishly you can retire.
One should not spend much unnecessarily.
If you have ever noticed the millionaires, they try to save as much as they can and spend their savings not in buying unnecessary things but the things which can benefit them and can help them to reduce their financial burdens. One should not try to flaunt their wealth but should live like a secret wealthy person.
Do not take your debts along with you.
The debts regulate the growth rate of an individual. The high interests that you pay on your credit card every month should be cleared as soon as possible. The debts not just slow down the rate of growth but also cause hindrance in the advancement of the other important financial goals.
Idle money loses its worth; plan them to work for you.
One can increase their savings by spending less and saving more, but the idle savings will lose its worth in the long term and you would not want that. Or one can try to put their money at work. Consult a financial planner and invest your savings and put them to work for you. The savings will earn you profits and the value would not fall as well.
A financial planning platform where you can plan all your goals, cash flows, expenses management, etc., which provides you advisory on the go. Unbiased and with uttermost data security, create your Financial Planning without any cost on: http://bit.ly/Robo-Fintoo
Disclaimer: The views shared in blogs are based on personal opinion and does not endorse the company's views. Investment is a subject matter of solicitation and one should consult a Financial Adviser before making any investment using the app. Making an investment using the app is the sole decision of the investor and the company or any of its communication cannot be held responsible for it.
Related Posts
Stay up-to-date with the latest information.