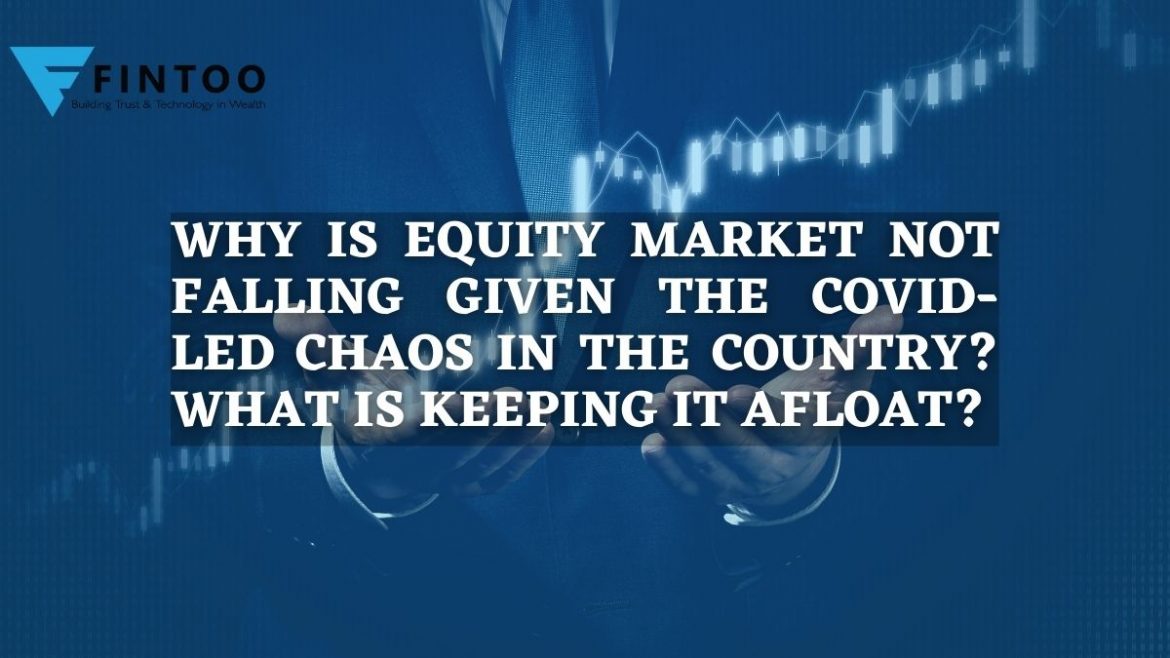 1. There are a few reasons due to which the equity market is staying afloat.
a. We have seen that the Q1 results of companies are coming out and most of them are giving stellar numbers and improvement in performances. This is in turn leading to positive movements in the stocks ultimately reflecting on the broader market.
b. Great inflow in the market. Retail investors are sitting on liquid cash and are infusing money. If you see April inflows number, total inflow in market from DII is Rs 11,359 Cr and outflow from FII is Rs 12039 Cr. Retail investors too played their part by investing into the markets thus ending the month flat. RBI also is infusing liquidity through their measures and they have left scope to infuse liquidity in the future as well.
What is the future prospect for the stock market? Can we say the fall is due anytime soon?
2. When we talk about the future of the stock market , India is an emerging economy and growth prospects are immense . When you are looking at the next 3-5 years , you can expect a good bull run with a broader sector wise rally.
There is yet scope for health care infrastructure , banking in India is highly undervalued , you have the evolution of Electric Vehicles , increase in consumption and demand which will in turn provide an opportunity to various companies – all these factors turn the favour and odds towards India , thus long term looks bright .
When you're looking at a slightly lower duration , say 3month to 6 months , you will see some short term corrections. These corrections are mainly due to the scare of Covid and suggestions of a nation wide lockdown . These falls/dips in the market can take place due to any negative news because that's how fragile the market is .
These tips will in turn provide opportunities for a brighter future.
Stock Market investments are the secret of creating wealth. Open a Demat and a Trading account and Start investing! It's free!
How do you see Amfi's April equity monthly data? Comment pls.
3. AMFI has recently released numbers and there is a dip in net equity inflows and monthly SIP's as compared to March.
However , it is the FPI's mainly who have pulled out Rs 9,659 crore whereas Mutual Fund Houses have put in a net amount of 5,526 Rs in April vs 4773 crore in March .
When we try and analyse this data , it is broadly 4 categories of Mutual funds which have seen sharp outflows i.e Multicap , Value funds , ELSS and Dividend Yield funds .
The other categories have seen outflows but not at alarming rates.
We feel that this would not come as a shock as the market is based on sentiments. With the rise of COVID 19 cases and State wise lockdown , people would want more liquidity in their hands in case of emergencies.
You would expect these outflows ( driven by FPI's mainly) to continue this month but it would not be something to be alarmed by.
As the situation improves in the country , the money would come back to the Equity Market from the FPI 's and Mutual Fund Houses would continue to buy new stocks as and when there is a fall in the market.
Also read – What is ELSS? Is ELSS Different from Mutual Funds?
A financial planning platform where you can plan all your goals, cash flows, expenses management, etc., which provides you advisory on the go. Unbiased and with uttermost data security, create your Financial Planning without any cost on: http://bit.ly/Robo-Fintoo
Disclaimer: The views shared in blogs are based on personal opinion and does not endorse the company's views. Investment is a subject matter of solicitation and one should consult a Financial Adviser before making any investment using the app. Making an investment using the app is the sole decision of the investor and the company or any of its communication cannot be held responsible for it.
Related Posts
Stay up-to-date with the latest information.