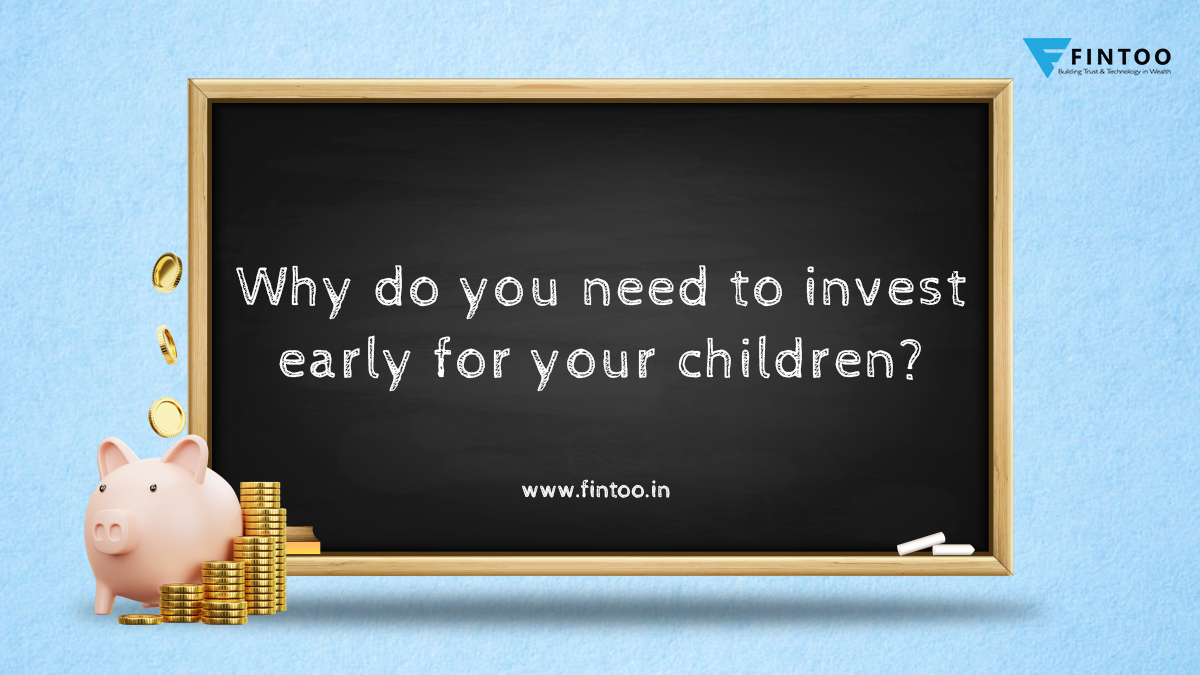 As a parent, you completely dedicate your life to your children right from the moment you cradle them for the first time. You do your best to make sure that they live a better life than the one that was offered to you. Their well-being becomes your sole priority, and you start planning everything to give them a secure life—the best school, a friendly neighborhood to grow up in, and the best necessities.
You look after their financial needs when they are young. Subsequently, you would not want them to be financially stressed even after they grow up.
So, how do you keep your finances in the right place, especially when the cost of bringing up a child keeps on increasing frequently? Well, your first step is to start investing early.
But is investing really necessary? Why wouldn't savings be enough?
The first reason would be inflation. As the cost of living keeps on increasing with time, it becomes necessary to plan and invest in channels that give you inflation-adjusted returns. The second reason is that investing from early on comes with a bunch of benefits that could protect your child's future without hindering their dreams.
Let's understand why you need to invest early for your children and how these investments make a difference in their lives;
Birth expenses:
The expenses of bringing up children begin from their pre-birth period. Medical bills are often very expensive, and to get the best possible treatment, you need to have funds at your disposal. For that, you need to plan and invest for your medical needs to cover all the pregnancy and birth-related expenses.
Besides, we can all agree that children's medical needs are way more important than their material needs. Every parent wants their children to always be in good health. However, an unfortunate medical emergency could create an imbalance in your financial planning. Thus, it becomes important to add your newborn baby to the family health insurance plan along with yourself as a part of your financial planning.
Education cost:
Education is the foundation for your child's future. Every parent would want their child to get good educational facilities and utilize this knowledge to become successful.
You may have control over choosing the primary education for your children, but you cannot predict what course of higher education they may desire to pursue in the future. They could even plan to study overseas. Even though you always have the option of taking an education loan, you surely would prefer to meet these educational expenses without needing a loan.
Additionally, viewing this from the perspective of the current scenario, due to inflation, the interest rates on loans have significantly increased. The future is uncertain, and you cannot be sure if the economic condition would make it easy for you to apply for a loan or not. If a similar situation arises in the future wherein the interest rates increase, it could put a strain on your budget and make it difficult for you to repay it on time.
This is precisely why planning ahead of time for your children becomes a crucial factor. Making the right investments will secure your children's educational needs and allow them to follow a career of their choice without making any compromises.
Child's future goals:
Investing from an early stage will give your children the advantage of planning their personal finance more effectively when they grow up. They also won't have to wait long enough to fulfill their goals, such as going on a trip, buying a house or a car, or even starting their own business venture without financial barriers. You can gift your children these facilities by planning and investing early on. It could also give them the option to follow their creative pursuits without worrying too much.
Making long-term investments can help you build a strong corpus that will grow with your children. For instance, if you invest in a mutual fund, your money will keep building up over time with the power of compounding. Investing in ELSS mutual funds will also give you certain tax benefits.
So, if you ever fall short of funds, you can use your investments without altering your standard of living. It will allow your kids to live a comfortable life without financial stress, as they won't have to start saving and investing from scratch. In short, it will help them with their overall well-being.
Wedding:
Indian weddings are known to be vibrant and lavish. Furthermore, if you have a traditional wedding, it could even take up a week of ceremonies and celebrations. Wedding is one of the most special occassions for any person, and people often don't hesitate to go overboard to celebrate it in a fascinating way. You too, would want to see your child have the wedding of their dreams.
One thing we all know for sure is that weddings are a costly affair. Even if your child prefers a small celebration, it would still need a lot of financial planning to ensure everything is arranged smoothly. Many parents even take a loan for their child's marriage to ensure there is no bargain in the quality of their child's big day.
We know that no one would want to get into the debt trap. Here's where an early investment would come in handy. Having enough funds would let your child plan their wedding just how they want to without facing any kind of financial restrictions.
Retirement:
Though you might have your own savings to back your children when required, you also need to make sure that you have enough to meet your retirement goals. In India, we are more inclined towards following the traditional family structures wherein parents depend on their children after retirement. While there is nothing morally wrong with having that point of view, it would be better if you could manage your retirement on your own, especially because it is not that difficult to achieve it. You only need to plan and invest early.
Depending on your children for your retirement will again put a financial burden on them. So, investing early for your own retirement will enable you to fulfill all your retirement goals and take away that burden from your children.
Conclusion:
Planning your children's finances and investing for them from an early age is a good habit. It is important to also educate your kids on the value of saving and investing. This will teach them to become financially responsible and manage their money well. Though we spoke about why early investments are necessary, your next question might be where to invest.
Finance is a vast topic, and there are many different options that you could choose to invest in. If you don't possess an in-depth knowledge of the market, it would not be a great thing to start investing on your own. Moreover, each person has a unique investment pattern that depends mainly on the income, risk-taking ability, desires, etc. Hence, it is recommended to consult a financial advisor who can customize a financial plan pertaining to the goals you have for your children. This way, you can secure your child's future by making the right investments.
Disclaimer: The views expressed in the blog are purely based on our research and personal opinion. Although we do not condone misinformation, we do not intend to be regarded as a source of advice or guarantee. Kindly consult an expert before making any decision based on the insights we have provided.
Related Posts
Stay up-to-date with the latest information.