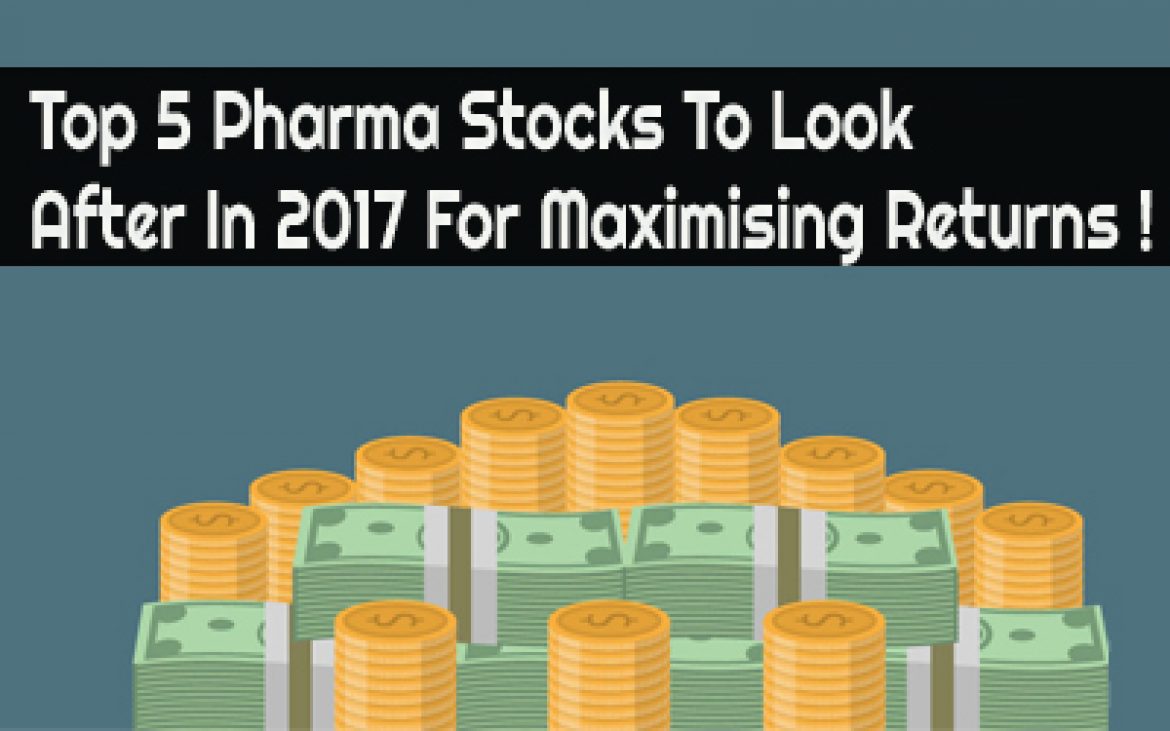 Certain sectors like pharma that are open to inventions that can add value to healthcare and life are always popular options for investors since they produce good returns. Just because pharmaceuticals is the most promising sector to come out with new and innovations, investors always look up to them for maximizing returns. This is the way we have seen the unprecedented growth of certain pharma stocks in recent years.
It is last year that we have seen majority of pharma companies performing well in stock market and coming with regular developments in regard to new drugs and new research outputs. These factors altogether made a positive scenario for the pharma sector. Many uprising pharma companies gave investors manifold returns while several top pharma stocks maintained steady growth for the better part of the year. So, considering all these we have come here with the best pharma stocks that worth your investment in 2017.
But before we list the top pharma stocks for 2017 and introduce their credentials, let us explain what makes pharma stocks great investment options.
What makes pharma stocks do lucrative for investors?
Besides the local market, Indian pharma companies have great opportunity to earn high revenue in the US market and take the advantage of bullish US dollar. The depreciation in the Rupee cost gives pharma companies a better opportunity to ride the growth when targeting US market.
Apart from this typical global exposure and advantages to market in foreign markets, pharma sector companies can also take the advantage of riding the growth through new breakthrough researched and products. This is particularly true for companies spending heavily in their R&D activities and pharma companies working on life saving drugs of certain diseases.
Most of the top Indian pharma companies have big research and development facilities and state of the art modern laboratories to carry out sophisticated research projects on latest drugs and medications. Pharma is mainly an innovation driven sector where a new medicine with a never before capability can just produce an overnight bestseller and a big success story in the stock market.
Lastly, investors apart from the growth opportunities and return find pharma stocks interesting and lucrative options for a balancing act as well. Pharma stocks are often considered as safe options for investment just because they are steady and least volatile compared to other sectors. Moreover, with the increasing demand of healthcare all over the globe, pharma stocks are naturally popular options for a steady investment in equity.
Pharma company Ipca Laboratories recently reported an plunge from its steady growth and a net profit of Rs 11.69 crore for the last quarter. Most predictions are maintaining a positive view of the stocks. Basically, the present performance of the stock has been impacted just because several of its factories went under the scanner of Federal Drug Administration. Most analysts hold an opinion that the stock can regain and bounce back to at least 25 per cent very soon.
Lupin stock in the recent times faced a few small setbacks in respect of negative growth. But when it comes to the Indian counterpart of the company, it continued to find year on year growth instead of everything. Naturally, when it comes to making a portfolio comprising of pharma stocks few funds and fund managers can actually think of skipping of Lupin from their list of choice stocks. Lupin India recorded a whopping 9.4% year on year growth. The company maintained also is solid growth in its sales, respectively 31.9 per cent for rest of the world market and 32.2 per cent growth in Europe.
Aurobindo Pharma is another great pharma stock that continued to find growth and in the recent years made some promising developments in coming with new life saving products, most notably the multi-disease treatment injection that bagged USFDA approval for the US market. While both the revenue and profit margin of Aurobindo Pharma is continuing to grow, the brand is experiencing steady YoY return. It ensured a YTD return of 38% in the current fiscal year.
Cadila Healthcare is a steadily growing pharma company with a wide range of top pharmaceutical products both in OTC and life saving drugs segments. This pharma company is one of the fastest growing and is dependent widely for long term holdings. Last year it's stocks performed incredibly well. The YTD return of the stock is envisaged as per the CAGR at 28.75%.
Torrent Pharma is another most promising pharma company with a wide spectrum of pharmaceutical products for both domestic and international market. Torrent pharma is particularly a preferred stock for many fund manager and trader because of its consistent performance. YTD return of the stock as per CAGR stands at 31%.
A financial planning platform where you can plan all your goals, cash flows, expenses management, etc., which provides you advisory on the go. Unbiased and with uttermost data security, create your Financial Planning without any cost on: http://bit.ly/Robo-Fintoo
Disclaimer: The views shared in blogs are based on personal opinion and does not endorse the company's views. Investment is a subject matter of solicitation and one should consult a Financial Adviser before making any investment using the app. Making an investment using the app is the sole decision of the investor and the company or any of its communication cannot be held responsible for it.
Related Posts
Stay up-to-date with the latest information.