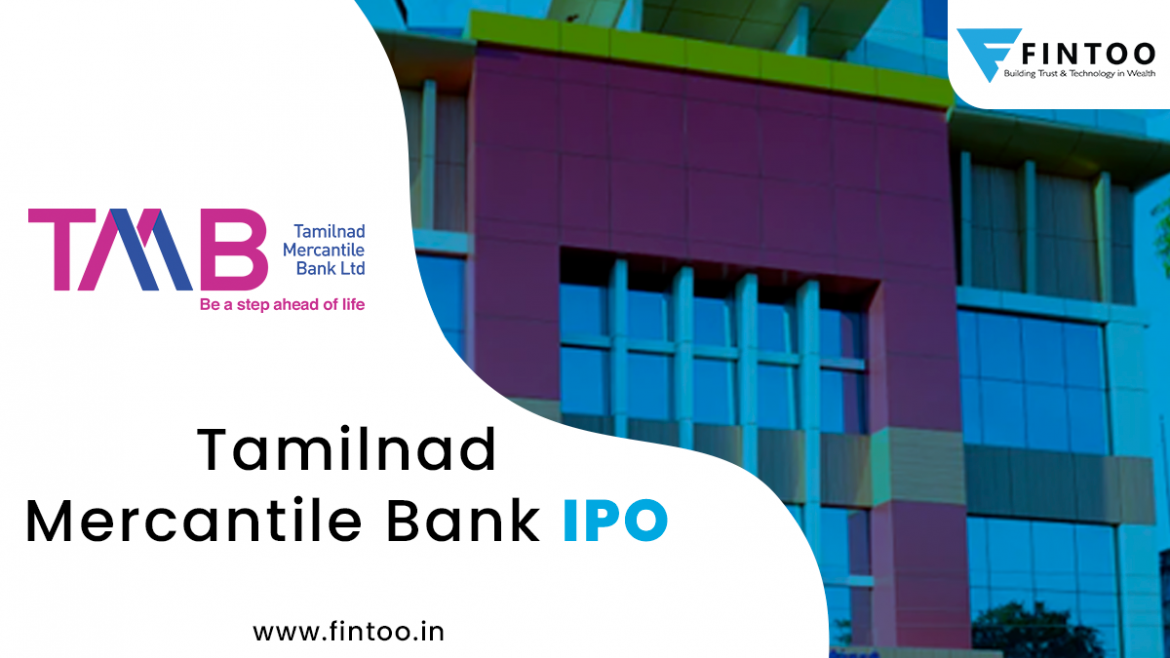 Tamilnad Mercantile Bank Ltd. (Subscribe)
| | |
| --- | --- |
| Issue Size – 15,840,000 shares | Issue Open/Close – Sept 05/Sept 07, 2022 |
| Price Band (Rs.) 500 – 525 | Issue Size- Rs 8316 mn |
| Face Value (Rs.) 10 | Lot Size (shares) 28 |
Tamilnad Mercantile Bank ("TMB") was incorporated on May 11, 1921. TMB, headquartered in Thoothukudi (Tamil Nadu, India), is one of the oldest and leading old private sector banks in India, with a history of close to 100 years. The bank reported deposits of Rs.44,930 crore and advances of Rs.33,490 crore as of March 2022. It offers an array of banking and financial services to retail customers, micro, small, and medium enterprises (MSMEs), and more.
As of March 31, 2022, they have 509 branches, of which 106 branches are rural, 247 in semi-urban, 80 in urban, and 76 in metropolitan centers. The bank has built a strong presence in the state of Tamil Nadu, with 369 branches and 949 automated teller machines ("ATMs") and 255 cash recycler machines ("CRMs"), 91 E-Lobbies, 3,939 PoS as of March 31, 2022.
Key Highlights
A strong legacy, loyal customer base, and focus on improving servicing framework- With almost 100 years of history, Tamilnad Mercantile Bank has established itself as a well-recognized scheduled commercial bank having a strong network of branches, ATMs, and CRMs across several states of South India including Tamil Nadu being their home state, along with Maharashtra, Gujarat, Karnataka, and Andhra Pradesh, which has enabled them to maintain a strong customer base.
Advances with a focus on MSME, agricultural and retail segments Bank's advances portfolio consists of a wide basket of retail finance and small ticket size MSME finance products. Their focus is on understanding the needs and expectations of their customers, particularly in the RAM space, and adopting strategies to target these customer segments for their growth. The bank leverages its presence in semi-urban and rural regions where they are located to attract more customers in the RAM segment. They have dedicated branches at Thoothukudi and Chennai in Tamil Nadu, and at Surat, Gujarat to cater to the requirements of MSME customers in these regions
Consistently growing deposit base with a focus on low-cost retail CASA- The bank has adopted a customer-first approach, with an emphasis on customer relationships. Apart from the individual segment, they have focused on account sourcing on value-based CASA products. During FY22, their deposits increased at a healthy CAGR of 10.46% compared with the peer median of 7.90%. TMB's digital banking channels enable a smooth transition from physical to digital usage and enhance customer experience, designed to grow their business and improve margins.
Strong asset quality, underwriting practices, and risk management policies and procedures- Tamilnad Mercantile Bank focuses on selective lending and limit its exposure to certain industries and sectors as a part of its strategy to monitor concentration risk. They have a Risk Management Committee to monitor their corporate customers on a monthly basis. The bank has reported a relatively lower GNPA of 1.69% as compared with 4.40% for their Peers (median) as of FY22. The NNPA has reduced from 1.80% in Fiscal 2020 to 0.95% in FY22. They have maintained their PCR at 87.92% as of March 31, 2022.
Consistent Financial Performance – TMB focuses on increasing its digital footprint which in turn has improved its operational processes that have reduced costs and resulted in improving the profitability of the Bank. The total income increased at a CAGR of 7.99% from 2020 to 2022. Their NIM has consistently grown over the years with an increase from 3.64% to 4.10% from FY20-FY22 at a CAGR of 6.13%. PAT of the Bank increased at a CAGR of 41.99% during FY20-22. ROE of the Bank increased at a CAGR of 24.31% from 10.73% in FY20 to 16.58% in FY22. ROA of the Bank increased at a CAGR of 29.49% from 0.99% in FY20 to 1.66% in FY22.
Key Concerns
The IPO is an offer of fresh equity issue as well as OFS, the OFS part is totally scrapped in order to meet the issue deadline and the bank has already followed the legal formalities in this regard and the matter is pending with the Bombay High Court. Any adverse order, if any, passed by the concerned authorities at any subsequent hearings may affect IPO proceedings.
There is 37.3% of paid-up equity share capital / 53.7 mn equity shares which have outstanding legal proceedings which are pending with various forums and proceedings against the bank have been initiated by various regulatory authorities including RBI etc. Any adverse effect can impact the business and operations of the bank.
TMB's contingent liabilities exceed their net worth, which, if they materialize, may adversely affect their results of operations, financial condition, and cash flows.
Valuation
TMB is one of the oldest and leading private sectors in India. In the last three years, the company has generated strong revenue and margin expansion. Due to RBI's direction for listing, its branch expansion plan was on hold, but once it gets listed, it will expand its network. TMB can be a good investment avenue owing to its better growth with healthy asset quality, robust risk management system, equipped with basic retail banking infrastructure, and sizeable market to grow.
However, pending legal matters may impact TMB if the verdict goes against the bank. At the upper price band of Rs 525, the stock is priced at 1.35x its FY22 book value (based on fully diluted post-issue equity). We recommend subscribing to the issue from a long-term perspective.
A financial planning platform where you can plan all your goals, cash flows, expenses management, etc., which provides you advisory on the go. Unbiased and with uttermost data security, create your Financial Planning at Rs99/-
Disclaimer: The views shared in blogs are based on personal opinions and do not endorse the company's views. Investment is a subject matter of solicitation and one should consult a Financial Adviser before making any investment using the app. Making an investment using the app is the sole decision of the investor and the company or any of its communication cannot be held responsible for it.
Related Posts
Stay up-to-date with the latest information.