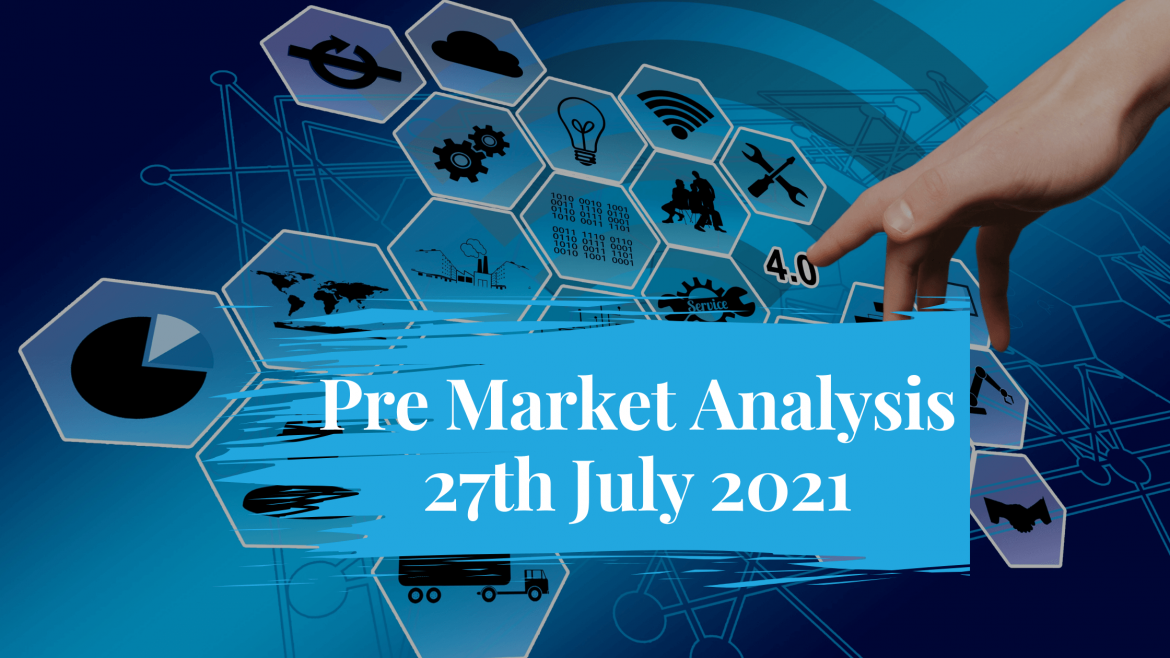 Markets activity remain listless on Monday with Nifty oscillating in a narrow band of 15797-15893 and ended with small spinning top pattern on candlestick. The market is eyeing key event of Fed meet scheduled this Wednesday and Fed comments on tapering of massive stimulus. For the month, FII have sold more than Rs 14000 cr in spot exchanges and hence entire market is surviving on liquidity of domestic participants. However, with most of non-financial stocks Index showing signs of distribution at higher levels, we can expect deeper cuts in market when Nifty closes below 15760. On the upside, resistance is seen at 15925-1975.
U.S indices closed out a choppy session mostly higher, with all three major indexes hovering near records, as investors bullish about the global economic recovery looked ahead to a busy week of economic data, earnings reports and a Fed policy meeting on Wednesday. The Dow Jones Industrial Average rose 82.76 points, or 0.24%, to 35,144.31, the S&P 500 gained 10.51 points, or 0.24%, to 4,422.3 and the Nasdaq Composite added 3.72 points, or 0.03%, to 14,840.71. Asian indices edged higher as several major Chinese tech stocks in Hong Kong remained under pressure following a Monday tumble.
Govt scraps basic customs duty on masur dal to bring down retail prices
Glenmark Life Sciences IPO at 695-720 rupees/share opens for sale; offer close July 29; raises 4.54b rupees by allotting 6.31m shares at INR720 each to 19 anchor investors
Gov offers for sale 5.5%, or ~110.1m shares, in Housing & Urban Development Corp. with an option to sell additional 2.5%, or ~50.1m shares, at minimum price of 45 rupees each to non-retail investors open; offer for retail investors opens Wednesday
Axis Bank 1Q net income +95% y/y to 21.6b rupees, misses est. 24.4b; provisions 35.3b; Gross NPA 3.85% vs. 3.70% q/q
Biocon Says unit Biocon Biologics to make antibody treatment of Covid for India
DLF 1Q net income 3.37b rupees vs. loss 706.5m y/y, beats est. 2.75b; revenue 11.4b vs. 5.49b y/y
Equitas Holdings Says approves merger with Equitas Small Finance Bank; Equitas Small to issue 226 shares for every 100 held in holding company
Larsen & Toubro 1Q net income 11.7b rupees vs. 3b YoY, misses est. 15.03b; revenue +38% y/y to 293.3b; Order book 3.24 tln rupees
M&M Financial 1Q net loss 15.3b rupees vs. profit 1.56b y/y, as loan- loss provisions surge
Tata Motors 1Q net loss Rs 44.5b, est. loss 20.99b; revenue Rs 664.1b vs. 319.8b YoY
Vedanta 1Q net income 42.2b rupees vs. 10.3b YoY beats est. 41.87b; revenue +79% YoY to 281.1b
Vedanta Approves Simplifying Holding Structure in Units
IDFC First Bank To consider funds raising in July 31 meeting
GSK Pharma Reports 1Q Net Income Rs 1.21B Vs. Rs 1.1B YoY, to transfer Iodex, Ostocalcium brands in India to GlaxoSmithKline Asia at 16.5b-rupee value
Must Read: Is It Safe To Invest In Cryptocurrency? Here Is All You Need To Know
A financial planning platform where you can plan all your goals, cash flows, expenses management, etc., which provides you advisory on the go. Unbiased and with uttermost data security, create your Financial Planning without any cost on: http://bit.ly/Robo-Fintoo
Disclaimer: The views shared in blogs are based on personal opinion and does not endorse the company's views. Investment is a subject matter of solicitation and one should consult a Financial Adviser before making any investment using the app. Making an investment using the app is the sole decision of the investor and the company or any of its communication cannot be held responsible for it.
Related Posts
Stay up-to-date with the latest information.