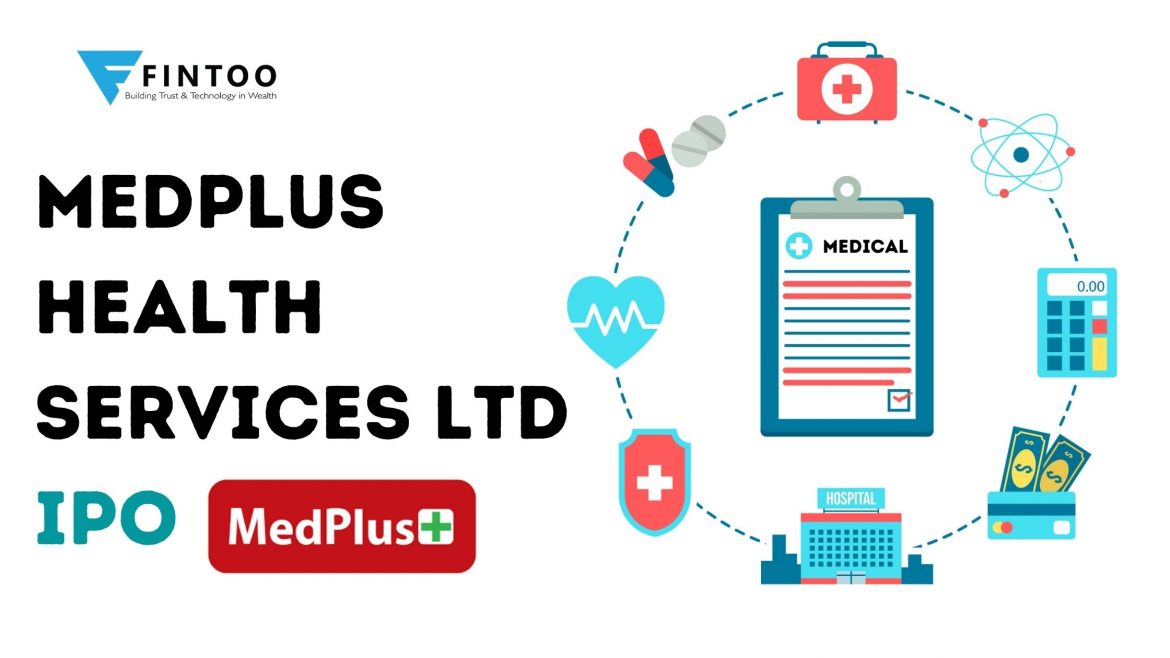 (High risk/Cash surplus may Subscribe)
| | |
| --- | --- |
| Issue Size- 17.57 mn shares | Issue Open/Close – Dec 13 /Dec 15, 2021 |
| Price Band (Rs) 780-796 | Issue Size- Rs 13.98 bn |
| Face Value (Rs) 2 | Lot Size (shares) 18 |
MedPlus Health Services is the second-largest pharmacy retailer in India, in terms of revenue as well as number of stores as of March'21 (according to Technopak report). The company offers wide range of Pharmaceutical and wellness products, (including medical devices and test kits) with a vision to set up 'trusted pharmacy retail brand' that offers genuine medicines and serves better value through efficient supply chain mechanism. Medplus has developed an in-house integrated technology infrastructure for its entire business value chain and operations. Its centralized inventory management system is capable of tracking sales and inventory levels at stores and warehouses on real-time. It generally procures inventory directly from pharmaceutical companies and their carry forward agents to strengthen value chain and offer products at more affordable price points to customers.
Medplus has maintained a strong focus on scaling up the store network and has grown from its initial 48 stores in Hyderabad to India's second-largest pharmacy retail network of 2000 stores distributed across Tamil Nadu, Andhra Pradesh, Telangana, Karnataka, Odisha, West Bengal and Maharashtra. The company is at a leadership position in key cities like Chennai, Bangalore, Hyderabad and Kolkata based on revenue contributions of 30%, 29%, 30% and 22%, respectively in FY21. During the last decade, Medplus expanded its store footprint with four-fold store growth from 62 to 293 stores in Chennai, three-fold store growth from 110 to 331 stores in Bangalore, Hyderabad with two-fold from 141 to 309 stores and highest eight-fold store growth from 22 to 201 stores in Kolkata.
The following is the revenue break up for FY21- Branded pharmaceutical forms 76.8%, Private label pharmaceutical forms 5.6%, Branded FMCG forms 12.9%, Private label FMCG forms 4.8%. The average revenue per store (FY21) is Rs 1.59 crore, Store level operating EBITDA margin for mature stores (FY21) stands at 11%, store-level operating ROCE for mature stores (FY21) stands at 60%. Revenue attributed to Private Label in FY21:10.4%.
Key Highlights
Pharmacy retail is the fastest-growing in the overall retail space with an expected growth rate of 25% CAGR over FY20-25 (as per Technopak Report), which is a positive for players like MedPlus. In FY21, MedPlus enjoyed a 22% market share and observed a revenue CAGR of 16% during FY19-21 (while the Indian pharmacy industry grew at a CAGR of just 7.3%) and a gross margin of 21% and 21.3% in FY21 and H1FY22. Their average revenue per store is Rs 15.9mn which is much higher when compared with the domestic pharmacy retail industry of approx Rs 2.3mn, as per the Technopak Report
Second largest leading retail chain of 2,326 stores as of Sept 2021 with established brand and value proposition to Customers. Medplus offers fully integrated offerings with both offline and online channels. This allows them to deliver in less than 2 hours given hyperlocal store presence and own delivery from stores, well spread across 7 states across India.
Successful track record of expansion using a distinct cluster-based and replicable store unit expansion model, whereby it first achieves high store density in densely-populated residential area within a target city before expanding store network in surrounding areas within that city, followed by expansion in other adjacent cities.
Medplus has a strong omni channel platform (store, website, app, telephone ordering, order online, pick physically) which enables it to leverage the strong offline presence to establish and grow its online channel. An increase of 1% in private labels improve margins by ~0.5%. The company currently has a 6.5% contribution from private labels and plans to grow this further in the near future.
Lean cost structure and technology driven operations, with strategically inventory management system, Medplus plans to open 600-700 stores annually vs. 882 stores opened over FY18-21. The company plans to roll out 2,500 stores in the next couple of years which are expected to keep the profit margins from improving too drastically.
Valuation
Medplus is a well-established brand among its clusters and has positioned itself as a genuine and good quality pharmaceutical products supplier through its Omni-channels, which will continue to drive its gains in market share. The company has strong financial performance and plans to further strengthen its market position by increasing store penetration in existing clusters and developing new clusters. At the upper price band, the stock is valued at a Price/Sales of 3.09x (on post-issue equity and FY21 financials). Based on P/E, the issue is aggressively priced at 70x FY22E earnings. High risk and cash surplus investors May Subscribe from a longer-term perspective.
Must Read: Wealth Creation Myths Every Young Investor should Know!
A financial planning platform where you can plan all your goals, cash flows, expenses management, etc., which provides you advisory on the go. Unbiased and with uttermost data security, create your Financial Planning without any cost on: http://bit.ly/Robo-Fintoo
Disclaimer: The views shared in blogs are based on personal opinion and does not endorse the company's views. Investment is a subject matter of solicitation and one should consult a Financial Adviser before making any investment using the app. Making an investment using the app is the sole decision of the investor and the company or any of its communication cannot be held responsible for it.
Related Posts
Stay up-to-date with the latest information.