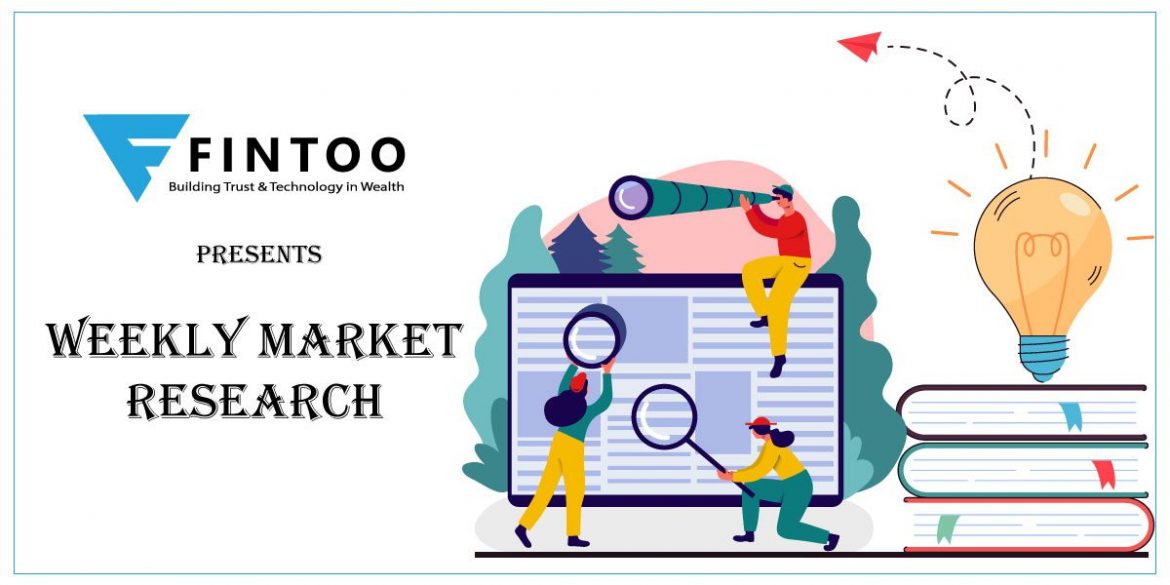 New highs yet again, relentless rally continues
Markets scaled new highs in line with global market cues after the US Federal Reserve Chairman Jerome Powell struck a more dovish tone than some investors expected in a long-awaited speech last Friday. Sentiments were boosted after the RBI said that India's holding of IMF's Special Drawing Rights (SDR) has gone up to SDR 12.57 bn which is equivalent to USD 17.86 bn as per the exchange rate. For the week, the Nifty gained 3.7 pct to 17,324 levels while the Sensex gained 3.6 pct to 58,130 levels. The Nifty Midcap 100 gained 4.9 pct while the Nifty Smallcap 100 index gained 4 pct. Sector-wise, all the major indices ended the week in the green. The Nifty Realty index gained 10.8 pct followed by the Nifty Energy index (up 5 pct) and Nifty Metal index (up 4 pct). Nifty Bank, Nifty Pharma and Nifty Auto index gained 3-4 pct each. FIIs were net buyers to the tune of Rs 68.65 bn while DIIs were net sellers to the tune of Rs 14.22 bn.
Indian Rupee gained further after having recorded gains nearly 2 pct in the month of August after Fed step back to maintain hawkish stance at Jackson Hole last week. Brent crude ended flat near USD 72.61 a bbl after OPEC+ agreed to keep its policy of gradually returning supply.
On the macroeconomic data front, India's economy grew at a record 20.1 pct YoY in the April-June quarter, helped by a low base of the year-ago period coupled with improved manufacturing in spite of a devastating second wave of Covid-19 cases. According to the IHS Markit, India's manufacturing sector grew at a softer pace in August in the backdrop of the second wave of coronavirus infections and surging costs. The headline manufacturing Purchasing Managers' Index, or PMI, fell to 52.3 in August from 55.3 in July. Fiscal deficit narrowed to a nine-year low of 21.3 pct of annual budget estimate as of July end at Rs 3.21 trln, helped by a rise in revenues and decline in noninterest revenue expenditure. India's output of eight core industries grew 9.4 pct YoY in July on the back of a low base as all sectors, except crude oil, registered an increase in output. Goods and Services Tax (GST) collection topped the Rs 1-trln mark for the second straight month in August at Rs 1.12 trln, signalling accelerating economic activity.
Stocks/Sectors that were in focus:
Stocks from the auto sector were in focus as the OEMs reported their monthly sale data for August 2021. The passenger vehicle (PV) segment reported muted performance primarily owing to semiconductor shortages globally despite demand bounce. The domestic 2W market continues to exhibit weakness as the 2W industry struggling to recover post-Covid lockdown. The tractor segment reported a drop in volumes due while the CV segment reported volume recovery primarily due to lower base and higher Infra spending.
Reliance Industries was up 7.2 pct for the week after it announced that its subsidiary Reliance Retail Ventures will be acquiring ~40.95 pct stake in Just Dial through a combination of preferential allotment and signing of the share subscription agreement.
Exide Industries 20 pct after HDFC Life announced the acquisition of 100 pct stake in Exide Life for total consideration of Rs 66.87 bn with Rs 7.26 bn in cash and balance in equity. The Deal valued is at 2.5x at the current EV of Rs 27.1 bn for Exide Life.
Bharti Airtel gained 11 pct. The Board approved Rights issue of up to Rs 210 bn at an Issue Price of Rs 535/- per fully paid-up equity share (including a premium of Rs 530/- per equity share). The investments would be channelised in areas such as 5G, fibre, and data centre business.
AU Small Finance Bank fell sharply by 9 pct during the week after another top management exit on August 31, 2021, as Mr Sumit Dhir (ex-Kotak with ~18 years of experience), Head of Internal Audit resigned on personal grounds. The management re-iterated that it has well-established systems and processes in place and has a stable internal audit team of ~50 members, working under the guidance of its Board of Directors and Audit Committee.
Stocks from the Realty sector gains and the Nifty Realty index was up sharply by 11 pct after reports indicated that the monthly registrations in Mumbai during August surged 157 pct YoY to 6,784 units due to a low base.
Must Read- What Is a Cibil Score and How to Improve it?
For the coming week, there are not many triggers back home, thus markets will focus on global cues in the truncated trading week. The new class of retail investors have had a superb stint at the stock markets with benchmark indices scaling new records with each passing day. The returns generated by initial public offerings too have boosted the sentiments. The liquidity-induced rally is expected to continue as we approach the festival season. However, we remain cautiously optimistic at these levels as we feel the risk-reward scenario is turning more and more unfavourable. Investors are advised to take selected bets with well-defined stop losses to continuing riding the euphoria.
Author: Nisha Harchekar – M.M.S (Finance) – 16 yrs+ experience as Equity Research Analyst
Fill in the details and our Income Tax Filing experts will get in touch with you. Hassle-Free Online ITR Filing with Fintoo! Start e-Filing
To get started with personalized Automated financial planning visit – http://bit.ly/Financial-Planning-Tool
Disclaimer: The views shared in blogs are based on personal opinion and does not endorse the company's views. Investment is a subject matter of solicitation and one should consult a Financial Adviser before making any investment using the app. Making an investment using the app is the sole decision of the investor and the company or any of its communication cannot be held responsible for it.
Related Posts
Stay up-to-date with the latest information.