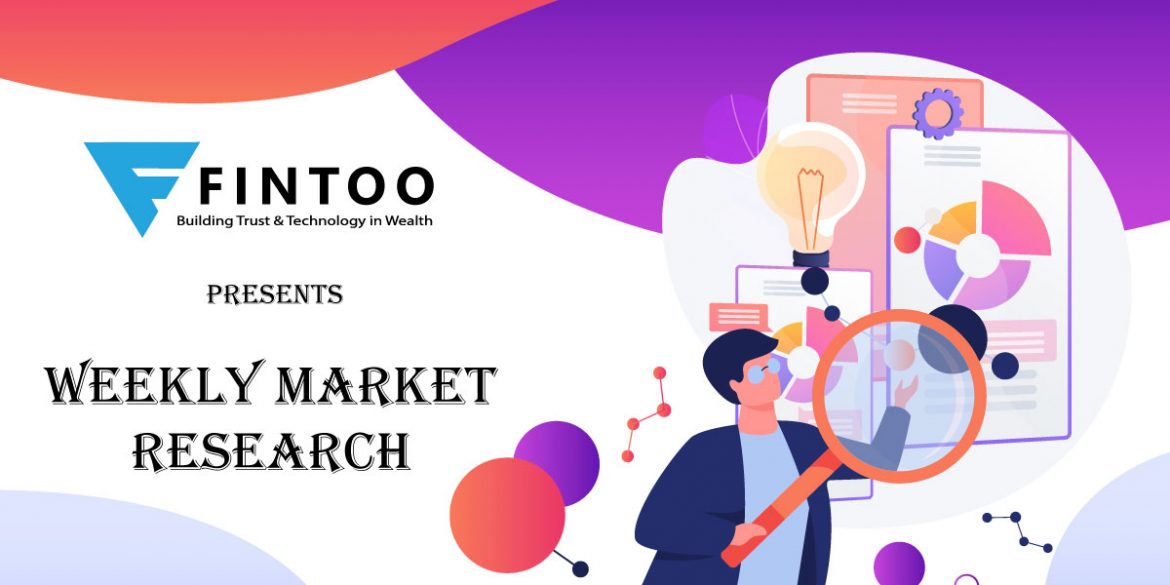 Nifty extends gains, attains fresh all-time high
Nifty for the week rose for the second straight week to post gains of around 2% and closed above 16,500 levels while broader markets continued to remain under pressure with Nifty MidSmall 400 Index closing 1.5% lower. Investor sentiments got a boost as the inflation eased on improved supplies ad government assured support to tide over economic strain caused by the pandemic. Data showed that the Index of Industrial Production (IIP) grew at 5.7% month-on-month and 13.6% year-on-year due to a low-base effect and good performance by manufacturing, mining and power sectors but the output remained below the pre-pandemic level. While retail inflation eased to 5.59% in July from 6.26% in June. The level is well within the RBI target range with the ceiling at 6%. Global markets rallied on the passage in the U.S. Senate of a $1 trillion infrastructure bill earlier have further boosted cyclical stocks like industrials and materials.
The breadth of markets remained negative for four out five trading sessions which generally acts as leading signal ahead of major market correction. The Nifty Bank which is still 3.5% away from all-time highs failed to put up any major contribution in Nifty 50 up move as most of the gains were led by surge in technology stocks.
The weakness in broader markets has its own significance and soon the selling pressure will be witnessed on large cap stocks. The rally in large cap stocks were mainly on back of short covering and select buying in IT stocks via positioning in derivatives market. Whenever broader markets witness selling pressure, investors tend to shift to defensives like IT and large cap stocks as flight to safety.
For Nifty 50 Index, the trend reversal is placed 1.5% lower in terms of Nifty to USDINR ratio. In large bearish setups like rising wedges with horizon of more than months- prices confirm trend reversal at up thrust line and below the same, selling aggravates with gap down opening. Hence, the up thrust line is the last line of defense for the bulls. For analyzing Nifty to USDINR, best index to replicate this price action is India 50 ETF which is actively traded in Nasdaq Exchange. The Nifty MidSmall 400 Index has already confirmed major trend reversal with weekly bearish hanging man and negative crossover in MACD. Both these are confirmation of extended and severe correction in broader markets in days to come.
Must Read: Attain Financial Freedom in 10 Simple Steps
Open Interest Analysis (figures in contract outstanding)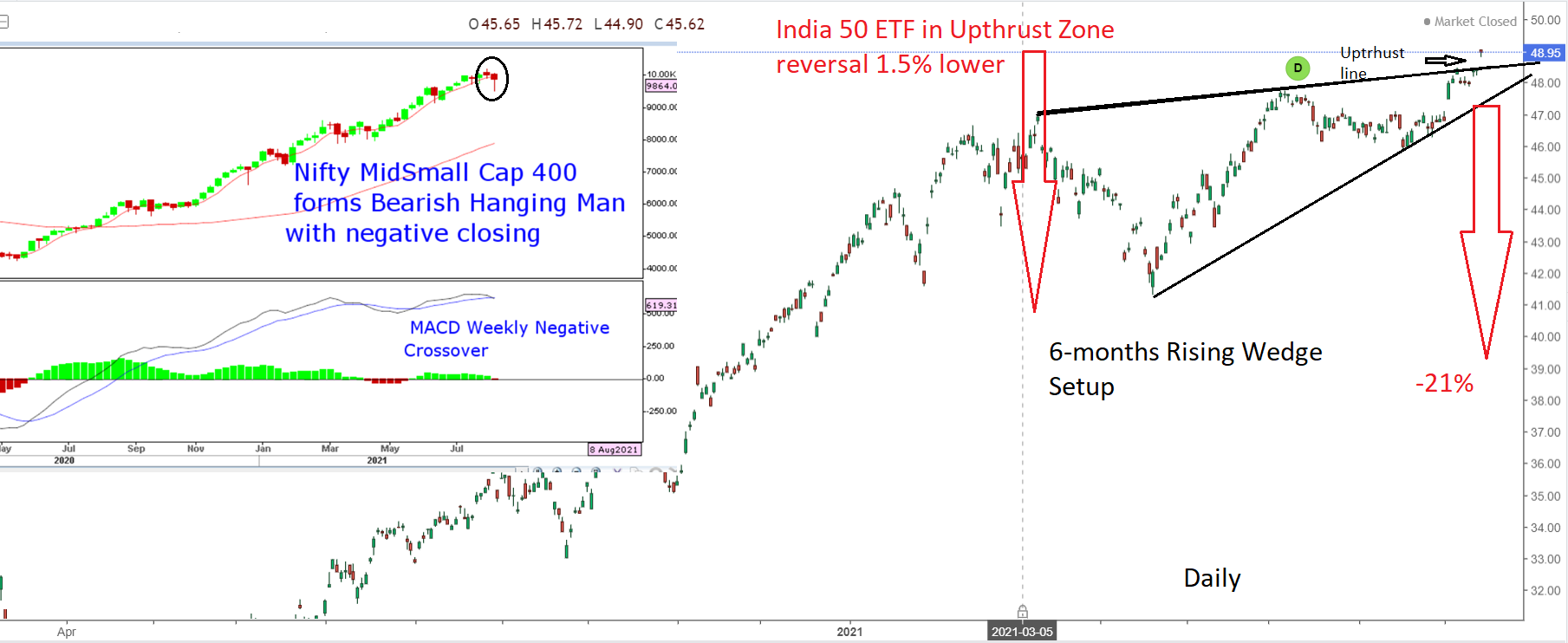 | | | | | |
| --- | --- | --- | --- | --- |
| | FII | Retail | DII | Total Contracts |
| Index Futures | 65,572 | 17,639 | -59,619 | 3,96,466 |
| Stock Futures | 1,17,156 | 8,98,559 | -11,90,818 | 22,32,874 |
| Index Call | 2,13,965 | -2,31,198 | 401 | 20,62,774 |
| Index Put | 1,72,451 | -1,40,793 | 92,985 | 30,67,320 |
| Stock Call | -33,965 | 4,09,418 | -96,105 | 12,72,905 |
| Stock Put | -1,860 | -99,718 | 0 | 6,41,572 |
On the derivatives front, FIIs increased their long positions in stock futures as well as index call options by 50%. While retail segment which was holding short positions in index call options were forced to cover short call positions by 35% and to offset the losses in short covering, were forced to do incremental writing in index put options by 40%. There was no significant change in positions by DII and they continue to hold 53% market wide short positions in stock futures. The retail participants even after correction witnessed in broader markets continue to maintain their optimism with their highly risky position and hold aggressive long stock futures & short put options contracts. Overall, derivatives data suggest market are unprepared for volatility beyond 2.5% in the coming week.
Author: Nisha Harchekar – M.M.S (Finance) – 16 yrs+ experience as Equity Research Analyst
Fill in the details and our Income Tax Filing experts will get in touch with you. Hassle-Free Online ITR Filing with Fintoo! Start e-Filing
To get started with personalized Automated financial planning visit – http://bit.ly/Financial-Planning-Tool
Disclaimer: The views shared in blogs are based on personal opinion and does not endorse the company's views. Investment is a subject matter of solicitation and one should consult a Financial Adviser before making any investment using the app. Making an investment using the app is the sole decision of the investor and the company or any of its communication cannot be held responsible for it.
Related Posts
Stay up-to-date with the latest information.