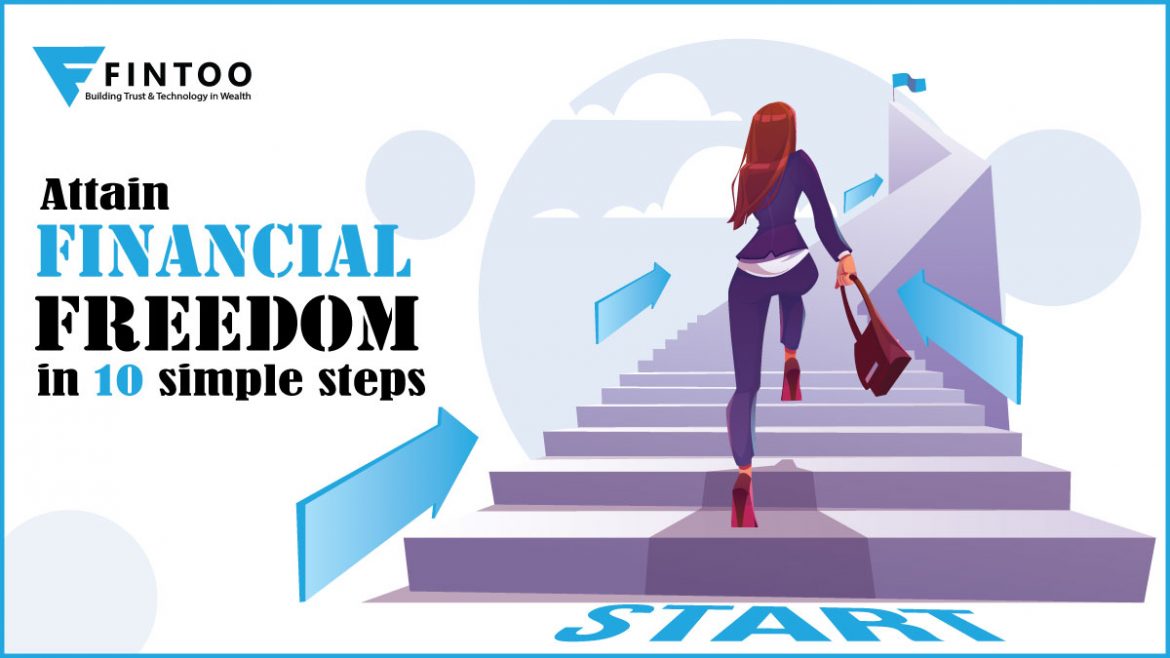 Financial freedom is often interpreted in many ways but the bottom line of it is to save money and to live a rich quality of life. In a nutshell, it means having savings, cash in hand, and investments that will help one to retire or pursue a dream career after it. Unfortunately, today's youth lack the ability to attain financial freedom. They are burdened with debt. 
Financial attainment will help in having a residual income that further helps in paying bills and managing uncertain expenses. It is wisely said, "Financial freedom is available for those who learn and work for it"
In order to help you in the same, we have listed a few steps below that one can follow and be financially independent and ensure that their future is without any worries and spent peacefully.
1) An emergency fund for contingencies
A survey reveals that youngsters nowadays live from one paycheck to another. It is suggested that one should make reserve funds for an emergency. An emergency can arise without an alarm, therefore having reserve will keep you calm and tackle the situation well. 
For example– In current times, people have faced such dynamic situations and spend a fortune on hospital bills. An emergency fund in such times will act as a shield and protect you in the most difficult times.
2) Make sure that dues of credit cards are always paid
Credit cards are nothing but high-interest consumer loans. And having a credit card handy has now become a need of the hour. These cards are noxious to wealth building. Loans like mortgages, student loans etc have low-interest rates, hence paying them is not a priority, though it is always recommended that one should pay them off on time and build a good credit rating.
3) Tracking
It is absolutely important to track your weekly/monthly/ quarterly and yearly expenses. This is a small step to make you more accountable to attain your financial goals. Tracking and adherence to strict budgeting will help you to limit your expenses. Remember to fill the sea for the future, you need to drop a bucket from now!
4) Automatic deduction
We all are running up and down, making it through the days, and there are chances that you will not have time to research and make an investment.  Luckily, the antidote to such a situation is enrolling yourself in an "Automatic deduction plan" The idea is that the pre-decided- money is deducted from your account, the same day your salary is credited. Automatic deduction eliminates any chance of you missing out and the reluctance of saving.
5) Investment-Reap-Repeat
While studying in school, you may have come across the word "Compound Interest" What may not have been music to your ears then, will be now, especially when it gets associated with the investment, we all know that investment is the best money multiplier. And an investment in the stock market will help you reap exponential benefits. Open a Demat account or choose an application that will create, invest & manage portfolios for you. Start your journey towards financial attainment by taking the first step and start small.
6) Continuous Learning
It is wisely said, "A Penny Saved is a Penny Earned!". You should always update yourself with new tax laws so that you can take utmost benefit from all the tax deductions possible. As per the latest budget sanctioned by the government, an individual is eligible for various deductions and allowances. One has an option to choose for either of the tax regime that is suitable for him/her.
Similarly, keep an eye on the stock market to make sure you adjust your portfolio as per the market fluctuation. Knowledge and acting upon it, is the only defence against all the losses in the market.
7) Maintenance and Budgeting
Maintain your household assets and try to sustain them for a long time. The cost of maintaining the assets is low, as compared to replacing them time and again. Saving on such ad hoc expenses will also help you maximize your investment and in turn, attain financial attainment. The Key to attaining freedom is to achieve your short-term targets designed keeping long term goals in mind.
8) Set Goals
Setting a goal is a step towards attaining financial freedom, you should calculate your monthly income, expenditure, lifestyle, and other things.  Once you are able to calculate your monthly budgets, you must now consider the age you want to retire then count backwards to your current age. Once done, the next step is to set up financial mileposts at regular intervals. Put it down on the sheet at the very beginning of the financial year. This will help you to draw road maps to reach your final destination.
9) Keep moving on the career ladder
Investment in your career is more important.  Acquire new skills to make sure you are growing in your career.
An upward trend in your career is a must to attain financial freedom. In case if you are self-employed you should work on growth strategies. This will not only accelerate your career but also increase your income levels.
10) An additional source of income
By making an investment you will reap desired benefits (additional income) and you can use that money to make more investments! Experts suggest that one should have more than one stream of income in addition to your primary source.  The best and easiest way to earn this additional income is an investment in the stock market, other viable options are an investment in real estate to get rental income, investment in multiple schemes both private and govt that will give you monthly interest irrespectively. And if you are an explorer, traveller, or foodie, good news! In today's advanced age, you can earn a fortune by blogging and telling people about it.  A passive income via any of the methods above will help you achieve the goal.
All said and done, you can go on with the list however what is more important is the 'Right implementation'. One can develop healthy financial habits and attain financial freedom in the process. Remember, a good retirement plan is a must and one should start with it as early as possible.  Initiate a small step today by following one or more ways mentioned above. Hope we have helped you kick start your journey in attaining financial freedom.
Must Read: Why Higher Inflation Could Be India's Next Big Worry Amid Worsening Covid Crisis
A financial planning platform where you can plan all your goals, cash flows, expenses management, etc., which provides you advisory on the go. Unbiased and with uttermost data security, create your Financial Planning without any cost on: http://bit.ly/Robo-Fintoo
Disclaimer: The views shared in blogs are based on personal opinion and does not endorse the company's views. Investment is a subject matter of solicitation and one should consult a Financial Adviser before making any investment using the app. Making an investment using the app is the sole decision of the investor and the company or any of its communication cannot be held responsible for it.
Related Posts
Stay up-to-date with the latest information.