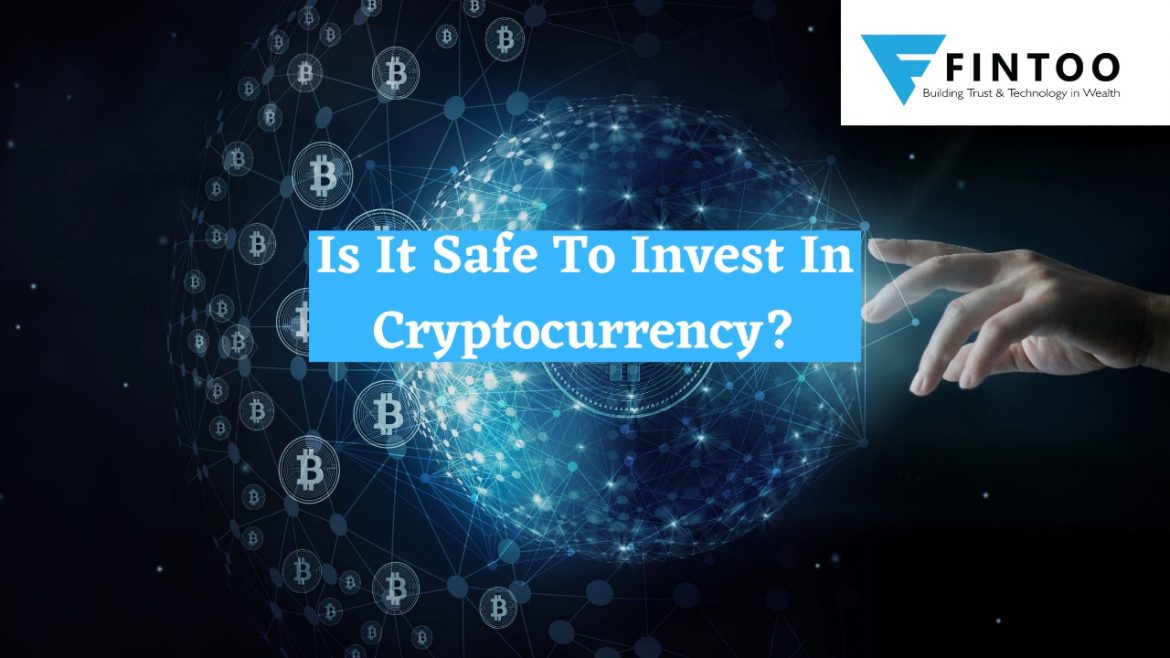 Bitcoin, Dogecoin, Litecoin or Ethereum. Today, Cryptocurrency is undoubtedly the most talked about topic in the global finance market. Investors across the globe are curious to know more about Cryptocurrency along with the benefits and risks involved while they invest in Cryptocurrency.
So, if you are also looking for information that will help you decide whether it is safe to invest in Cryptocurrency or not, here is all you need to know about;
Unlike the real currencies like Rupees, Dollars or Euros, Cryptocurrencies like Bitcoin, Dogecoin or Ethereum are digital or virtual currencies having a floating value in real currencies.
Most of the Cryptocurrencies are decentralized networks based on blockchain technology. The point that acts as the prime feature and even drawback of cryptocurrency is that it is neither issued by any central authority nor governed by it. This enables it to exist and operate in the market with minimum government interference and regulations.
Cryptocurrency In India
Though trading and investing in cryptocurrency is becoming immensely lucrative and popular in India, but considering the lack of regulatory laws and taxation policies, the Reserve Bank of India (RBI) has not yet granted it a status of legal tender or legitimate currency in India.
Just like many countries in the world, India also doesn't have a clear and concrete stand on the usage, investment and trading of cryptocurrency. While the government hasn't promoted the existence of cryptocurrency in India, it hasn't even clearly illegalised it. Moreover, there are speculations in the market that the government may even put a ban on cryptocurrency and this will undoubtedly make the investors suffer heavy losses.
However, keeping in mind all the bureaucratic risks and focusing on the fact that owning cryptocurrency is still not considered illegal in India, a large number of young investors and traders are choosing to take the risk in order to get a high return on their investment in cryptocurrency.
Is It Safe To Invest In Cryptocurrency In India?
As mentioned, due to the current legality issues and lack of crypto laws that will help you protect your investment from hackers, loss of passwords, loss of device, malware or ransom attacks and cyber frauds which may result in permanently losing your money, it is definitely not the right time to invest in cryptocurrency, especially for investors who are looking for a safe and secured means of investment.
However, considering the cryptocurrency investment purely from an investment point of view, the risks involved in the cryptocurrency investment are higher than the risks involved in investing in stocks, securities, commodities and mutual funds. The biggest difference between the two is that volatility in the cryptocurrency market is very high compared to the traditional market. So, there are chances that you may get a fortune from your investments or you may even lose a fortune.
So, it's important for investors to only invest in cryptocurrency when they have a higher risk-taking capacity and the patience to hold their invested amount for the long term.
Currently, as the number of people investing in cryptocurrency is very limited and therefore even a minor change in the factors affecting its value can result in a drastic rise or fall. But eventually, it is believed to reduce as the number of investors increases.
And as the investors are getting educated about cryptocurrency and its ability to act as a hedge to protect fiat currencies and equities along with its immunity against the inflation rates, the number of investors who find it safe to invest in cryptocurrency in India is constantly increasing.
The Future Of Cryptocurrency In India
Although the government has currently not considered cryptocurrency as a legal currency and it is also trying to eliminate the private cryptocurrency and its use in financing illegal and unethical activities like money laundering, smuggling, drug trafficking and terror-funding, but on the other hand the government is also trying to utilise the blockchain technology to create an official digital currency issued by RBI and develop a safe, secured, legal and ethical digital economy.
This positive initiative by the Indian government towards the future of cryptocurrency in India undoubtedly indicates a bright future, but only for the official cryptocurrency. Apart from opening the doors to secured investment and trading in cryptocurrency and establishing a digital economy, officially recognising cryptocurrency will further give rise to several start-up opportunities and career options for the youth of our country in the blockchain sector.
Should One Invest In Cryptocurrency In India Or Not?
Keeping the current situation and the future prospects in mind, investors having a risk appetite can invest in cryptocurrency, but only through the recognised investors that follow the AML and KYC guidelines, in order to stay safe from scams and protect their money.
For those who do not have a high-risk appetite and the patience for long-term investment, should wait till the time the government regularises the investment and trading in cryptocurrency.
Note: Investing in cryptocurrencies is highly risky and speculative. This article is only for informational purpose and Fintoo does not aim to promote, recommend or suggest to invest in cryptocurrencies via this article. Since each individual's situation is unique, a qualified professional should always be consulted before making any financial decisions. Fintoo makes no representations or warranties as to the accuracy or timeliness of the information contained herein.
Also read: Daily Market Analysis – 28th Apr 2021 (Cryptocurrency)
A financial planning platform where you can plan all your goals, cash flows, expenses management, etc., which provides you advisory on the go. Unbiased and with uttermost data security, create your Financial Planning without any cost on: http://bit.ly/Robo-Fintoo
Disclaimer: The views shared in blogs are based on personal opinion and does not endorse the company's views. Investment is a subject matter of solicitation and one should consult a Financial Adviser before making any investment using the app. Making an investment using the app is the sole decision of the investor and the company or any of its communication cannot be held responsible for it.
Related Posts
Stay up-to-date with the latest information.