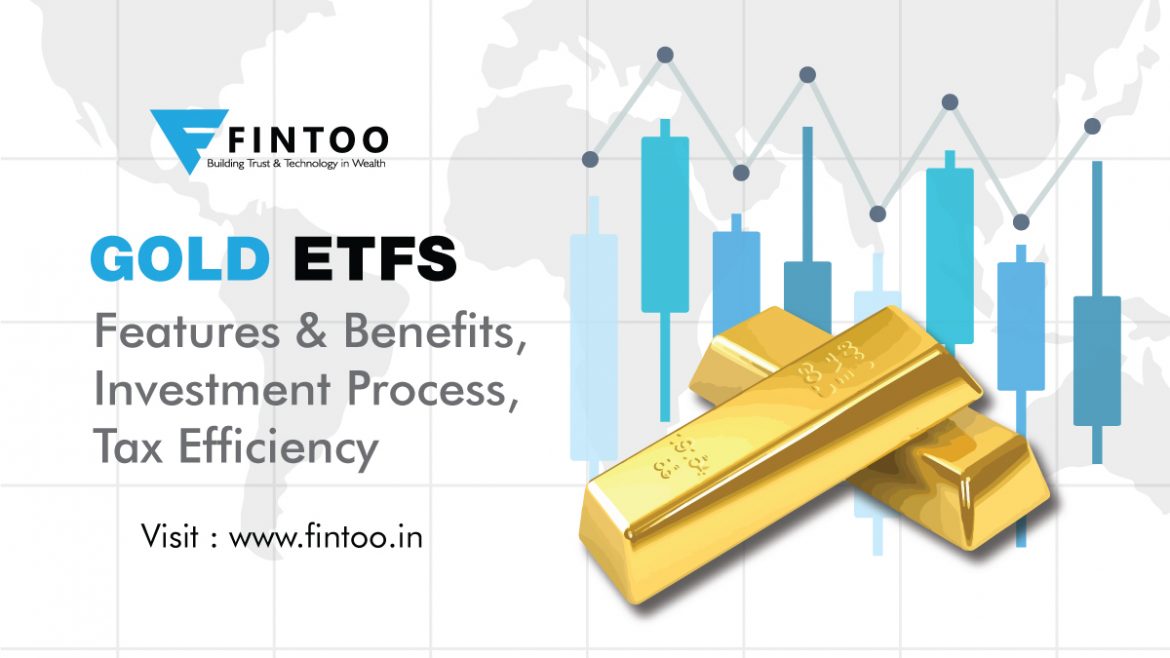 Indians have a long but not lost history with gold. Indians are well known to pass on their gold jewelry from one generation to another. It has a deep-rooted significance that allures people into buying more of it. With this thought in mind, a Mumbai based mutual fund house, Benchmark asset company launched, the first-ever gold ETF (Exchange Traded Fund) known as Gold BeES on NSE (National Stock Exchange)
Table Of Content
Now, what exactly is this Gold ETF? And How is this traded on NSE?
Well, Gold ETF i.e. Gold Exchange Traded Fund is an investment scheme that invests in the dematerialized, non-physical, or paper form of gold, but still gives you the same benefits that you may get by investing in physical gold. In fact, even more than that.
Gold ETF also allows you to start investing even in extremely small quantities, even as low as Rs. 1000/-.
Why should you invest in a Gold ETF?
Now that you have understood what exactly a gold ETF is, its attached benefits are self-explanatory.
Cost-effectiveness
Though gold is considered auspicious in Indian culture, another reason that Indians are obsessed with it is that it is a good investment. However, this may not be true when compared with gold ETF. Gold jewelry comes with making charges, costs significantly a lot, and one cannot buy and sell immediately to leverage the fluctuations in the market, unlike gold ETF.
Easy to purchase
We often invest our time and money that comes to us easily and is reliable. With these gold ETFs being traded on NSE (National stock exchange, a transparent, profitable, and trustworthy platform), it is more than ever, easy to invest in it.
Tax benefits
Investing in gold won't give you any tax concession on the return amount. However, when it comes to gold ETF, the returns you get from your investment are considered as long-term gains and it only gets taxed when you redeem your investment. Along with this, there is no added GST, wealth, or sales tax that is attached with the physical gold.
Flexibility
Gold ETFs can be purchased in small denominations, unlike physical gold. Being a common man, you can even invest up to 1000 Rs in it. And since the Asset Management Company is managing it, you can enter and exit anytime you want.
Liquidity
Being traded on the stock market, it is obvious that one can trade i.e. buy and sell it like any other stock. Transactions are quick and do not have any extra baggage along with them. Also, one can even take out a secured loan against it.
Let's take a quick recap and understand better Why choose Gold ETF over Physical Gold?
| ETF | GOLD |
| --- | --- |
| Purchased only as an investment. | Purchased for personal use, and is leveraged during the crisis. |
| One can plan its purchase keeping short and long-term financial goals. | Purchase of physical gold is usually attached to long-term financial goals. |
| It's a non-tangible item, so you need not worry about its storage and loss. | It is physical gold that you need to store safely. |
| Easy and fair trade on the National stock exchange. | You will have to sell it to the seller or local gold traders |
How to sell or redeem Gold ETF?
Gold ETFs are sold on a stock exchange using a Demat account. However, you will need a broker for its trading.
How to Invest in Gold ETF?
Step 1: Open a Demat and trading account by submitting PAN, other ID proof, and residential proof.
Step 2: Once your account is opened, you will have to choose a Gold ETF and purchase one.
Step 3: You get a confirmation sent to your email and phone confirming the same.
Note
While purchasing the gold ETF you can also invest in any other funds that further invest in the gold ETF.
In addition to the charges paid for the gold ETF, you will also be paying a nominal fee as the brokerage fee. This will be deducted from your amount during the transaction.
Who should invest in Gold ETFs?
Investors who want to diversify
If you are an investor who is looking to diversify the portfolio this is the best opportunity to do. It will give you exposure to the gold market.
Investors who want low-risk investment
The gold market is fluctuating time and again, it is not very vulnerable. You can leverage these fluctuations and skim a profit for yourself. Gold ETFs are definitely a low-risk investment as one even gets the domestic price of it paid upon liquidating.
Domestic investor
A majority of Indian households purchase gold to make an investment. For such investors, gold ETFs are the best option as here they can frequently and easily invest using their Demat account.
Investor looking for long term gains
Revenue earned from gold ETF is considered as a long-term gain irrespective of the duration for which you held the gold ETF. Not only this, but unlike the physical gold, you do not pay any making charges, GST, or wealth tax, only a nominal fee at the time of purchase.
Revenue earned from gold ETF is considered as Tips to be followed while purchasing the Gold ETF?
Gold ETFs are far more profitable than gold as they help you leverage the fluctuations in the market, so it would be wise to invest a large sum of money for a short time period.
While purchasing the gold ETF you will be paying a nominal fee of about 0.5 to 1% so it is advised that you research better in finding a fund manager who charges low, this will help you to avoid spending on asset management.
As your investment in the gold ETF will be managed by a fund manager, you must ensure that your investment is managed by the fund manager who has excellently performed in the past.
Do not make too heavy long term investments in gold, make sure out of your investments you spare about 10-15% for it and create a diversified portfolio, this helps you lower your own risks and increase your chances to get higher returns.
Don't forget these investments are for your own profit, so irrespective of having a fund manager, you will have to take care of your own investment, keep an eye on the market, and make sure you are getting enough returns that are at par with the performance of the market. Don't play lose with it, such investments can reap you good profit, so make the most of it
In times of uncertainty, the investment option that will never disappoint you is the gold ETF. All you need to remember is that a gold ETF is a hedge and not an investment. It is not going to reap your long-term gains like other direct equity investments and equity mutual funds. The best way to earn substantial returns by investing in Gold ETFs is by utilizing the market fluctuations.
A financial planning platform where you can plan all your goals, cash flows, expenses management, etc., which provides you advisory on the go. Unbiased and with uttermost data security, create your Financial Planning without any cost on: http://bit.ly/Robo-Fintoo
Disclaimer: The views shared in blogs are based on personal opinion and does not endorse the company's views. Investment is a subject matter of solicitation and one should consult a Financial Adviser before making any investment using the app. Making an investment using the app is the sole decision of the investor and the company or any of its communication cannot be held responsible for it.
Related Posts
Stay up-to-date with the latest information.