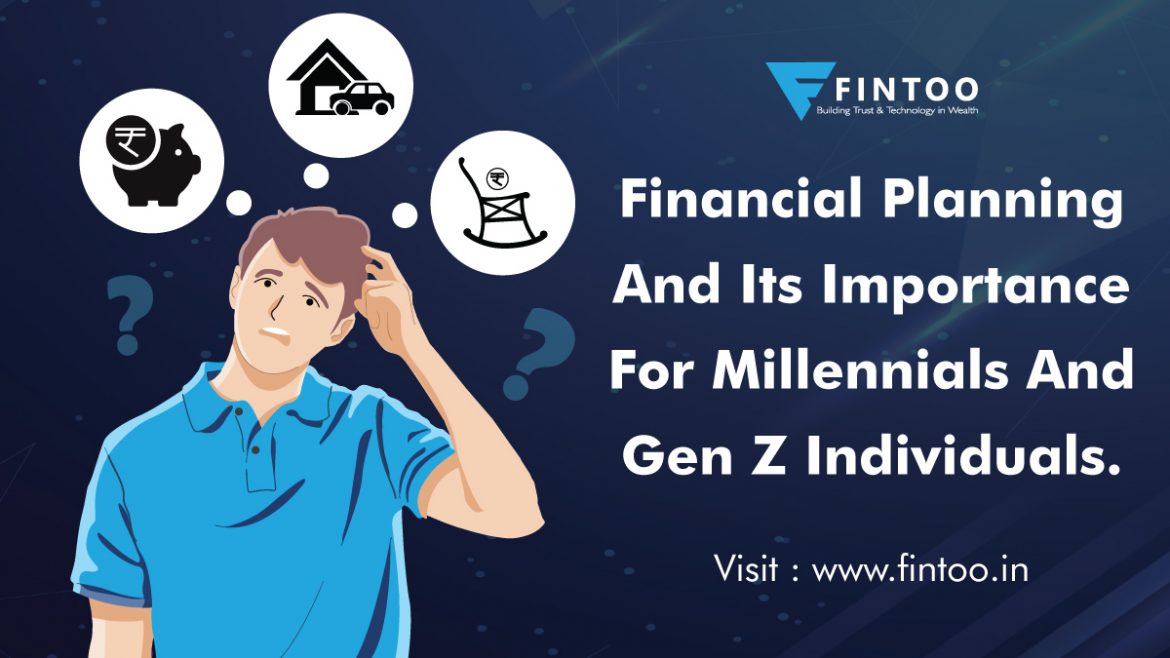 'A stitch in time saves nine' rightly defines financial planning. Basically, financial planning is all about finding out what exactly you need to do with your money to meet your financial goals.
It allows you to systematically achieve both of your short as well as long terms goals by ensuring optimum utilization of your current in-hand resources. Financial Planning is prudent for all age groups, especially the millennials and Gen Z individuals.
Financial planning is an extremely important part of life which should be taught to youngsters as early as possible. But unfortunately, our education system fails to provide any training or knowledge about it.
As a result, many of them fall into a trap of debt and also fail to save enough for their retirement.
Therefore, this blog is exclusively created to help get the insights that will further enable you to identify and avoid the mistakes that most millennials make along with assisting you in making a better financial plan for your better future.
Most Common Mistakes That You Must Avoid:
Most millennials spend money they haven't earned buying expensive things for societal status on credit.
Neglect health to take utmost advantage of their youth. This results in burning out from stress, work pressure, and frustration.
Paying the loan (debt) first, if you spend all your money to pay it off, you will have nothing to save for your retirement.
Millennials lack a basic understanding of investment and hence they end up being conservative to invest in financial markets.
Ignoring the benefits of technology.
Making A Reliable Financial Plan:
Start Somewhere:
As said, 'if you don't start somewhere, you are going to go nowhere.' Since Financial Planning seems a daunting task, especially for the first time. It is advisable to go slowly and take small steps.
The first step should be to start tracking all your monthly expenses. Know all the inflow and outflow of cash, then calculate the amount that is required by you to save to attain your financial goals.
Take help from family and friends but make sure you do your finances on your own as you are the best Judge.
Manage The Money:
Savings is the lifeblood that fuels all the investments, purchases, and also all our financial goals. It is always good to know how much you should be saving.
Experts generally recommend using a 50-30-20 ratio i.e. 50% should be spent on current expenses, 30% on personal expenses & 20% on savings. Always remember, that no one size fits all, especially when we talk about personal planning.
Many experts suggest that to maintain a similar lifestyle in the future you will have to increase the percentage of your savings. Hence you should know how to manage your money.

Basics Need To Be Taken Care Of:
Before Pandemic India had a very low adoption of insurance products. Since the cost of the premium was too high for their pockets. The pandemic has taught us how risky it can be if you play the odds without being covered.
Having insurance not only saves you from risk but if you take sufficient coverage, it helps you to save your money in the long run. Taking care of your loved ones and also yourself should not be considered a luxury.
You will find a variety of insurance policies in the market from health to life, fire, liability, child, and others. Buying insurance is a must and you should only invest after thorough research.
Invest As Per Your Goals:
As said 'one size does not fill all', there is also no universal investment amount that's best for everyone. Everyone is different and so is their risk appetite.
Risk appetite means how much risk a person is willing to take for investment because higher risk yields high profits and lower risk yields stable returns. Whatever you select make sure it correlates with your long-term financial goals.
You can find multiple investment options such as stocks, mutual funds, real estate, and so on. If you are low on investment begin with SIP (systematic Investment Plan). Once you begin investing you can explore other options too.
A thorough study is a must before choosing any option. Always ensure that you choose options as per your risk appetite instead of blindly investing.
Always Diversify Your Investment:
If you have heard the phrase "Everything in Moderation" then you know what portfolio diversification is. It sounds scary but it isn't complicated. There is a risk associated with all the investment avenues available in the market.
For instance, a fixed deposit is less risky as compared to investing in mutual funds. The bottom line is to protect you from short-term shifts in the economy and also mitigate any loss incurred in the long run.
Plan Your Retirement As Soon As Possible:
One of the main objectives of financial planning is retirement planning. The kind of savings, financial decisions, and investments you make today will have a direct impact on your future.
Since most of us do not have the security of getting a pension every month, it is important to have a source of income to make sure you maintain your lifestyle. Also, none of us will work forever.
You can invest in schemes that are specifically designed to help people during their retirements such as Post office monthly scheme or the National Pension Scheme. The early you start the more you have!
Millennials now know the power of investing. They have already taken charge of their capital. As per the data from CAMS (Computer Age Management Services) half of the 3.6 million users on board were millennials. We live in an internet era where technology can be leveraged to access information.
There are so many tools available in the market that can be used to plan your financial resources. We have applications right from tracking our money to investing in stock markets with the click of a button, so make the most of it!
For a better tomorrow take the first step today. To begin, chart down all your goals and consider all the resources available for your financial planning. You can also consult professionals for it, in case you lack basic understanding.
A financial planning platform where you can plan all your goals, cash flows, expenses management, etc., which provides you advisory on the go. Unbiased and with uttermost data security, create your Financial Planning at Rs99/-
Disclaimer: The views shared in blogs are based on personal opinions and do not endorse the company's views. Investment is a subject matter of solicitation and one should consult a Financial Adviser before making any investment using the app.
Making an investment using the app is the sole decision of the investor and the company or any of its communication cannot be held responsible for it.