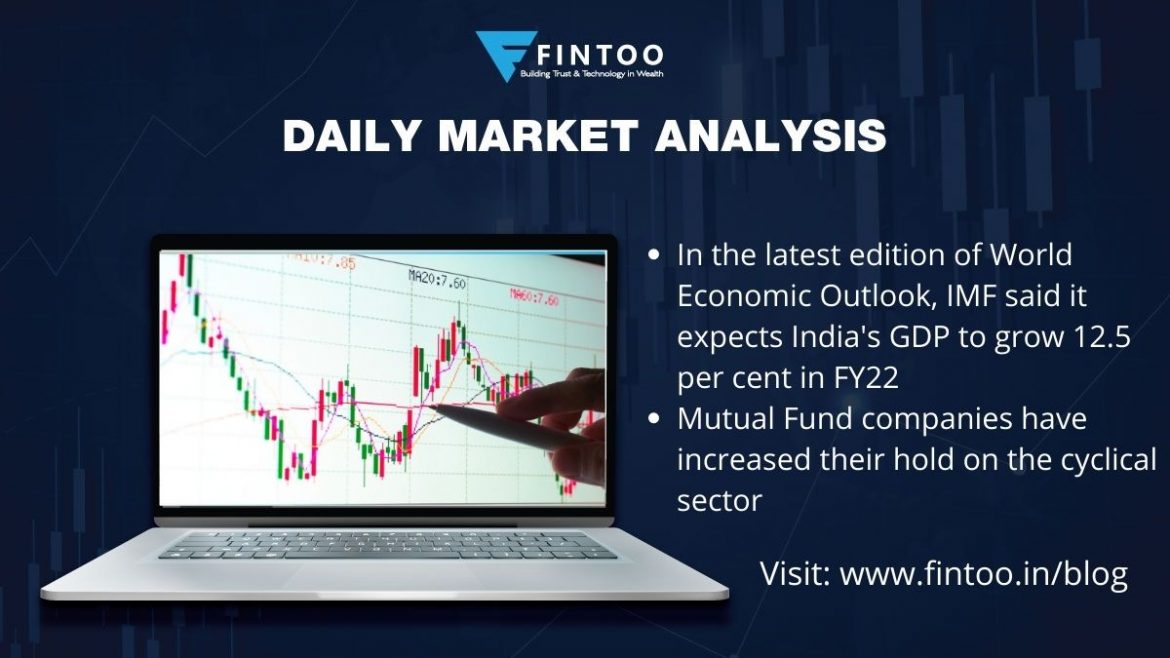 Cyclical Sector
Cyclical sectors are directly affected by the economic cycle of a country. So when the economy goes up, prices for these cyclical stocks also tend to go up & when the economy turns down, their stocks prices tend to fall. Few examples of these sectors- cement, steel, automobile manufacture, financial services, hotel industry, airlines.
Current Economic outlook
In its latest edition of World Economic Outlook, IMF said it expects India's GDP to grow 12.5 per cent in FY22, the highest among emerging and advanced economies. India is the only country expected to register double-digit growth this fiscal.
Positive FII inflows of Rs. 41,143 Cr (Jan21 to 4th May 2021)
Monsoon
As per India Meteorological Department (IMD), the 2021 southwest monsoon starting in June is expected to be normal at 98 per cent of the Long Period Average (LPA).
As per a private weather forecasting agency, Skymet had made a similar prediction that the southwest Monsoon would be normal at 103 per cent of the LPA. Rainfall between 96 and 104 per cent of the LPA is considered normal.
Both IMD and Skymet predictions come with a model error of plus and minus 5 per cent.
A good monsoon will mean another year of bumper farm production and cascading positive impact for the economy battling Covid-19 infections. If the forecast comes true, this will be the third consecutive year of normal or above-normal monsoon
Low Interest Rates
After lowering the rates by 115 points since the virus hit, the RBI(Monetary Policy Committee) in its last meeting maintained a status quo. The current Repo Rate is 4%.
Mutual Fund witnessed high exposure of few industries in the cyclical sector-
Mutual Fund companies have increased their hold on the cyclical sector recently. They have increased their exposure to the auto sector to 6%, NBFCs 8.8%, cement 3.3%, real estate 0.7%, chemicals 3%, & infrastructure 0.5% in FY 21.
When to Invest Money in Cyclical Stocks
When the government is undertaking a major capital spending thrust.
We have seen Budget's Thrust for Capital Expenditure. Union budget has allocated The proposed capital expenditure in the budget is ₹5.54 lakh crore, which, as per the finance minister's budget speech, is 34.5% higher than the capital expenditure proposed in the previous budget. The budget proposes to invest in national highways and roads, railways, urban infrastructure, port, shipping and waterways and petroleum and natural gas.
When the Metals, Infrastructure & Cements are seeing the start of a super cycle
Steel and cement, two capital-intensive sectors that are crucial for building hard infrastructure, are witnessing better sales since October. That could boost margins and growth outlook for the companies in these sectors, which are benefiting from a quicker-than-expected pickup in construction, rural consumption and a visible sales revival in the automotive industry. Analysts expect a 10-20% year-on-year rise in demand in the second half (H2) of FY21
Also read: Impact of having Domestic stock in your Portfolio
When there is any outrage
Due to the current COVID situation, People are concern regarding the safeguard of health and life insurance as seen in the past Quarter. Also in the recent budget, FDI is increased to 74% from 49%. The financial services sectors look positive.
The crux is that cyclical stocks are largely dependent on economic growth. When the combination of investment and growth is in their favour, these cyclical stocks can give humongous returns in a very short period of time. That is what makes these cyclical stocks very critical from a portfolio point of view.
To Invest and keep regular track of your portfolio download: Fintoo App Android http://bit.ly/2TPeIgX / Fintoo App iOS http://apple.co/2Nt75LP
Related Posts
Stay up-to-date with the latest information.