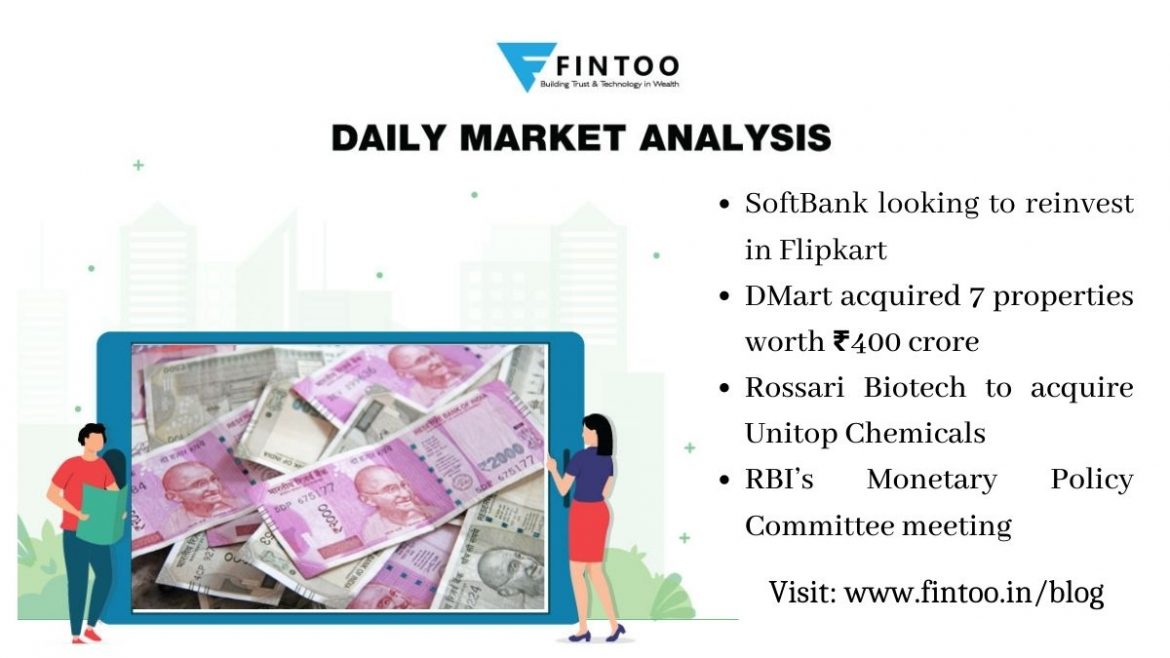 3 Years after exit, SoftBank looking to reinvest in Flipkart
SoftBank Vision Fund has held discussions with Flipkart to invest around $600-700 million, three years after the Japanese group exited the Indian online retailer by selling shares to Walmart Inc. This would mean that Flipkart will stay on as a private company for longer than what was being earlier talked about going Public early next year.
Flipkart is pushing to build an ecosystem in order to compete with Amazon, Reliance and the Tata Group. While it leads in fashion e-commerce with Myntra. Online payments player PhonePe, which was a part of the Flipkart Group, was spun off from the e-commerce company last year. In April, the online retailer acquired Cleartrip to strengthen its presence in the travel and hotel booking space. Last year, Flipkart invested ₹1,500 crore to pick up nearly 8% stake in brick-and-mortar fashion retailer Aditya Birla Fashion and Retail Ltd (ABFRL) and also bought a 27% stake in Arvind Fashions' subsidiary Arvind Youth Brands. Other recent investments include Shadowfax, a logistics startup and Ninjacart, a fresh produce supply chain company.
If the deal materialises, it will be a big move by SoftBank in India's e-commerce market, which it has reordered with massive cash infusions.
Also read: How To Select Your SIP Investment As Per Your Goal – Fintoo Blog
DMart acquired as many as seven properties worth ₹400 crore
DMart goes on a property acquisition spree during COVID-19 as the company looks to increase its footprint by taking advantage of the subdued real estate prices. The company has the same ideology as that of McDonald's that is instead of leasing the property it purchases the property in this way the Assets of the company increases and also the ecosystem that it will build near its property increases the value of the property multifold times. DMart has increased its presence in places such as Mumbai, Hyderabad, Pune and Bengaluru with the recent property acquisition.
 Rossari Biotech to acquire Unitop Chemicals
Rossari Biotech a specialty chemicals company on Wednesday announced that it will acquire Unitop Chemicals, a supplier of surfactants, emulsifiers, and specialty chemicals, for ₹421 crores. Rossari will be acquiring 100 percent of the equity capital of Unitop Chemicals. The acquisition will be done on an all-cash basis as the company concluded a preferential issue of equity aggregating to ₹300 crores to augment the strength of its balance sheet. In this way, the company won't be adding any additional debt to its book and would just use the money raised from equity to fund its acquisition.
This acquisition will bring complementary dimensions to Rossari Biotech and help expand its product portfolio, presence in adjoining areas of specialty chemical segments, pooling together of related technologies, larger international exposure, better domestic market reach, well-experienced and competent talent pool, and increased end-user industry applications.
RBI's Monetary Policy Committee meeting
India's Monetary Policy Committee meeting announced that the panel is maintaining repurchase rate unchanged at 4%. The RBI expects the economy to expand 10.5% in FY2022E, and its view on GDP growth rate after a slew of recent high-frequency indicators showed a hit to activity will be key to watch out for. RBI's current reading is underpinned by expectations of a normal monsoon, a return of pent-up demand once lockdowns end and an improved pace of vaccination. A rise in input and wholesale costs due partly to supply disruptions caused by the pandemic are beginning to feed into retail inflation — the measure targeted by the RBI to decide its monetary policy setting. That could nudge the central bank to revise its forecast, which is pegged at 5.2% for H1 FY2022, 4.4% for the Q3 FY2022E and 5.1% for Q4 FY2022E.
Model Tenancy Act
The Centre on Wednesday had approved the Model Tenancy Act(MTA), 2021 with a provision to set up district-wise rental courts, authorities and tribunals across the country for adaptation of enacting fresh legislation or amending existing rental laws.
India has over 1 crore units which are lying unutilised, and the number may be much higher now. The MTA will unlock vacant houses for renting purposes and promote private participation in addressing the housing shortage. This move will be a big boost for the rental housing space in India.
Balanced Advantage Funds have cut their exposure to Equity
Fund Managers have reduced their equity stake in Balanced Advantage Funds as they see that the valuations of the companies are no longer cheap and the current bullish run of the market is due to the excess liquidity present in the market. Fund managers feel that there is a bubble in the market which would bring a correction in the market. Most of the fundhouses have reduced their stake towards equity to approximately 30-35% of the total portfolio and are currently sitting on cash reserves.
To Invest and keep regular track of your portfolio download: Fintoo App Android http://bit.ly/2TPeIgX / Fintoo App iOS http://apple.co/2Nt75LP
Related Posts
Stay up-to-date with the latest information.