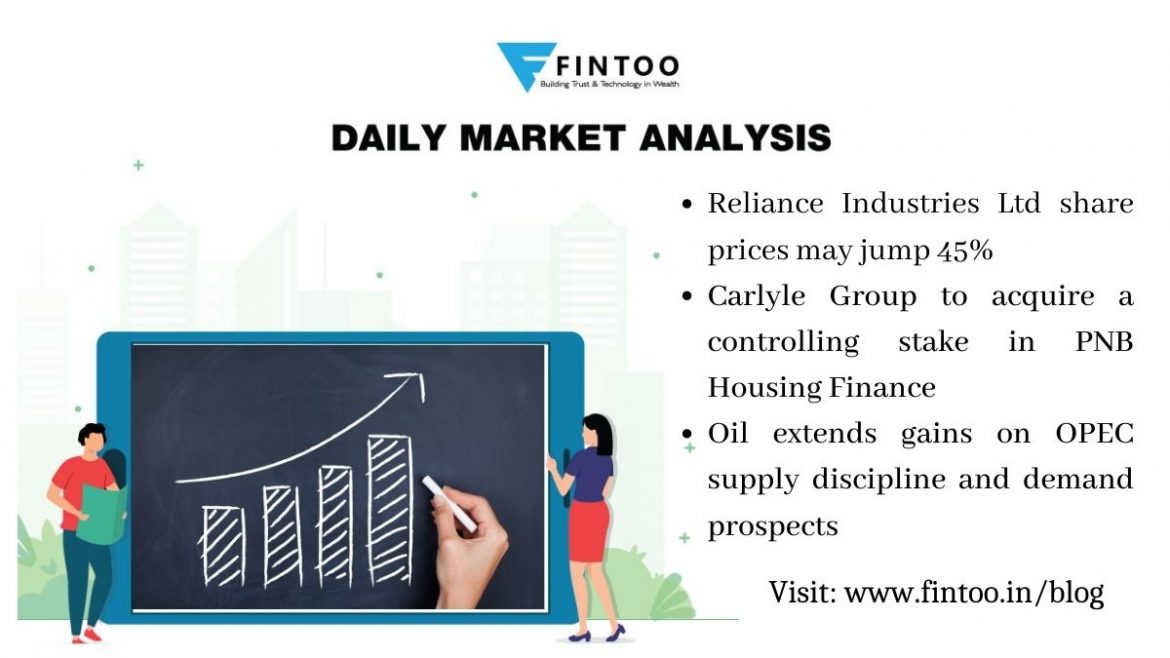 Reliance Industries Ltd share prices may jump 45%, which are already up 10% in 3 days
The rally in RIL share may continue if current Petrochemical spreads sustain, this will result in Re-Rating of Oil to Chemical stake sale by RIL, which may drive the stock price up by 45% from current levels.
The polymer spreads are at decade highs, helped by strong downstream demand from industries like Auto,Durables,Consumer Goods,Packaging and Medical supplies.
RIL share price has underperformed since the beginning of the year, with Nifty up 10.8% and RIL shares up only 8%. The sustained strong growth of petrochem performance will improve the stock performance as well, with Jefferies having a Target price of Rs.2580 and an optimistic target price of Rs.3150.
Carlyle Group to acquire a controlling stake in PNB Housing Finance
Private Equity firm Carlyle Group will acquire a controlling stake of more than 50% in PNB Housing Finance for Rs. 4000 crore.
The transaction is expected to be completed by 1st Jan 2022 and the Carlyle group will have the right to nominate the chairperson of PNB Housing Finance.
The Carlyle Group will own 50.2% stake through 2 of their entities namely Pluto Investments & Quality Investment holdings.
PNB will continue to be the promoter and a key stakeholder, till 31st March 2021 it held 32.65% stake,which will reduce to 20.3%.
Aditya Puri former MD of HDFC Bank will infuse capital of 25 crores into PNB Housing Finance for a stake of 0.2% through Family investment firm Salisbury Investments.Since this news the stock was up 20%.
The Carlyle Group has invested more than $1.7 billion of equity in 8 financial services companies as of March 2021, and $3.2 billion in India overall.
Also read: What is an IPO? | How to choose in which IPO to Invest? – Fintoo Blog
Auto Sales hit in May 2021 due to lockdown
Auto sector has been hit by the second wave and lockdowns across states.
Market Leader Maruti Suzuki reported 71% decline in sales in the months of May, along with them, Mahindra & Mahindra also reported 52% drop and Hyundai sales also declined by 48%.
Sales of Tractors, Private Vehicles, Commercial Vehicles and 2 Wheelers are going to be affected by the current lockdown like restrictions.
Tractor volumes are low since some rural areas are severely affected, Personal Vehicle and 2 Wheeler sales will likely be slow, along with that Commercial Vehicle volumes will be affected due to lower freight availability which will result in postponement of new orders.
Oil extends gains on OPEC supply discipline and demand prospects
Oil prices increased with OPEC sticking to cautiously bringing back the soil supply in the market in June and July, with the expectations of robust recovery in the USA and China the world's 2 biggest oil consumers.
Brent Crude price is at $70 currently, after solid demand from USA and China, also the vaccine rollouts will only help to further rebalance the global oil market.
The producer group will return to 7 million barrels per day in June and 8.4 million barrels per day in July.
The ongoing talks about sanctions between Iran and the USA have hit a roadblock this week and it is unclear if they will be restored before Iran's presidential elections on June 18, which will provide room for the demand to catch up.
To Invest and keep regular track of your portfolio download: Fintoo App Android http://bit.ly/2TPeIgX / Fintoo App iOS http://apple.co/2Nt75LP
Related Posts
Stay up-to-date with the latest information.