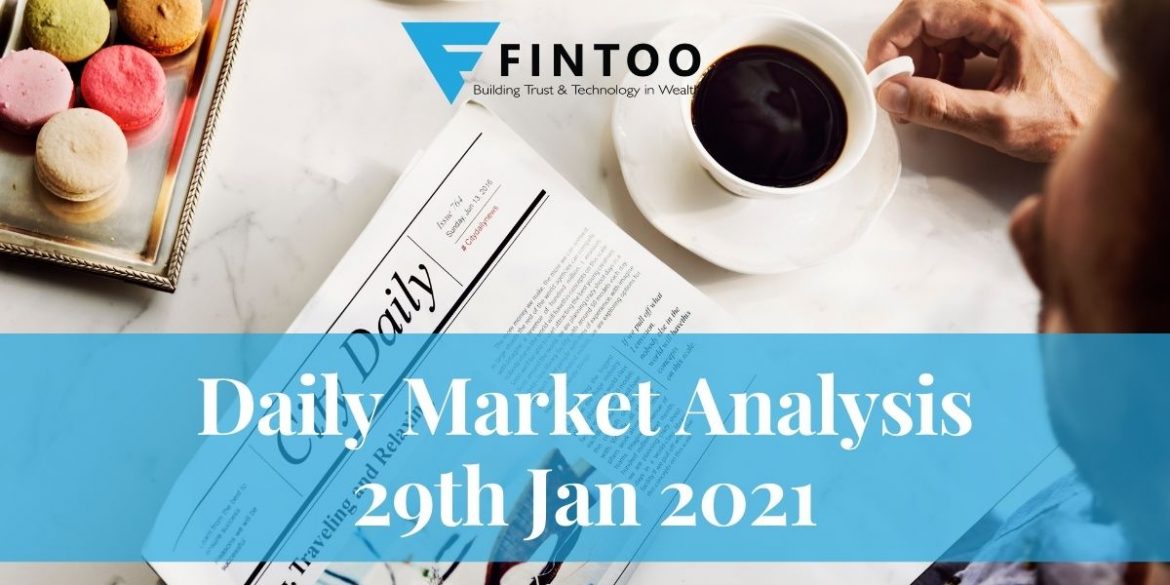 Sundaram AMC to take over Principal Mutual Fund in India:
Sundaram Asset Management Company Limited has announced the purchase of the asset management businesses of Principal Asset Management Pvt. Ltd. Sundaram will acquire the schemes managed by Principal Asset Management and acquire 100% of the share capital of Principal AMC. Sundaram Mutual has over Rs 40,000 crores in assets under management, the majority of which is in equity-oriented schemes. Principal Asset Management on the other has assets under management of Rs 7,447 crore as of December 31, 2020, with about 90% of this in equity-oriented schemes.
Indians join the game on GameStop:
Market estimates peg the Indian retail bet on the stock of GameStop — previously a little-known US video game retail chain — at Rs 60-65 crores since Monday. All Indian retail plays are like those that started when groups of American small investors began punting against hedge funds' bet that GameStop stock will fall. Dubbed the 'Rob the Wall Street Movement,' small bets fuelling the GameStop stock's spectacular rise have come from around the world, with the stock price rising 700% to $347.5.
Also read: Daily Market Analysis – 28th Apr 2021 (Cryptocurrency)
Bharti Airtel Says its network is now 5G ready:
Bharti Airtel on Thursday said its network is now 5G ready and successfully demonstrating live 5G service over a commercial network in Hyderabad. He added that the company will be able to switch on 5G at any point using the existing spectrum like they have done in Hyderabad once the government approvals are received. However, they said they will get the true power of 5G when they get the spectrum in the mid-band, at which point in a matter of months they can actually roll out and make sure that 5G is available in as many parts of India as relevant.
Swiggy Auditor KPMG points out discrepancy in accounting:
KPMG, one of the world's biggest audit firms, has pointed out discrepancies in food delivery firm Swiggy's accounting practices in its audit report. It has given what is known as a 'qualified opinion' to Swiggy. Swiggy's investors, including Prosus Ventures (Naspers), Tencent, Coatue Management, and others hold preference shares, which have a buyback right on them. This right is meant to protect investors when the company shuts down. However, these investors still do have a buyback right, which is why they need to be classified by law as a liability from the company's perspective- which Swiggy did not do.
IRFC makes tepid debut; lists at 4% discount over issue price
Shares of Indian Railway Finance Corporation (IRFC) made a tepid listing on Friday. The stock was listed at ₹24.90, a 4.2% discount over its share price of ₹26.
Why to keep for long term- IRFC IPO
1) IRFC has a unique business model & relies heavily on Indian railways for profits.
2) As long as the agreement between IRFC & MoR keeps renewing, the company runs a risk-free business despite having high long-term debt.
3) It is the first public sector NBFC to get listed.
4) With the indian railways looking to expand & reach more people, infrastructure requirements will mean revenue for IRFC.
5) However, if the Union Government or MoR changes its policies regarding IRFC, then its profitability can get affected.
Airtel adds more subscribers than Jio for 4th straight month in Nov, Vi loses more:
Airtel gained 4.37 million wireless subscribers against Jio's 1.93 million while struggling Vi lost 2.89 million users in November. Trai's mobile user data showed Airtel's November user base swelled to 334.65 million while Jio's rose to 408.29 million. Loss-making Vi's user base, though, fell further to 289.94 million. Jio has recently attributed its low net 4G user additions and higher churn in the December quarter to the continuing impact of Covid-19 and "malicious and motivated campaigns" against the Reliance group in some areas, especially in the aftermath of the ongoing farmers' agitation in Punjab and Haryana.
Defence Ministry acquires land in Arunachal Pradesh's border village-
Amid the border tension with China, the defense ministry has moved to acquire strategic land 30 km from the line of actual control (LAC) in Arunachal Pradesh to establish a military garrison. The land parcel, measuring 14.128 acres, is located in the village of Yorni II in West Siang district. The rural development ministry has notified the defense ministry as "appropriate authority" under the Right to Fair Compensation and Transparency in Land Acquisition, Rehabilitation and Resettlement Act, 2013 for the acquisition of the land in the village, which has a population of about 150. As per the Right to Fair Compensation and Transparency in Land Acquisition, Rehabilitation and Resettlement Act 2013, any land can be acquired for defense purposes, railways, and communication without the requirement of a gram sabha meeting.
RBL Bank Q3 results: Net profit rises 110% to ₹147 cr, asset quality improves-
Private sector RBL Bank on Thursday posted a 110% rise in its net profit year-on-year at ₹147.1 crores in the quarter ended December 31, 2020. In the corresponding quarter, the Mumbai-headquartered bank posted a net profit of ₹6,995 crores. Its total revenue grew by 6% year-on-year to ₹1,488 crores as against ₹1,388 crores a year ago. The net interest income fell 2% to ₹932 crore. RBL Bank said "Our operating performance this quarter has been quite satisfactory. Our capital and liquidity levels continue to be robust. It has been heartening to see the growth in the deposit franchise and we continue to grow granular deposits and reducing our funding and operating costs this financial year, making us more competitive as an institution. This should stand us in good stead particularly as we have a couple of market-leading businesses, where we see growth revival happening. Having said that, we are monitoring the recovery in the economy and are cautiously optimistic."
Shriram Transport Q3 profit down 17% on additional pandemic provision-:
17 percent decline in net profit at Rs 727.72 crore for December quarter 2020-21 as it made additional provisions related to the COVID-19 pandemic. The key net interest income rose to Rs 2,148.22 crore from Rs 2,113.75 crore in the same period of the previous year. Gross NPA and net NPA as of December 2020 stood at 5.33 percent and 3.22 percent, respectively, as against 8.71 percent and 6.09 percent by the same period a year ago. However, such accounts have been classified as stage 3 and provisioned accordingly. Had the company classified these borrower accounts as NPA after August 2020, the gross NPA and net NPA ratio would have been 7.11 percent and 4.31 percent.
Sudarshan Chem Consolidated December 2020 Net Sales at Rs 506.38 crore, up 19.56% YoY:
Net Sales at Rs 506.38 crore in December 2020 up 19.56% from Rs. 423.53 crore in December 2019. Quarterly Net Profit at Rs. 39.16 crore in December 2020 up 38.31% from Rs. 28.31 crore in December 2019. EBITDA stands at Rs. 82.19 crore in December 2020 up 27.78% from Rs. 64.32 crore in December 2019. Sudarshan Chem EPS has increased to Rs. 5.70 in December 2020 from Rs. 4.10 in December 2019. Sudarshan Chem shares closed at 491.45 on January 28, 2021 (NSE) and have given 27.58% returns over the last 6 months and 3.44% over the last 12 months.
UK bans direct flights from UAE, shutting world's busiest international route:
Britain is banning direct passenger flights to and from the United Arab Emirates from Friday, shutting down the world's busiest international airline route from Dubai to London. Britain said it was adding the United Arab Emirates, Burundi, and Rwanda to its coronavirus travel ban list because of worries over the spread of a more contagious and potentially vaccine-resistant COVID-19 variant first identified in South Africa.
A financial planning platform where you can plan all your goals, cash flows, expenses management, etc., which provides you advisory on the go. Unbiased and with uttermost data security, create your Financial Planning without any cost on: http://bit.ly/Robo-Fintoo
To Invest and keep regular track of your portfolio download: Fintoo App Android http://bit.ly/2TPeIgX / Fintoo App iOS http://apple.co/2Nt75LP'
Disclaimer: The views shared in blogs are based on personal opinion and does not endorse the company's views. Investment is a subject matter of solicitation and one should consult a Financial Adviser before making any investment using the app. Making an investment using the app is the sole decision of the investor and the company or any of its communication cannot be held responsible for it.