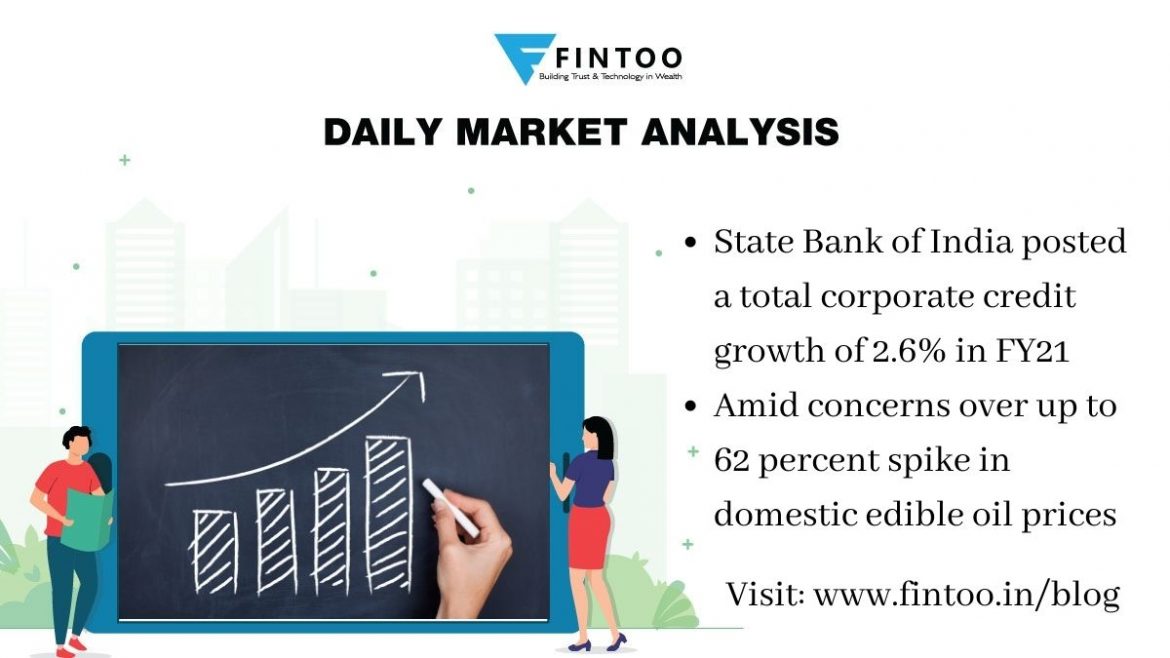 SBI's corp loan book hints at a change in market growth dynamics-
India's largest lender, State Bank of India, posted a total corporate credit growth of 2.6% in FY21, including loans and debt investments such as bonds and commercial papers; however, if only loans are considered, SBI's corporate book contracted 3%. Indian banks are realizing that to be able to see any sustainable growth in corporate credit, they also need to invest in debt securities of their borrowers, signaling a shift from their loan-driven growth strategy. The bank's chairman Dinesh Khara pointed out that working capital utilization for large corporates is even below 70%, and the bank is looking to support them in raising money from the debt market.
After Jio, Airtel plans to add airwaves in eight key markets-
Airtel is set to add airwaves in the 900 MHz band in Gujarat, UP-East, Kerala, Bihar, Odisha and Jharkhand to boost high-speed data capacity, a senior company executive told ET. Both Telcos aim to boost 4G broadband coverage as vast swathes of India's corporate workforce operate from home amid lockdowns during the Covid second wave. The two operators are leveraging recent spectrum purchases to attract new data subscribers and users from Vodafone Idea.
India: Westbridge Capital-backed Star Health set to file for IPO-
Health insurer Star Health and Allied Insurance Co Ltd, owned by a consortium of investors including Rakesh Jhunjhunwala and Westbridge Capital, is planning a public share sale to raise at least ₹2,000 crores. The initial public offering (IPO) is likely to be a mix of primary and secondary share sales by the company and the investors, he added. "Around 10-12 investment banks are working on this IPO including Kotak Mahindra Capital, Citibank, Credit Suisse and Bank of America," the second person said. Emails sent to Rakesh Jhunjunwala, Westbridge Capital, and Star Health remained unanswered. The investor consortium, which also includes Madison Capital, had in August 2018 agreed to acquire over 90% stake in Star Health from existing investors Star Health Investments Pvt. Ltd and private equity funds managed by ICICI Venture, Tata Capital and Apis Partners. The consortium had acquired the insurer at a valuation of close to ₹6,000 crores. Star Health has underwritten a gross written premium of ₹6,865 crores during 2019-20 and had a net worth of ₹1,889 crores as on 31 March 2020. It has over 12,800 employees and over 640 branch offices across India.
Also read: Best Tax Saving Instruments to Maximise Your Corpus – Fintoo Blog
COVID-19 impact: FPIs net sellers of Indian equities worth Rs. 4,444 cr in May so far-
Foreign investors pulled Rs 4,444 crore from Indian stock markets in May so far in the wake of concerns over the second wave of the COVID-19 pandemic and its likely impact on the Indian economy. FPIs withdrew Rs 6,370 crore from equities but infused Rs 1,926 crore in the debt segment between May 1-21, as per depositories data, taking the overall net outflow to Rs 4,444 crore. The total net outflow from the Indian capital markets was at Rs 9,435 crore in April. FPI outflows are a temporary phenomenon as per Harsh Jain, co-founder and COO at Groww.
The number of covid cases in the country is falling and vaccination rates are slowly climbing; and as the economy reopens, FPI investments will "dramatically climb," he said.
NBFC: NBFCs stop lending on fear of rising defaults-
Hit with a drop in installment collections due to the Covid-induced lockdowns across the country, non-bank lenders are slowing fresh disbursements and even halting them for unsecured loans.
From an average default rate in collection efficiency at 2-3% in pre-Covid times, non-banking finance companies (NBFCs) are now seeing 6-8% of borrowers missing their payment schedules during the second wave of the pandemic. IIFL Finance has halted fresh disbursements for unsecured loans for micro-businesses & personal loans.
It has also tightened scrutiny and disbursements for secured loans like loans against property, housing loan, and gold loan. According to chief risk officer Sanjeev Srivastav, even in secured advances like loans against property, the company has reduced the loan-to-value ratio to 50-40% from 70% earlier.
US: Manufacturing and Services PMIs reach new series highs in May-
The business activity in the US manufacturing sector continued to expand at a robust pace in May with the IHS Markit's manufacturing PMI rising to a new series high of 61.5 from 60.5 in April. This reading came in better than the market expectation of 60.2.
Further details of the publication revealed that the Employment Index edged lower to 53.3, the lowest level since December, from 55.7 in April. On a negative note, "input costs rose in May at a pace not seen since July 2008," the IHS Markit noted.
The US Dollar Index gained traction after this report and was last seen gaining 0.3% on the day at 90.01.
Manufacturing could return to China, as Covid cases spike in India and Vietnam-
Previously, the U.S.-China trade war caused companies to move their supply chains out of China. As a result, countries like Vietnam and India benefited as companies set up shop there. But the situation is changing, and supply chains could pivot back to China as cases spike in India and Vietnam, according to Zhang Zhiwei, the chief economist at Pinpoint Asset Management. "Before the pandemic, we saw factories moving out of China — Samsung, Foxconn these big-name companies — setting up factories in Vietnam, India," he told CNBC's "Street Signs Asia" on Monday.
DHFL lenders challenge NCLT order on considering Wadhawan's offer-
The committee of creditors of DHFL has challenged the National Company Law Tribunal (NCLT) order directing the lenders to consider the offer by the debt-ridden mortgage firm's erstwhile promoter Kapil Wadhawan.
An appeal challenging the NCLT Mumbai bench's order has been filed before the National Company Law Appellate Tribunal (NCLAT) and is scheduled for hearing on Tuesday.
The matter will be heard by a vacation bench of NCLAT comprising Acting Chairman Justice A I S Cheema and Member Technical V P Singh.
The petition has been filed by the Union Bank of India on behalf of the Committee of Creditors (CoC) of Dewan Housing Finance Corporation Ltd (DHFCL). According to sources, lenders in their petition have requested the appellate tribunal to stay the NCLT order
DHFL had gone bankrupt with more than Rs 90,000 crore in debt to various lenders, including banks, mutual funds and individual investors who kept fixed deposits with the company.
Centre discusses with stakeholders abnormal rise in edible oil prices, asks for steps to soften rates-
Amid concerns over up to 62 percent spike in domestic edible oil prices, Food Secretary Sudhanshu Pandey on Monday discussed in detail the reasons for the "abnormal rise" in local prices, and asked the states and industry stakeholders to take measures to soften the prices.
Pandey also said in the meeting that suggestions offered by stakeholders would help the government to arrive at "wholesome solutions" to ensure edible oils are available at reasonable rates to consumers.
Pandey further said that the suggestions presented in the meeting would help in arriving at wholesome solutions to address the issue of edible oil prices and achieve growth in the domestic oilseeds sector. Besides Pandey, Union Agriculture and Consumer affairs Secretaries and senior officials from Gujarat, Maharashtra, Madhya Pradesh and Tamil Nadu governments were present. According to the government data, retail prices of palm oil rose by 62.35 percent to Rs 138/kg on Monday from Rs 85/kg in the year-ago period.
To Invest and keep regular track of your portfolio download: Fintoo App Android http://bit.ly/2TPeIgX / Fintoo App iOS http://apple.co/2Nt75LP
Related Posts
Stay up-to-date with the latest information.