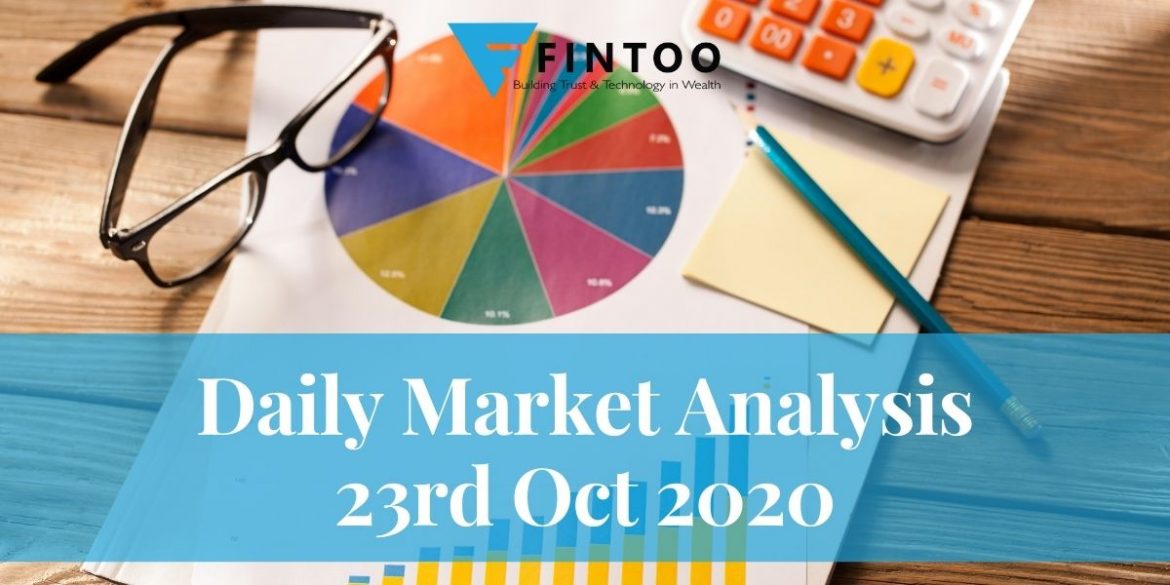 SBI Cards and payment services 2nd quarter showed impact of Covid 19 on unsecured loans. SBI Cards reported that its gross NPA rose to 4.3% from 1.4% in April- June Quarter. On Sept 3rd, SC had said, accounts not declared NPA'S till August 31 are not to be declared NPA's till further orders and SBI Cards have not considered those. Analyst say if they take into account those as well, NPA's will further rise to 7.46%. The gross credit cost of the firm also spiked to 11.3% from 6.9%. SBI Cards posted a 46% fall in Net profit to Rs. 206 crore. About 78% SBI cards borrowers are salaried while 22% is self employed. It has learned that much of the NPA's are from Self employed segment
The US FDA on 22nd October approved Gilead Sciences Inc's antiviral drug remdesivir for treating patients hospitalized with Covid 19, making it the first and only drug approved for the disease in the United States. Remdesivir has been available under an FDA emergency use authorization since May, after a study led by the National Institutes of Health showed it reduced hospital stays by five days. However, the World Health Organization last week said it's global trial of Covid 19 therapies found that remdesivir did not have a substantial effect on patients' length of hospital stay. Gilead has questioned the potential for bias in the WHO study, which was not blinded, meaning that patients and doctors were aware of which treatments were being used.
Just weeks after deciding to open up the space sector, the department of space has proposed to enable private Indian firms to not just use existing space assets for communication services, but also develop new systems, launch satellites and sell services to foreign customers under its Spacecom Policy-2020. Companies will be allowed to set up control centers outside India and use overseas space assets, says a draft of the policy, which will replace the existing Satcom Policy. The major changes are to encourage the private sector and renew focus on enhancing national security capabilities.
Also read: Wealth Habits – Learn, Unlearn and Relearn
The Board of India Oil Corporation (IOC) in its upcoming meeting on October 30 will consider the proposal to borrow up to Rs 20,000 crore during the ongoing financial year through private placement of bonds and debentures.The borrowing would be carried out in one or more tranches, the company said in a regulatory filing on Thursday. Shares of the oil marketing major traded on a positive noted on Thursday. Around 12.45 p.m. they were at Rs 76.70, higher by 0.85 per cent from their close.
Amazon Inc. is open to helping debt-laden Future Group bring in a new, financially strong partner or investor if it calls off its ₹24,700 crore deal with Reliance Retail Ventures Ltd, said two people aware of the US e-commerce firm's plans. They said Amazon, which holds a 49% stake in Future Coupons Pvt. Ltd (FCPL) had earlier informally helped Kishore Biyani-founded Future Group get new strategic partners and large institutional investors to help it with its debt crisis.
Auto maker Renault India on Thursday said it has added 34 sales and service touch points across the country over the last two months. Renault achieved sales of 8,805 units in September, its highest sales volume in a month in 2020.The new dealership facilities have been set up in MadhyaPradesh, Tamil Nadu, UttarPradesh, Karnataka, Gujarat, Haryana, Punjab, Telangana, Uttarakhand, Rajasthan, Maharashtra, HimachalPradesh and West Bengal. With this expansion, Renault has bolstered its network presence to more than 415 sales and 475 plus service touch points, which include 200 plus workshop on wheels at locations across the country.
The Dhoot family has offered to pay Rs 30,000 crore to lenders to settle their outstanding loans and pull out 13 Videocon group companies from the insolvency proceedings. The settlement offer has been made for 13 out of the 15 Videocon group companies that are currently under CIRP. Two group companies — KAIL and TREND — are not covered under the offer. Dhoot said that he has a "robust business plan" in order to regain the image of the Videocon brand and its market share."The consumer market in India is growing by the day. Videocon will play a pivotal role in addressing the growing market across consumer durable segments," he said, adding that Videocon will also be a key player in the OEM (Original Equipment Manufacturer) segment for foreign brands. The group has plans to monetize assets as well as enter into the affordable housing business.
The government's ambitious Swachh Bharat Mission has resulted in annual benefits to the tune of more than Rs 53,000 (727 US dollars) per household in rural India, including through reduced diarrhea incidence and from sanitation access time savings, according to an international study. The study, which happens to be the first ever economic analysis of the scheme and has been published in the latest October 2020 issue of Science Direct journal of global information analytics major.
A financial planning platform where you can plan all your goals, cash flows, expenses management, etc., which provides you advisory on the go. Unbiased and with uttermost data security, create your Financial Planning without any cost on: http://bit.ly/Robo-Fintoo
To Invest and keep regular track of your portfolio download: Fintoo App Android http://bit.ly/2TPeIgX / Fintoo App iOS http://apple.co/2Nt75LP'
Disclaimer: The views shared in blogs are based on personal opinion and does not endorse the company's views. Investment is a subject matter of solicitation and one should consult a Financial Adviser before making any investment using the app. Making an investment using the app is the sole decision of the investor and the company or any of its communication cannot be held responsible for it.